The much-anticipated Kong: Skull Island experience has opened at Madame Tussauds in New York and London.
Kong: Skull Island has been developed in partnership with Legendary Pictures and Warner Bros. Pictures. The opening coincides with the launch of the film, set to open in cinemas on March 10th.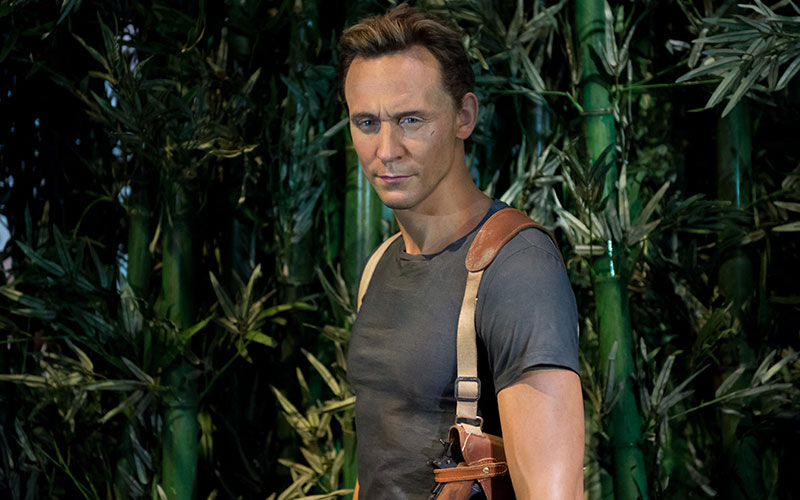 The exhibit takes visitors on a journey through tropical jungle. As they make their way though lush undergrowth, vines and bamboo, they encounter Tom Hiddleston in the guise of Captain James Conrad. This is Tussauds' first wax figure of the British actor.
Stylists from Legendary Pictures worked to ensure the figure was accurately attired, complete with a gun and binoculars.
Visitors then have to evade the colossal spider trap before they finally come face-to face with the 18ft tall animatronic head of the mythical Kong himself.
The head has been created to the same scale as Kong appears in the film. It required a team of 33 artists and over 72 days to build.
The model weighs over 3,000 lbs and is covered in 350 square feet of specialist faux hair. It took roughly four weeks to hand paint. Cutting-edge pneumatic controls govern every movement of the head, eyes and lips. The precision system creates life like facial movements, grunts, snorts and roars.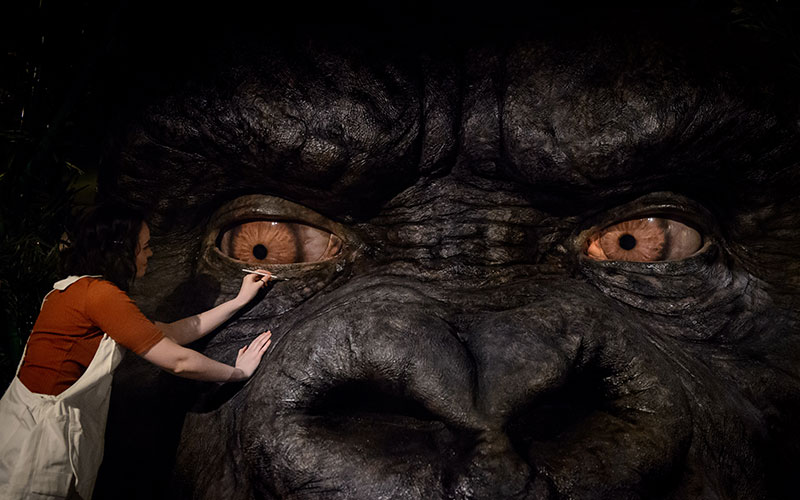 KONG SIZE FACTS:
Kong's facial movements are controlled by a microprocessor… basically Kong's nervous system is like a mini internet!
Kong's roar releases 240 pounds of high pressure air in four seconds.
Each of Kong's eyes is 22 inches wide and uses laser radar to follow you around the room.
Kong's roar is the sound of a Boeing 737 about to land.
Air flows through pneumatic cylinders to recreate lifelike facial movements.
Over 1,000 bolts went into creating Kong.
It took 33 people over 72 Days to build.
At 18 feet high, Kong's head is taller than a double decker bus!.
Kong's head weighs over 3,000 lbs, that's heavier than 10 whole real-life gorillas!
You'd have to climb three flights of stairs to reach the top of Kong's head.
Image courtesy Merlin Entertainments
https://www.prnewswire.com/news-releases/the-beast-returns—madame-tussauds-new-york-launches-all-new-kong-skull-island-experience-300419657.html