A leader in AV solutions, 7thSense Design, has scooped 'Leisure and Hospitality Project of the Year' at the 2018 AV Awards for 'The Egg' at XI Gallery, New York.
Technology West Group installed and commissioned 7thSense Delta Media Servers to bring The Egg to vibrant life with projection-mapping.
The Egg is the vision of artist, Es Devlin, and forms the focal point of a hybrid art installation and showroom for architect Bjarke Ingels' residential and hotel development at the nearby XI building.
Her creation at XI Gallery is an ovoid, 33-ft wide model of Lower Manhattan, featuring more than 10,000 miniature 3D-printed and hand cut buildings.
Devlin is known for her stage design for theatre and artists such as Beyoncé and Kanye West. Her pieces can be seen at London's V&A and Art Basel. She's been involved with an Olympics closing ceremony and, most recently, a projection-mapped story at the Cannes Lions Festival of Creativity.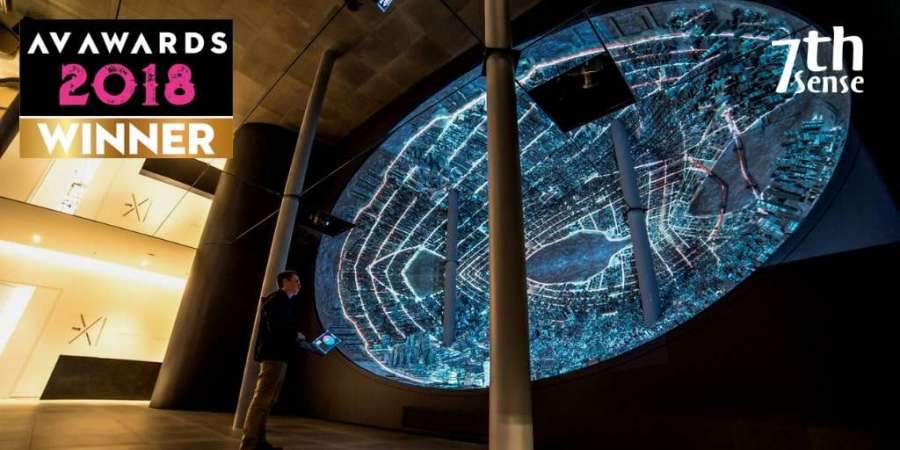 D-BOX and Farkas Fulop praised for 'amazing job'
"It takes a team with a lot of respect for accuracy to get a clean mapping result on an object this detailed," observed Ken Showler, Experience Director at 7thSense Design.
"A little 'off' in the 3D model goes a long way. D-BOX and Farkas Fulop have done an amazing job producing this model and content, positioning TechWest and my crew to produce an alignment we are proud of."
On hand to collect the award at the ceremony was, Ed Patchett, Operations Manager at 7thSense.
He said: "We're delighted to have been presented with such a prestigious reward in recognition for our work on what's now the winner of the 2018 AV Awards Leisure and Hospitality Project of the Year – especially in such a tough category with great competition!"
Earlier this year, 7thSense Design won Venue Project of the Year at the 2018 Install Awards for the company's work on the Christmas Spectacular at Radio City Music Hall in New York.