Location-based digital art is enchanting audiences around the globe, with examples such as teamLab Borderless in Toko and the Lumina night walks by Moment Factory
By Thibault Paquin, CEO, Celebrating Life
I recently moved back to Paris for a few months and everyone in the visitor attractions industry is talking about Atelier des Lumières. This new location-based digital art experience, in the 11th district, near Bastille, cost €12 million to set up and was visited by 1.2 million guests during its first 10 months of operation.
This success, as well as the popularity of attractions such as teamLab Borderless and the Lumina series by Moment Factory, made me think about what makes these permanent digital art experiences so compelling.
teamLab opened its first teamLab Borderless experience in Tokyo in 2018, where it brought in more than 1 million visitors in just 5 months. The teamLab collective then opened a second location in Shanghai in November 2019.
Moment Factory opened Terra Lumina in December 2019 at the Toronto Zoo and is opening the much-awaited Alta Lumina in the French Alps (Les Gets) on 31 July 2020.
The appeal of location-based digital art
So I went to visit Atelier des Lumières on a warm Thursday afternoon in July. I booked my ticket online and paid €15, the same price I paid for a movie ticket two days earlier.
I spent a very pleasant and relaxing hour inside this former iron foundry, together with another 200 people according to my guestimate. Not bad for a post-COVID summer day when the city is supposedly empty from international tourists and resident families.
Here is what I gathered from my visit and that I believe applies to location-based digital art.
It's entertainment
The fundamentals of these location-based digital art experiences are more those of shows than museums or exhibitions. They are often referred to as Artainment or Exhibitainment and I definitely agree it is very much entertainment, live entertainment even.
We as visitors are more like spectators seduced by a strong yet simple story with highs and lows. A story backed by beautiful images and great music. The fact that we are in the dark (like in a theatre or at the movies) forces us to switch to a more receiving state of mind. I was surprised by how silent and static people were in the room. It felt like they had come to relax and watch a movie!
It's universal
As I was observing the people around me, I saw a great variety of ages, motives to visit (with family, with friends, etc.) and socio-economic backgrounds.
The location-based digital art experience works for everybody. And that is gold in our industry.
I saw grandmothers with their grandchildren, groups of retired friends, young couples on a date, parents taking their disabled child in a wheelchair, dad and son, coworkers on a lunch break and a few tourists. It reminded me of the audience of a circus. These venues definitely cast a wide net.
It's easy and relaxing
Unlike exhibitions and museums where one has to stand on his/her feet, try to make sense of art displays and/or read information, these location-based digital art experiences are effortless and even relaxing. They are big open spaces with low light and quiet visitors.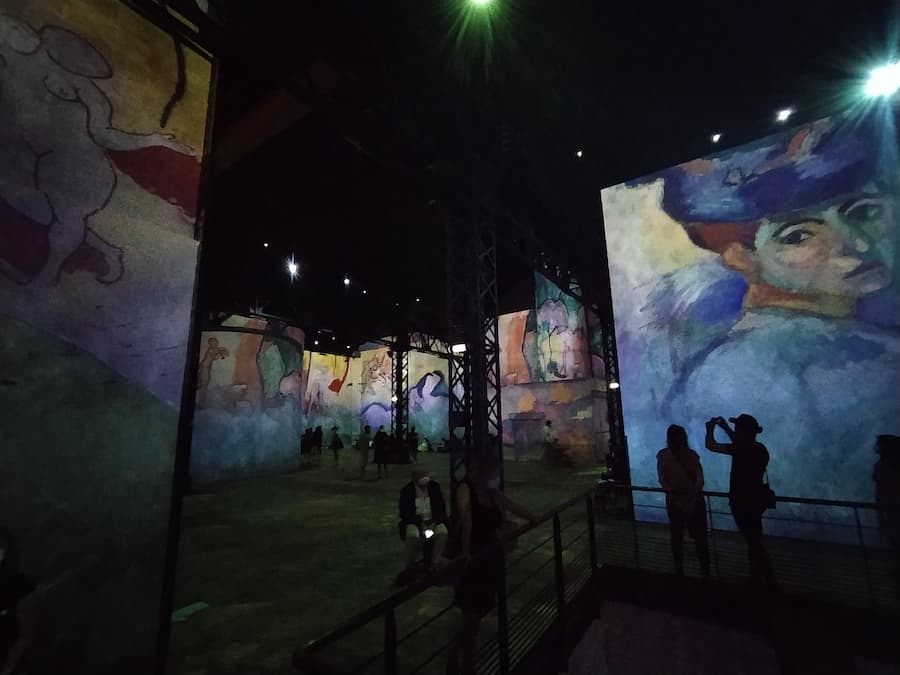 Most visitors/spectators were sitting on benches or on the ground when I visited. We shouldn't underestimate the importance of this aspect of the experience in the decision making for people to visit. Some parents would pay anything for an hour of peace with their kids!
It's for the now
Location-based digital art venues are perfectly suited for millennials. This demographic is key since they make up the bulk of the family market and are great influencers.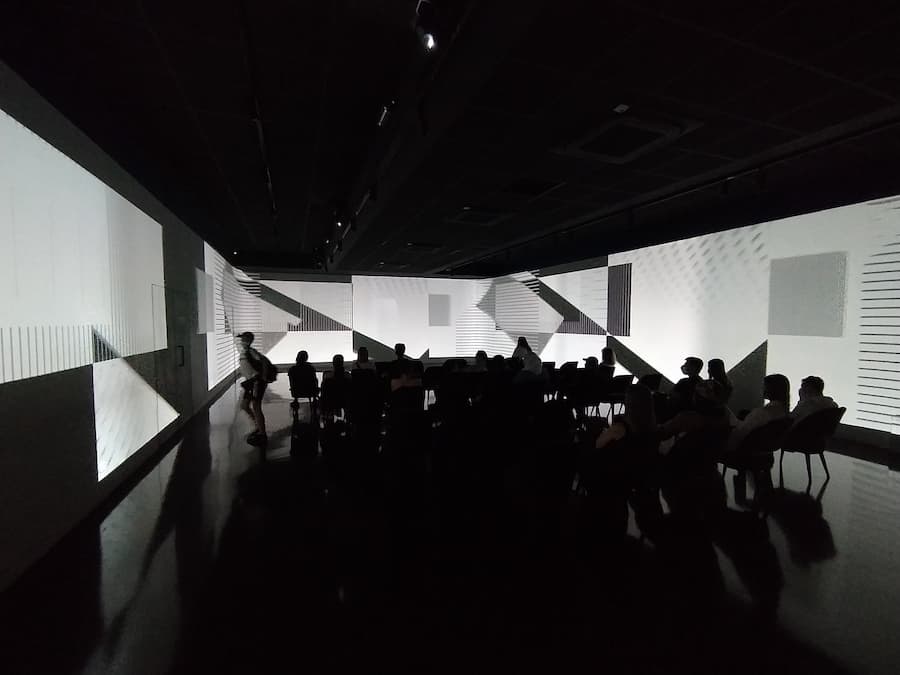 These venues offer the flexibility expected by millennials: the experience can be social or individual; it can be passive or more interactive; it can last 10 minutes or 2 hours. Digital art is also extremely experiential. It awakens the senses and sparks contemplation and imagination, thus leaving a lasting memory.
Location-based digital art for the future
According to teamLab, their experiences "navigate the confluence of art, science, technology, design and the natural world".
If I look at the Lumières experience I would add culture too. It is this interesting confluence that makes digital art venues ready for a "borderless" future. One where we see more and more arts merging with sciences, design with technology, etc.
Museums are trying to take that more fluid path but it will take longer. In the meantime, location-based digital art will keep attracting millions.