By Martin Barratt
Nottingham is a lovely city to live in. The Council House and the Old Market Square; Wollaton Hall and the National Justice Museum, the Goose Fair and so many pubs!.
And then there's Nottingham Castle. We've all heard of it and we all know what it looks like because of the movies that have been made there. Robin Hood splitting arrows in the courtyard and fighting the wicked Sheriff on the spiral staircase. Except the medieval Castle was burned down almost 400 years ago.
There's a Gatehouse and ramparts, which show where the Castle once stood, but instead of the Castle, there is a palace on the hill where the Castle should be. A mob burned down the palace in 1831. The team that developed the latest iteration of the attraction are proud of this local trait, calling Nottingham 'The Rebel City'. Apparently, this is the one thing that differentiates Nottingham from all other UK towns.
Redeveloping Nottingham Castle
Every now and again Nottingham City Council (NCC) gets some money together and they spend it on the Castle. The most recent development was finished this year and cost over £31 million, including £13.7 million from the Heritage Lottery Fund and nearly £8 million loaned from NCC.
They justified the expenditure by predicting huge rises in the number of tourists who will visit Nottingham. They reckoned that visitors to the Castle would rise from 220,000 to 400,000 in year 1, stabilising at 300,000. That's a big jump, and to make it harder they spent most of the money on the bits that tourists won't notice and increased the price from £7 to £13.
What does the extra cost get you? Really not that much. The gardens have been tidied up, as has the art gallery in the palace. They've also built a new shop, café and restaurant. There's an exhibition about rebellion and one about Paul Smith. All very nice, but hard to argue that visitors should pay so much extra for it.
There's a new Robin Hood experience, but that costs £3 more. If you want to visit the caves under Castle Mount you'll have to pay £5 more for that! Total that up and for only £3 more you can visit Warwick Castle (and that is a real Castle!).
So how's it doing? Well, there are varying messages coming from the Castle Trust. On one hand, there are plenty of local newspaper reports about visitor numbers for Nottingham Castle being higher than expected. On the other, there has been what looks like the acrimonious departure of the Chief Executive, who is suing the Trust for unfair dismissal.
This is the same Chief Executive who said "We are turning this into something that will be the most visited tourist attraction outside of London."
Rest easy York, Chester and Bath, after my visit I can confirm that you are in no danger from Nottingham.
A mixed reception
Visitor reviews are a mixed bag too. There are some very good ones and some very bad ones. The latter are divided between the local view that nothing really has changed but they're expected to pay twice as much for it, and those from out of town, who are surprised by a distinct lack of anything like a castle.
Is anyone to blame for this? Well, the Castle Trust and the City Council are definitely guilty of over-promising. In addition to the ex-CEO's wild statement above, if you read what they say about it, pretty much every element of the experience is bound to disappoint.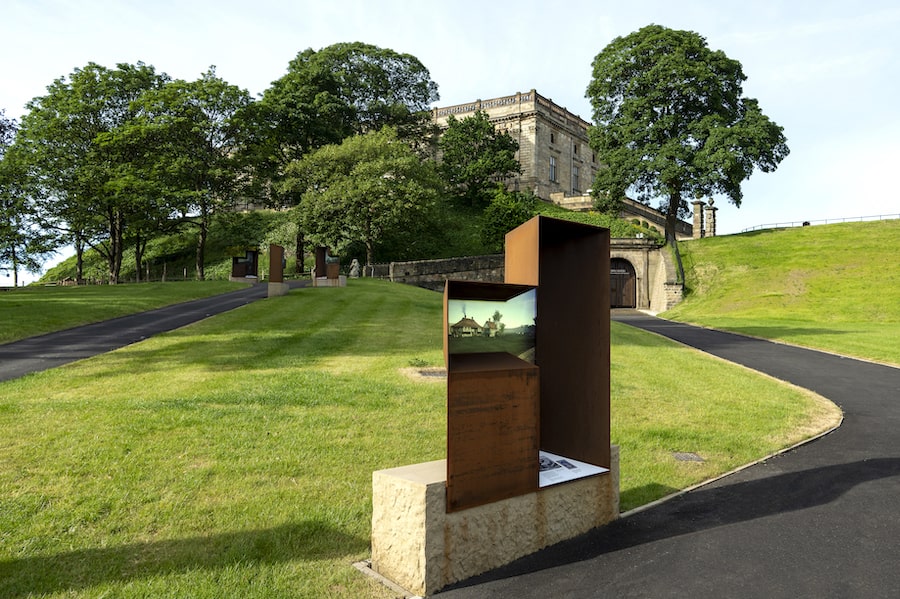 The Castle's Robin Hood Experience promises a chance for visitors to immerse themselves in medieval Nottingham, play 'Dazzling Digital Games' and experience 'Innovative Interactive Gaming Tables'. Yet in reality, there is a room of screens, explaining the history of myths about Robin in a remarkably diverse and politically correct way.
If you want to learn how to turn exciting tales of derring-do into a plod through arcane literary history, then this is a fine example. The 'Dazzling Digital Games' involve shooting a virtual arrow at a virtual target and waving a stick about, in return for points.
The 'Underground Adventure Tour' is a wine cellar as well as two caves and a bit of over-enthusiastic chat. Wisely, the guide apologised about the lack of caves before anyone complained. A technique that I am sure comes from bitter experience.
No castle at Nottingham Castle
But of course, we have to talk about the greatest disappointment of all. The lack of a castle at Nottingham Castle will surprise just about anyone who doesn't live in Nottingham. It would be funny if it didn't let down the expectations of nearly every out of towner.
What to do? First of all, get real. Nottingham will never be a tourist city. Even the most enthusiastic locals call it 'workaday'. Losing the Castle was bad enough. But when the warren of medieval streets between the Castle and the City Centre was demolished in the 60s, to make room for a shopping centre and a dual carriageway, the last reason for a tourist to visit was gone.
The lack of a castle at Nottingham Castle will surprise just about anyone who doesn't live in Nottingham. It would be funny if it didn't let down the expectations of nearly every out of towner.
The HLF should finally learn the lesson that there isn't a tap marked 'tourists' that they can turn on by spending their millions. It is ironic that they act like a modern-day Robin Hood in reverse; taking money from poor and desperate lottery players and then spending it on creating attractions that only the rich can afford to visit.
The Trust and NCC must face the fact that their market is local, not global or even national. Their visitor projections are way too high. And the high entry prices for Nottingham Castle will put off people who might visit. The business is unlikely to be able to pay even the little interest they are liable for. So, rather than watch it fail they should act now and write off their losses.
Now that the local taxpayers will be paying even more for their folly, it is surely time to get rid of paid entry to the park. Let the people freely visit what they are already paying for.
The generation who rebuilt the Palace after the locals burned it down had the right idea. They created an art gallery for the people, the first art gallery outside London. Then they filled it with an eclectic mix of objects and pictures to inspire and educate. It's about time that local Councils realised that tourism isn't the panacea for all their woes and concentrated on providing good quality amenities for the people who pay their wages.