The Madison Square Garden Company and Las Vegas Sands have teamed up to develop an 18,500-seat, immersive, spherical arena in Las Vegas.
The arena will be located behind the Venetian and Palazzo resorts, close to Las Vegas Boulevard. It is designed to host concerts and other immersive experiences.
The exterior will be a 53,000sqm sphere wrapped in an open-air trellis structure that includes 58,000m of programmable LED lighting that will be used to create a digital showcase for brands and events.
Inside, the arena will feature what Madison Square Garden claims to be the largest and highest resolution screen in the world. The 15,800sqm LED display will curve, wrapping around the interior of the sphere, providing great views for the whole audience.
It will also use state-of-the-art beamforming sound technology to give each audience member dedicated audio.
"Instead of coming out as an ever-expanding wave, it comes out just as it sounds, in a beam," said Jim Dolan, executive chairman and CEO of Madison Square Garden Company, at a launch event for the project held on Friday.
"There are … thousands and thousands of beams that come out and reach the audience. If you're sitting in the sphere and we have a comet come fly over you, you'll hear it coming first, and it goes louder as it reaches its apex over you, then it diminishes and disappears off to the other side."
Additionally, an infrasound haptic flooring system will convey bass through the floor so that the audience gets to "feel" the experience as well as see and hear it.
"Just sitting there, what would it take to convince you that instead of sitting here in an airplane hangar in Las Vegas, you are sitting in your chair in the polar ice cap or an Amazon rainforest?" Dolan said.
"Obviously if you are in the polar ice cap, you have to feel cold; you have to see the glacier. That is essentially what we are building: an attempt to convince you that you are somewhere else."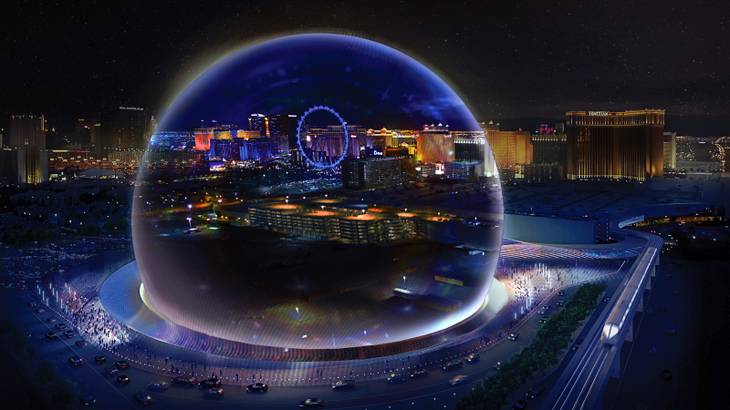 Programming for the arena will include an original Madison Square Garden "experience" that runs in between concerts and other events. The experience will be filmed using a specially designed 10-camera rig with 8K resolution and 360-degree video.
The cost of the project has not been disclosed. Construction is scheduled to start this summer with the project due to complete in late 2020. The opening is planned for New Year's Eve the same year.
Madison Square Garden is also developing a similar sphere venue for the Olympic Park in London.
Images: c. Madison Square Garden Company.
https://libn.com/2018/05/19/another-arena-for-madison-square-garden/