SEE MONSTER, part of the Unboxed: Creativity in the UK arts event, is a project that will turn a decommissioned North Sea offshore platform into an immersive public art installation and celebration of British weather. The ex-oil rig arrives by sea in Weston-super-Mare today.
Over the next few weeks, the project will see the disused platform transformed into one of the country's biggest public art installations. Its goal is to spark conversations about how we can reuse large industrial structures for a sustainable future.
Witness a world first, as SEE MONSTER finally makes its way to the Weston-super-Mare… ⁠
⁠
Stay tuned over the next few days as it makes its way to its new home!⁠
⁠
👉️ @seemonsteruk⁠
👉️ @unboxed2022⁠
⁠#SEEMONSTERUK pic.twitter.com/f5sCiRwZt7

— NEWSUBSTANCE (@NEWSUBSTANCE) July 13, 2022
Arriving at the seaside destination, the 450-tonne platform was carried by a flatbed barge that is as big as a football pitch. It will then be lifted by crane over the seawall onto reconstructed legs, as it takes up residence at the Tropicana, a local landmark, reaching a height of 35 metres.
SEE MONSTER explores design-led sustainable solutions
When the installation is ready, visitors will be able to discover SEE MONSTER from the seafront, the beach, and by stepping on board its four public levels. Highlights include a 10-metre-high waterfall, a 6,000-piece kinetic installation that is designed to resemble the monster's scales and an oasis of plants that are ideally suited for this seaside micro-climate. There will also be a seated amphitheatre and broadcast studio, where discussions can take place about how we can work towards a greener future.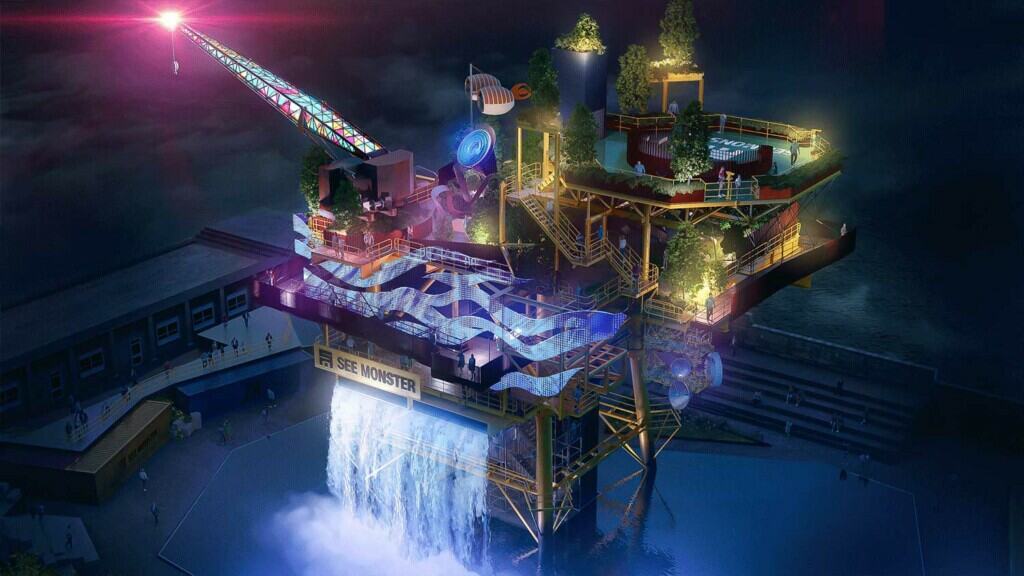 Patrick O'Mahony is the founder of Newsubstance, one of the groups behind the installation. He says:
"This world-first project is a truly challenging and ambitious feat of design and engineering. From our creative collaborators to North Somerset and Weston Town Councils, and from local communities and businesses to the energy and environment industry, we are immensely grateful to those who have supported us in bringing this once-in-a-lifetime educational and creative experience to Weston-super-Mare.
"From experiments in renewable energy generation to the reuse of major industrial structures, See Monster will be a platform for conversations about our future."
The attraction will open in a phased approach, starting on the UK bank holiday at the end of August.
Elsewhere, Saudi Arabia's Public Investment Fund (PIF) is creating a new tourism project in the Arabia Gulf. THE RIG will repurpose offshore oil platforms into a leisure destination, covering an area of over 150,000 square metres and offering hospitality, adventures and aquatic sports.
Images: SEE MONSTER