Now, it is an industry leader providing game-changing lighting and video technology, and networking solutions.
Blooloop spoke to the Avolites team to find out more about their innovative new technology, and how it is leading the way in the field of real-time light and video integration.
Stephen Baird-Smith is Avolites' Sales Manager, and Ciaran Abrams is the company's Ai Lead Software Developer. Ai is Avolites' powerful video software that has been used in performances such as Coldplay and Eric Prydz and installations such as the National Museum of Qatar. We also spoke to William Cheng, Sales Engineer for Asia and the Middle East.
Early days of Avolites
Baird-Smith explains a little about the company's origins as a provider of lighting racks:
"Avolites was formed in 1976 by a lighting designer and an engineer. They hadn't been able to find what they needed in the market, so they decided to build their own. They built a couple of dimmers for a tour that they were doing. Then, all the other rental companies around in London said, could you build that for us? And so, they decided to set up Avolites.
"Those racks went on to dominate the touring and film industry in Europe. Then we added consoles quite shortly after the company was set up. There was this shift in technology. Intelligent lighting became affordable to more and more productions.  Avolites was there with the Pearl console which delivered controls for that market."
The importance of light and video integration
"That's where our console success began, in the touring market mainly," says Baird-Smith. "But the technology and the equipment, as well as client expectations, continued to evolve. The appeal of the consoles broadened a lot into the install market and the experiential market. This is because a lot of the technology that is being used in installations for themed entertainment is the same technology that is used on stages and in live shows.
"Then in 2011, we added in video with Ai. Avolites saw that lighting and video were increasingly being used together, in order to create a visual experience. But the control of these things was only very primitively integrated. If we wanted to be a leader in the market, we would need to have both lighting and video control solutions. We knew that light and video integration was key."
"In 2012 we powered the world's largest video display at the London 2012 Olympics; a completely ground-breaking idea. There were LED panels between every seat in the stadium. This put our video products on the map very quickly, and it was a really unique and innovative project to be a part of!
"We went on to do some big world tours, like Coldplay and Eric Prydz. We also did some big installs, like the OMNIA and JEWEL nightclubs in Las Vegas. Here, we were really pushing the boundaries of technology."
An impressive portfolio
Since its early years in lighting control, Avolites has become a market leader in the field of show control and integration. It has been a driving force behind major tours over the years, as well as several installs in the themed entertainment world.
"We did a few different installs with Cedar Fair's parks in the US," says Baird-Smith. "They wanted to create exciting experiences at different times of the year. For example, at Halloween and Christmas. The idea was to create spectacular light shows themed around those different times in the calendar. They wanted to keep people coming into the park in the low season.
"They used an Avolites system because it gave them the ability to program very quickly and creatively. The number-crunching power of the media server can map video onto vast numbers of pixels. But it is also flexible enough to be able to take the console away once the programming is done.
"Then, the system can run completely independently. It is easily controlled through a web interface by the park's employees."
Avolites and Dollywood
Another well-known project that uses Avolites' solutions is The Wildwood Tree at Dollywood.
That was quite an interesting project," says Baird-Smith. "An Avolites system was used for the programming and to generate the DMX stream. But it was recorded into a programmed environment, to be left installed in the park."
The Wildwood Tree, located within Wildwood Grove at Dollywood, is designed and built by LifeFormations with additional creative from Imagination House and playback by a Weigl ProCommander AX, together bringing this unique installation to life using pioneering lighting and video technologies.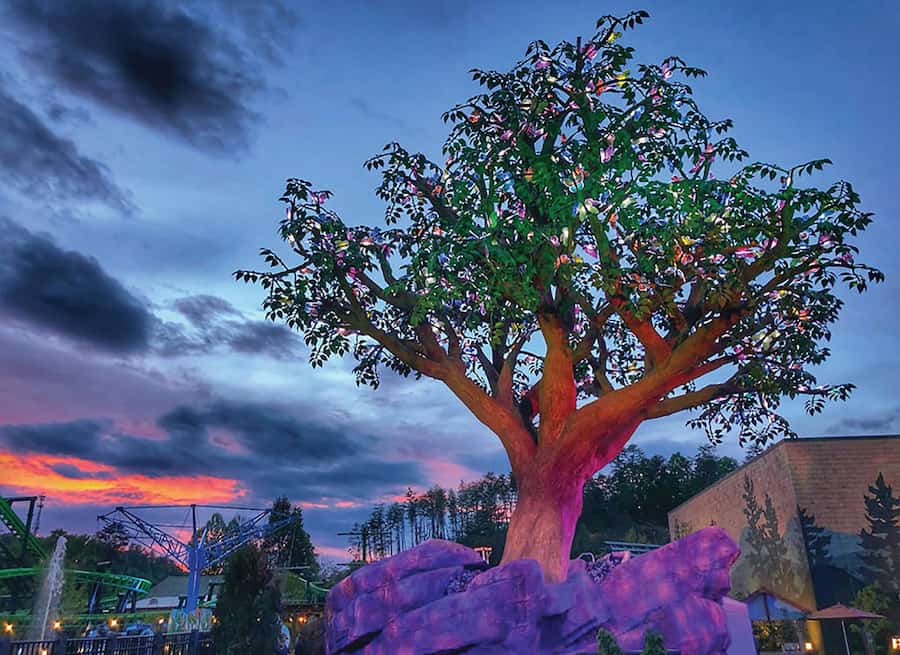 "What the creative team needed was the ability to control lighting from video at some points and with traditional lighting cues at other points, within a time code sequence. Our Synergy light and video integration technology was the only system out there that would render one smooth DMX stream while moving transitional from lighting cues to video cues."
Synergy
Synergy is Avolites' ground-breaking new software: it brings lighting and video together like never before. It is a feature set of Avolites' Titan and Ai v12 software that allows direct integration between the media server and lighting console for the first time.
Abrams explains how this new technology works, and how it is transforming the market:
"Synergy is a way of introducing Ai as a media service for the Titan ecosystem. This is a range of products that all work in harmony. For example, lighting desks that connect with extra processing units, or to networking equipment, or even just to other lighting desks.
"The benefit of that is that they have bespoke protocols. You can control exactly what that protocol is. While there are a couple of different protocols on the market, they are very limited. So, you can only do a certain number of things, but then you will get stuck very quickly.
"One of the key features of Synergy is the ability to take data from the media server, which is the playback video data, and put that over the lights. And that is something that we wrote specifically into the protocol. So we had both lighting engineers and video engineers working together on the problem. That is something that you don't often get unless you have a team of engineers together in one building as we have."
This feature is "Lightmap" and works as an extension of the Avolites pixel mapper in the Titan. By selecting "Ai" in the pixel mapper, the video data is directly mapped on any colour mixing fixtures to create a seamlessly integrated visual canvas.
Democratising the process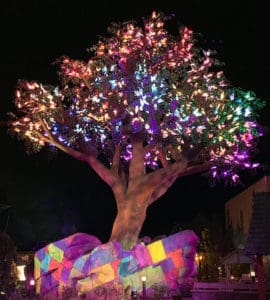 Synergy, Abrams says, makes high-end, professional show control accessible to people of all skills, and all budgets.
"There are products on the market that can do this. But you have to spend a lot of money on a video set up and a lighting setup. And then you need to employ specialist people to set them up, and they have to be set up independently. Then you also need to spend money on equipment, to distribute to switching routers. So, it is only really a feature that is available to high-end, professional shows.
"What we wanted to do is democratise the process of light and video integration. We think that every show should be able to do this, regardless of budget or experience. It is something that we strive towards. Putting the two together enables people to achieve a lot more, with a lot less equipment, time, personnel and money.
"When you look at the costs of putting all this together, it is huge. Getting individual specialists and hardware, and software, and getting it all to work together. It is days of work to do something which we can now do in minutes."
Streamlining light and video integration
"I hear from people who come in and see Synergy. They see the way that Titan works with the Ai software and the media server, how it is all integrated," says Abrams. "And they are blown away. They can't understand how it can do what it does so quickly.
"We've added extra features too. Typically, you would have to consider different machines and different set-ups. Whereas the way we have set it up, you can put the two together and they will discover each other and understand each other. So, it is very time-saving. We have improved the ease of use."
"Anybody, whether they are a student or the world's greatest LD, can access Avolites products and the software ecosystems that support them. Everybody can use this technology, and nobody gets left behind. That is not the case with many brands.
"The feature set that is available on Synergy is available on our entire range. So, you can use the features on smaller shows. And our range will support you on your journey as you progress to bigger things and progress in your career."
Powerful hardware
This impressive new software is also backed up by Avolites' new range of media servers, which is launching in late Spring this year.
"We are launching a few servers all in one go," says Abrams. "The Q3, which has been out for a while, is getting a refresh with new outputs on the back. We are changing from DVI to HDMI outputs. Then we are continuing that along the server range.
"So, we are introducing the Q3pro, the Q4 and the Qgen. The Q3 Pro has the same format as the Q3, it's our smallest server. The difference is that the Pro has 2 x 4k outputs rather than one. We have noticed a trend in the market where people are moving to 4k and trialling bigger resolutions, whether its projection screens or LED walls. So, we want to support that with our media servers.
"Then we have the Q4, which can handle more output, more processing, more layers of video. This has 4 x 4k outputs. Finally, the Qgen is more specialised. It allows you to create dynamic and generative graphics on the fly. That is what the Qgen excels at. It has a high-performance graphics card and state of the art technology in terms of the hardware."
High-end features
"The media server itself is a box that gives you access to the powerful Ai software that we have developed," says Baird-Smith. "The Q3 is our more entry-level media server. It delivers professional connectivity. It has high-end features that give great reliability in a critical situation but at a very competitive price point."
"And then the top end of the range allows you to power very large canvases. For example, the Q4 gives you 4 x 4k outputs. These can be either used to power different parts of an installation or it could be one huge video canvas.
"Then we have the Qgen media server, which is built around generative content. We feel is one of the most exciting developments in the industry in recent years. It brings the processing power of video but without the constraints of linear video. So, you are not stuck with just playing files, you are actually generating videos live. "
Q Series Media Servers in action
"We have lots of projects on the go right now, and the Qgen has been heavily used in these," says Abrams. "It has been used on tours with bands that are looking for ways to make their shows more interactive and to do interesting things with their camera work and direction. Those cameras are being manipulated in real-time to give some really cool effects.
"The real benefit of the Qgen here is that in the past we've had that as a separate system, whereas now it is all in one. It reduces the latency, which is key when you're looking at things like lip-synching. We're now able to support these huge stadium shows with lots of special effects and still keep the latency really low."
Baird-Smith adds: "The Q Series allows operators to get the best out of our system. And our system is great for themed entertainment because of the flexibility that it has. So, the Ai has a node-based engine at the heart of it. This means that different inputs and outputs and triggers are very easy for the system to deal with. That also means that it is very flexible from an integrator's point of view.
"The powerful support that we offer for generative applications like notch, a third party application that enables the real-time generation of video content, is key for themed entertainment providers. Generative content means that they can put the audience right inside the experience in a truly exciting way and they can be fully immersed."
Overcoming the challenges of real-time light and video integration
As with the launch of any new technology, there are challenges to face before bringing it to market, which Baird-Smith explains.
"I would say that there were two main challenges. The first one was in actually bringing the two software platforms together. Because the way a lighting console is written and designed, and the way a media server is written and designed are completely different."
"And also the way two different software teams think and feel about their development processes is different too. So there is a bit of a political challenge in there as well! Bringing those two technologies together was a significant challenge.
"The second challenge was how to convey to the market exactly what Synergy does. Because you can read about what the features are. But it doesn't come to life until you have actually used the system to put a project together."
The applications of Ai
To showcase the capabilities of its Ai solutions, the team talked about some more examples of their ideas in action. One key project was with the Museum of Qatar. Here, the company helped to create an exhibition that was entirely projection-mapped, with no physical objects on display.
"That was an exciting project," says Baird-Smith. "What Ai brought to that project was powerful mapping tools. The Ai coder provided almost lossless video playback, but the files take up less space than truly lossless video."
"With an install, you are always fighting against what physical space is available. Here the video quality was spectacular. But it was also relatively efficient in terms of data. We were excited to be part of a project where video was the star. They went all out with video. It was one big video canvas and it was ground-breaking; the whole thing was storytelling. It's a museum experience like no other."
Light and video integration for clubs, theme parks and festivals
Cheng talks about some of the latest projects that the company has worked on in China.
"What is exciting for me in what we are doing with Avolites Synergy and with Titan is that there is a huge club market in China.
"We're helping that scene move forward, with light and video integration," he says. "The club markets in China, they are essentially mini music festivals. We are doing integration for DJ sets, with video and lighting, to help put on spectacular shows.
"We have installations in China as well, we are in several theme parks using Ai. There was a similar example to the Wildwood Grove Tree in the Dollywood Theme Park.
"Our solutions are also in use in a theme park in Hong Kong, one which has a very long history. It is one of the biggest theme parks in Hong Kong. Again, they are using Ai in some of their attractions, for example, their Ferris wheel."
"We've also been involved quite heavily with Glastonbury," says Abrams. "The last five years or so we worked on the Arcadia spider, which was the old structure they had. We did video mapping and helped them with choreographed moments and lighting for the DJ sets.
"They've now introduced a new structure, Pangea, which is a massive old shipping container crane. This had a sphere which represents a planet. We projection-mapped onto that for their shows."
Trends in the industry
Talking about the future of the industry, Abrams says:
"We are going to see more and more integration. Certainly, there are new trends in technology all the time, with things like VR. But the thing that seems to be driving everything now is light and video integration.
"For example, if you go to a show, you will see lots of elements, like lasers, choreography, video elements, pyrotechnics. But what is really difficult, and what everyone wants to do, is bring all those elements together into one cohesive show."
"Instead of lighting designers and video designers almost competing with each other in their desire to create 'their best show', I think we will see more integration and more cohesive shows, which in turn creates a stronger experience for the guest. I think we will see technologies being used to complement each other, rather than to compete with each other."
Light and video integration is the future
"Avolites Synergy will change the market, simply because it makes so much sense," says Baird-Smith. "For many years, we saw that lighting and video were together everywhere because they are both visual elements. Now lighting sources, once they are LED, are basically pixels. So, they can be created just like a pixel can, on an LED screen or in a projector.
"But the control of those technologies was really separate. So, you quite often would be somewhere where there would be lighting and video programmes, but there wasn't much harmony between the two different mediums."
"Controlling all the elements together and having the option to seamlessly map video to lights, really streamlines the creative process and the implementation process. It not only gives you more creative possibilities, but it also simplifies the systems.
"In addition to this, just having one place to go for support for all of your control makes life so much easier. A lot of the integrators that I speak to, they say the fewer different suppliers they have to deal with, the easier the project becomes. I think offering everything from one place is a huge benefit."
Evolving and collaborating
Speaking about where the company is headed, Baird-Smith stresses the importance of integration.
"Maybe even ten years ago, you could think about your lighting console in isolation as a project in itself," he says. "But now we need to think about the way that our products fit into the ecosystem of the installation or the project."
View this post on Instagram
"For us, that takes many forms. It means adopting other standards. So for example, the new media servers all support NDI streaming, in and out. On the big servers, we fit 10 gig ethernet ports to enable us to do as much streaming as possible. We already implement NDI as part of Synergy as well. So, we can deliver video streams to a variety of consoles.
"Adoption of new standards is key. But collaboration with other complementary technology companies is important too. For example, we partner with Capture on the visualisation side, to help with planning and projects. We also work with companies like Notch, who provide the generative video software. We have done a lot of really exciting projects with them."
The future of Avolites
Currently, the company has several diverse projects in the pipeline around the world.
"Asia, in particular, is a massive market for entertainment," says Cheng. "Avolites has a long history in China, starting from the lighting consoles and now with the media servers too.
"It is looking very good for us in China, we have lots of projects in the pipeline there too. While Asia is a young market, it is growing very quickly. We have exported our lighting solutions to China for many years already. We are seeing a lot of interest in our new technology there now too. Integration is going to be big there."
"The stuff we are working on is really exciting," adds Abrams. "We have been field testing and mainly taking stuff out on tour. We are looking forward to bringing new technology into the attractions space and working on some interesting installs. These are brand new products that are ideal for the attractions sector. Although we can't talk about many of these projects, we can say for sure that people will be blown away!"
View this post on Instagram
Finally, Baird-Smith sums up the company's journey so far: "What we talk about now is Avolites being about creative visual control. We are controlling the visual canvas. And the visual canvas can be anything, it's not a stage anymore. It can be in an amusement park. It can be a tree, like in Dollywood.
"The visual canvas is literally anything. You can paint your story or create an immersive experience anywhere. To get to that stage now, from where we came from in the early days of the company, it's amazing."
Background image: Museum of Qatar, courtesy of Antonio Pagano