Arcadia Earth, an immersive augmented reality journey around the planet, has arrived in New York City. The experience was created to highlight the environmental threats to Earth.
The exhibition features 18 rooms and uses augmented reality (AR) and virtual reality (VR) to take guests through underwater worlds, fantasy lands, forests and caves.
Created by experimental artist Valentino Vettori, Arcadia Earth is presented in association with Oceanic Global and designed in collaboration with local environmental artists.
These include Basia Goszczynska, Samuelle Green, Cindy Roe, Tamara Kostianovsky, and Etty Yaniv.
Arcadia Earth is a large multi-sensory experience, also powered by projection mapping and interactive environments.
Travel through underwater worlds and fantasy lands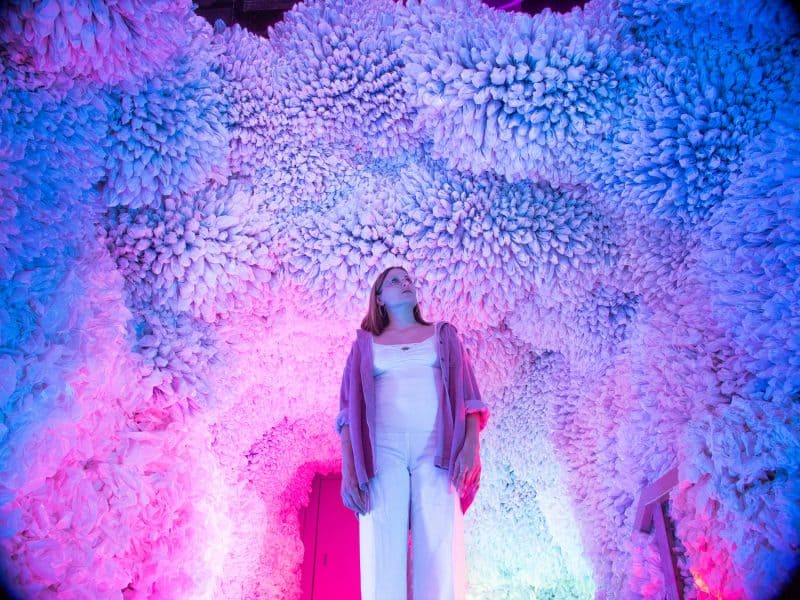 Visitors will learn how small lifestyle changes will have a huge impact on the planet's future, also discovering how plastic and pollution affect the environment and its wildlife.
The experience houses one cave made from 44,000 discarded plastic bags, the amount used in New York state every minute.
Another room is made from the pages of abandoned library books, while another space includes plastic-coated jellyfish to represent the amount of plastic in the ocean.
Guests will also be able to scan their phones over a QR code to find out which seafood is safe to eat, and VR glasses will give visitors the feeling of swimming in the deep sea.
Learn about plastic and pollution in the environment
At the end of the exhibition, there is a 'vow room', where visitors can pledge to make lifestyle changes, such as eating less meat and giving up single-use plastics.
This is followed by a shop selling environmentally-friendly products, while proceeds from ticket sales plant a tree and go to Oceanic Global.
"Arcadia is designed to inspire us to make small lifestyle changes today to protect the future of our planet; every message has an actionable solution," Vettori told Vogue.
"There is no plan B—we must focus on what we can do, and not just continue to have fun in a bubble. We can't blame our fathers, because they didn't know.
Pledge to make lifestyle changes at the 'vow room'
"We're not going to be able to blame our children, because they inherited it. And we can't sit around waiting for the scientific community to solve this – it's on us."
Meanwhile, the Museum of Ice Cream is launching its first flagship attraction in New York City this year, with 13 new multi-sensory installations and its biggest sprinkle pool yet.
Arcadia Earth is open now until February 2020.
Images: Arcadia Earth