Powering some of the world's leading AV experiences, Christie has been named 'Most Influential Company' at this year's AV Magazine Awards.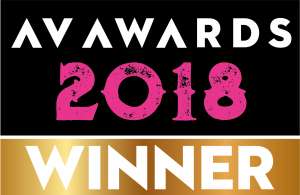 The category was specially created to celebrate the AV Magazine Awards' 20th anniversary. Its purpose is to highlight the company which, in the opinion of the judges, has made the largest contribution to the AV market over the past 20 years.
Christie beat off some of the industry's biggest and brightest companies to scoop the top spot. The award was presented at a ceremony held at The Grosvenor House Hotel, London, in front of over 1,100 audiovisual industry representatives.
AV Magazine Editor, Clive Couldwell, described Christie as having a "…seminal influence on many of the leading technologies and solutions employed in the pro AV industry over the past two decades". He also praised the company for its continued commitment to innovation…"providing tools and solutions that solve market problems and deliver outstanding audiovisual experiences".
A passion for creating the world's best shared experiences
On the judging panel were: Clive Couldwell, Editor, AV Magazine; Peter Lloyd, former Editor, AV Magazine (1976-2008); Mike Blackman, Managing Director, Integrated Systems Europe (ISE); David Labuskes, Chief Executive Officer, AVIXA and Graham Naylor-Smith, Associate Director, Ove Arup & Partners.
David Griffiths, Christie's Senior Director of E&E Sales in EMEA, was at the ceremony to receive the award:
"The future is bright and Christie continues to grow as an end-to-end digital display solution company – offering the hardware, software and professional services to inspire our customers," he said. "We are honoured to be recognized by our peers, friends and colleagues with this prestigious award."
"Getting here was half the fun," added Sean James, Executive Vice President, Christie Entertainment & Enterprise (E&E). "Thanks to all our partners, customers, and staff across the globe for feeding the passion we have for creating the world's best shared experiences. We couldn't have done it without you."
(Main image shows projection show on Egypt's ancient temple of Edfu.)