Christie visual solutions are powering the spectacular Nanhu Park Light and Water Dance Show in Bozhou, China.
The Nanhu Park Light and Water Dance Show combines music, water dance, full-colour laser, 3D imagery and fireworks. Engaging content highlights the city's colourful history and its aspirations for the future.
The show is part of the local government's efforts to help boost economic growth in the city. Bozhou is recognised as the capital of the Chinese medicinal herb industry.
Wincomm Technology selected Christie solutions for this ambitious project which required meticulous planning. The water 'canvas' measures 180 metres in length and is 40 meters high. Eight Christie CP2230 3DLP® projectors were chosen for the water screen projections, owing to their high-brightness and reliability.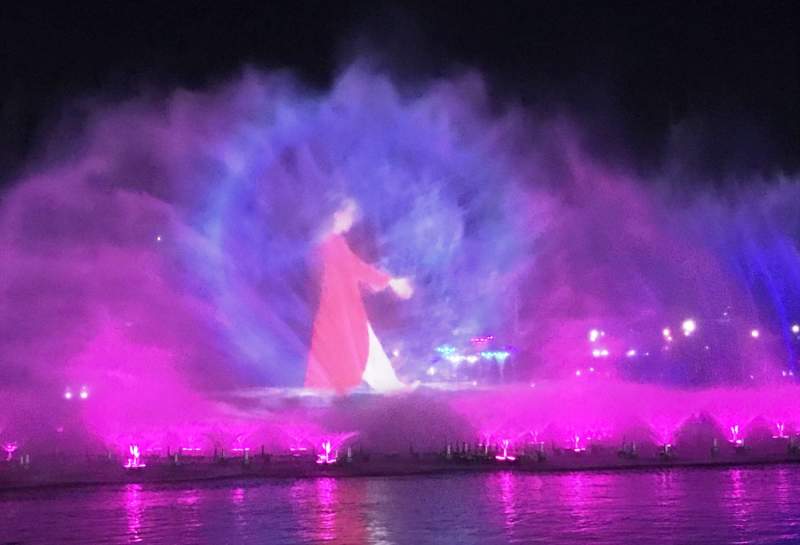 Christie takes large-scale projects in its stride
"We're honoured to be involved in this massive light and sound show in Bozhou," commented Tony Chen, General Manager, Wincomn Technology.
"We decided that Christie's large venue projectors are best suited for this project as they are reliable, easy to install, and able to deliver ultra-bright and high resolution images for a spectacular visual presentation."
To ensure the projectors delivered the ultimate experience whatever the weather, all eight were installed in a specially-built projection room located in the middle of the lake. This provided a number of challenges including safe transportation of the equipment, installation and cable layout.
Wincomm and Christie are long-time partners and took the challenges of such a large-scale project in their stride.
"Christie's strong heritage in cinema has provided us with the technological capabilities and a deep understanding of the entertainment business," explains Bryan Boehme, Executive Director, Global Sales & Business Development, Entertainment at Christie.
"It's wonderful to see Wincomn deploying Christie solutions in an innovative way at large-scale venues like this, which enable visitors to remember the past and look forward to the future through these captivating visuals."