Squint/Opera, the creative digital studio and consultancy, presents CURA (Connected Units for Respiratory Ailments), an open-source design for emergency coronavirus (COVID-19) hospitals.
Squint/Opera is the digital media partner for this collaborative project, which aims to convert shipping containers into plug-in Intensive-Care Unit Pods to be used during the current pandemic. This project is being carried out by an international partnership of architects, engineers, doctors, military experts and NGOs and the prototype is being built in Milan, Italy, with the sponsorship of UniCredit.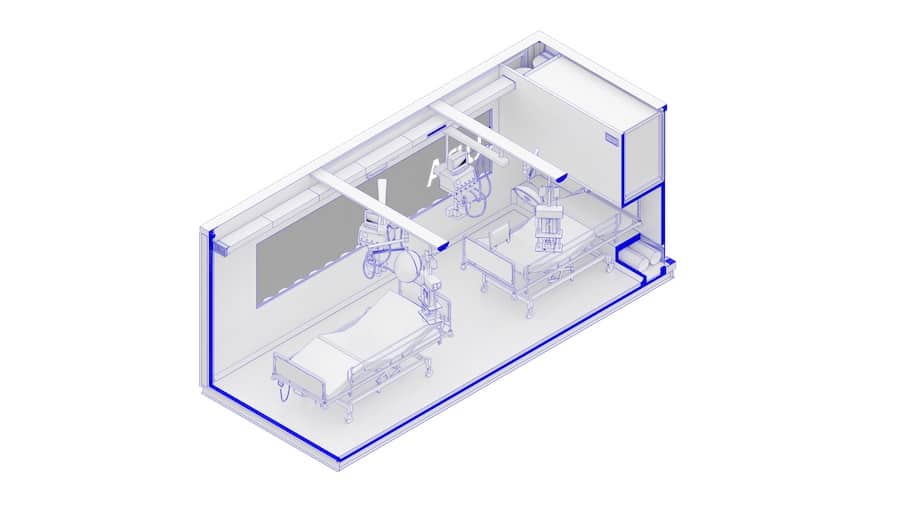 The idea is to create extra space for hospitals and medical facilities which are under pressure due to the pandemic. The use of shipping containers means that they are fast to mount and safe to use as isolation wards. CURA could be quickly deployed to cities around the world, allowing medical professionals to respond fast to the spread of the virus despite lack of hospital space.
CURA
Squint/Opera is spreading the word of this important project in order to connect with new partners. The team has also created an educational video and website.
CURA is a compact and portable intensive care pod that can be deployed in just a few hours. It is designed for those with respiratory infections. It is housed in a 20-foot intermodal shipping container with biocontainment, thanks to negative pressure. The units work independently or can be connected by an inflatable structure. In this way, it can host 4 to over 40 beds. It can be used next to an existing medical facility, or to create a free-standing field hospital.
A safe and quick solution
Many countries have been overwhelmed by the current pandemic, and have created makeshift facilities such as tents of prefabricated wards. However, tents can put health workers at risk of contamination, while building new wards costs time and money.
CURA is as fast to mount as a hospital tent but also ensures biocontainment. An extractor creates indoor negative pressure, complying with the standards of Airborne Infection Isolation Rooms AIIRs. Each CURA pod would contain all the medical equipment needed for two COVID-19 intensive-care patients –including ventilators and intravenous fluids stands.
This project would not have been possible without all of the people and organisations who have contributed thus far to CURA (listed chronologically):
CRA-Carlo Ratti Associati with Italo Rota (Design and Innovation), Humanitas Research Hospital (Medical Engineering), Policlinico di Milano (Medical Consultancy), Jacobs (Alberto Riva – Master Planning, design, construction and logistics support services), studio FM milano (Visual identity & graphic design), Squint/opera (Digital media), Alex Neame of Team Rubicon UK (Logistics), Ivan Pavanello of Projema (MEP Engineering), Dr.Maurizio Lanfranco of Ospedale Cottolengo (Medical Consultancy).
With the support of the World Economic Forum: COVID-19 Action Platform, and Cities, Infrastructure and Urban Services Platform.
Last year, Squint/Opera teamed up with BIG and UNStudio on Hyperform, a design tool that lets architects and planners collaborate in augmented reality (AR).