A new £19m aerospace museum is now open to the public in Bristol. Taking pride of place in Aerospace Bristol is Alpha Foxtrot, the last Concorde to be built. And Surrey-based Sysco Productions was instrumental in bringing the story of the supersonic plane to life.
Sysco Productions, which specialises in working at the intersection between storytelling art and engineering science, delivered the layers of audiovisual solutions around the museum. It worked closely with Focus Consultants and Beck Interiors to integrate the technology seamlessly amongst the museum's historical artefacts. The exhibtion space was designed by Event Communications.
Aerospace Bristol, home to the last Concorde
The new museum is designed to showcase Bristol's aviation achievements. Run by the Bristol Aero Collection Trust, it is home to Concorde 216. This is the final Concorde to be built and the last to fly. There is also a varied collection of aviation exhibits.
The museum is on a 9 acre site at the Filton Airfield, Bristol.  Filton is the spiritual home of the Anglo-French plane, as Concordes were both built and maintained there. The exhibits are housed in two First World War Grade II listed hangars. These give the museum over 5,000 m² of public exhibition space with 1,700m² of indoor learning spaces. There is a further 5,000m² of outdoor learning and testing space.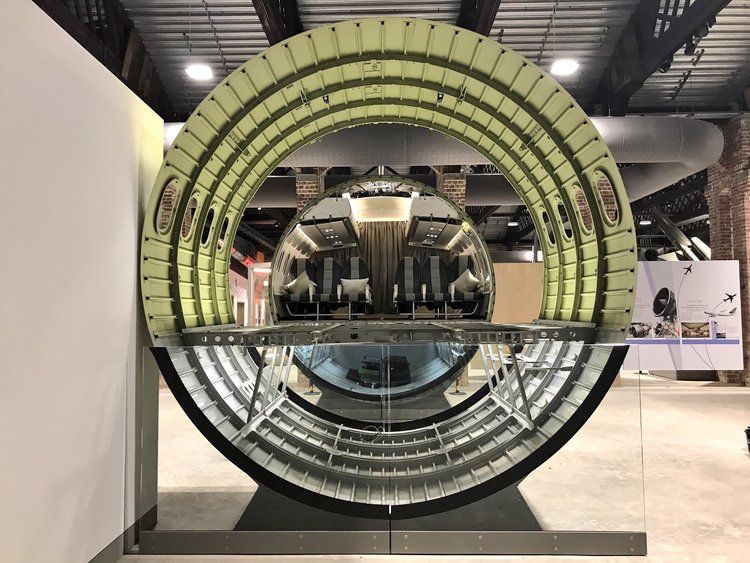 Furthermore, an additional building is currently under construction between the two hangars. This will be home to Concorde 216 and related exhibits. In this visitors have the opportunity to go inside the Concorde. The new building will have around 3,200m² of floor space. It will have conference facilities, with a lecture room and three meeting rooms.
Lloyd Burnell is Executive Director of Aerospace Bristol. He says, "Aerospace Bristol offers something for everyone. Concorde, as always, has the power to amaze and looks
just stunning in her new home. We have also created a first-class exhibition to tell the story of Bristol's aerospace achievements from 1910 to the modern day, and there are great fun interactives to keep all members of the family interested and entertained."
Audiovisual installations by Sysco Productions
Visitors to Aerospace Bristol start their journey in one of the renovated hangars. Here, they learn about the Wright Brothers' first flight in 1903. They then continue through the exhibits along the historical timeline of aviation.
The final point in the visitor experience is then the Concorde Hangar. The surrounding exhibition space looks at the history of the supersonic place, the most glamorous passenger aircraft ever built.
The exploration of  the iconic aircraft and the engineering that created it is brought to life through audiovisual installations by Sysco Productions. These give further insight into the significance of the science, technology, engineering and design associated with Concorde.