Combining art, puppetry and theatre with scientific authenticity, Field Station Dinosaurs is edutainment at its best. Having opened its first location in New Jersey in May 2012, it is set to open at a new venue in Wichita, Kansas in 2018.
Blooloop caught up with Guy Gsell (left), who came up with the unique and exciting concept, to ask about the origins of the increasingly popular phenomenon, the challenges and – first and foremost – the dinosaurs.
Gsell's background is in theatre. He toured the world with the Paper Bag Players, a children's theatre company. However, he has always loved dinosaurs.
"My love of dinosaurs started when I was a kid, when the World Fair came to New York City. They had these really great giant synthetic dinosaurs. I was only four years old, and I never forgot those dinosaurs," he said.
"So what I did was I took that love of dinosaurs and my experience in the theatre, educating and entertaining children, and I put them together into one thing – my dinosaur park."
Before launching the park, Gsell was the director of the Discovery Times Square Interactive Museum in New York City. In his time there, many companies approached the organisation regarding putting on dinosaur exhibits, however the facility lacked the space.
'Somebody should do these dinosaurs outside'
"Because I had always had a passion for dinosaurs, I thought to myself, 'Somebody should do these dinosaurs outside'. From that idea came, 'I should probably just do that,' and that's when I decided to go ahead."
Gsell had no idea how he was going to find a site, the dinosaurs or even any palaeontologists. He had a steep learning curve, helped when he discovered the palaeontologists on staff at Jersey State Museum.
When searching for a venue, he was lucky to find a site close to Manhattan that was suitable. However, the park is currently relocating to another site close by.
"Both the original site and our new site are within a few minutes of Manhattan, and both are wild, crazy overgrown woods with tall trees and a real natural environment. It was incredible to find that sort of wild site that close to New York City."
The site in Kansas is flatter and less wild, meaning Gsell's team will have to create the woods.
He said: "We'll be bringing in rocks and trees, doing a lot more planting to create the natural environment that we want, because we want kids to feel like they're encountering dinosaurs that have somehow appeared. Rather than looking like a theme park, we want it to feel like the kids are out in the wild."
A scientific expedition
When children attend Field Station Dinosaurs, they are taking part in a scientific expedition.
"We give every kid that comes to the park credentials and tell them they're a scientist. We ask them to be prepared to explore, make discoveries and ask questions," Gsell said.
It is a twofold experience. The main activity is a dinosaur trail featuring full-size animatronic dinosaurs that kids can encounter in a natural outdoor setting. There is also a live entertainment aspect with interactive performances and live shows.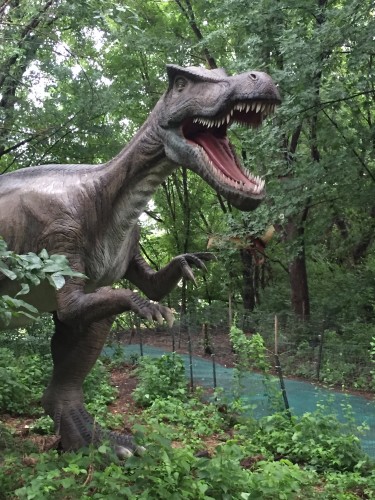 Jade Bamboo construct the animatronic dinosaurs for the parks, which they base on dinosaur fossils. Palaeontologists also play a key role in the process, approving all the designs.
"Our supplier is in China, in Zigong, home of animatronic dinosaur. We visited many factories, talked with a lot of different dinosaur advocators, and we worked with the company that was most willing to work with our palaeontologists."
The dinosaurs at each venue are site-specific. Both park's feature creatures that were native to the local area. This means Gsell is often asking for dinosaurs no one has ever made before.
"This is why we work with a company that is really in tune with us, and work with the palaeontologists who challenge themselves to make dinosaurs that no one has ever made before," he said.
What colour is your Dinosaur?
While dinosaurs may not have walked the earth for the last 65 million years, Gsell nevertheless contrives to make them relevant.
"There is always some new discovery about the dinosaurs, some new amazing stat, some crazy dinosaur that was just discovered," he said.
"We take the science of dinosaurs and create a way of using science that kids are going to be able to take with them back into the classroom, into the future."
The park's live show, 'What colour is your dinosaur?', is a good example of this. It discusses different theories about why dinosaurs might have been a certain colour.
"We bring that up into the modern world by talking about why animals today might be one colour or another," Gsell said. "Kids not only learn something cool about the dinosaurs, they also get a good lesson about the reasons that animals [have evolved to be] the colours they are."
Gsell believes that kids will get a lot out of return visits to the park, it is not a one-off experience.
"To keep it fresh and interesting we have special guest stars all year round, we switch up the shows, we switch up some of the games, and we sell season tickets. There are families who buy a season ticket to the dinosaur park and they come back over and over again all season long," he said.
Revenue
In addition to traditional revenue streams of tickets, gift shop, and refreshments, Field Station Dinosaurs has a few unique offerings. It shows 3D films and a new live show about a dinosaur escaping extinction will also cost extra.
The park has an additional activity called Palaeontologist's Laboratory, where children learn what happens after fossils come back from the lab. They also get to dig fossils out of stone.
"That's a sort of merchandise-plus add-on because what you get to take home with you are all these great fossils, but there's an activity to get the fossils out of the rock," Gsell said.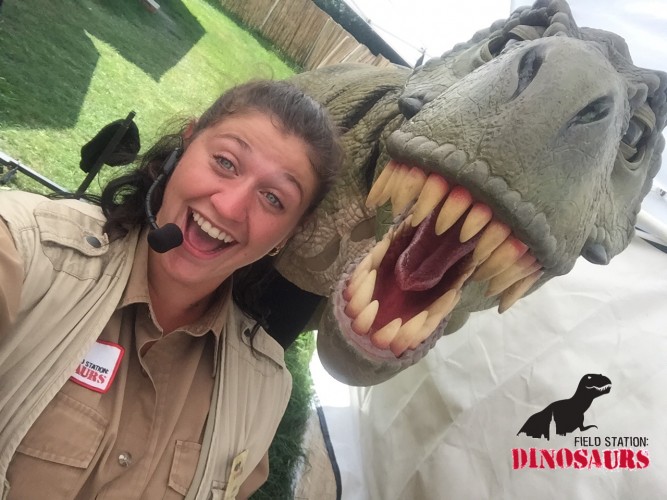 While he can't talk about the new show in development, Gsell did explain the principles of the current main show. Called 'T-Rex Feeding Frenzy', it uses scientific method to figure out what a dinosaur ate.
"What's really cool is that we're the only place that can do an experiment with an 'actual' dinosaur," he said. "At the end, we bring out the T-Rex and conduct experiments to figure out what his favourite food is.
"It's a really fun show because the kids get to meet the T-Rex right up close and it's very realistic. Because it's a puppet, we can make it as friendly or as scary as we like, depending on the audience."
The new Kansas attraction will pull its audience from a wide area. Gsell anticipates visitor figures similar to the New Jersey park, which are in the region of 100,000 annually.
Future expansion
When developing new parks, Gsell plans to include all-season areas so that events and educational programs can continue year round.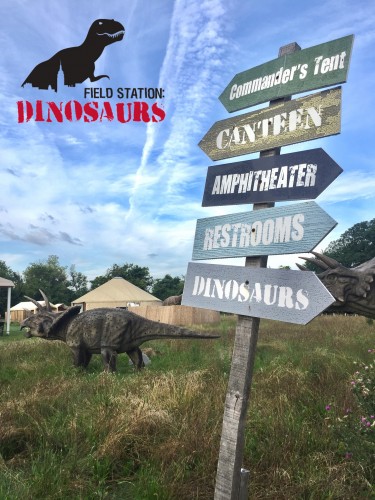 He believes that the organisation has a good model for future expansion, which he developed over time in New Jersey.
"Because we have figured out a way to do this efficiently, it's not crazy expensive. So it's very attractive to a wide range of developers, both in entertainment and in real estate. We are now constantly being contacted by developers and people looking for something to add to an existing attraction that needs a bit of oomph," he said.
The Wichita location will open in 2018, followed by the relocated park in New Jersey in 2019. Gsell hopes that a third park will be ready to open in 2020.
"Interest has come mainly from the US, but we have had interest from Argentina and China, to replicate what we do in other countries."
For Gsell and Field Station Dinosaurs, the ancient past is a future that looks bright.