That's because Linnanmäki has another, long-established event to bring its season to a spectacular finish. After completing her third year at the helm of the Helsinki park, Pia Adlivankin tells us how the park packs a lot into its short, six-month season.
I joined Linnanmäki in summer 2014, taking over as general manager from Risto Räikkönen, who retired after many years. My background is in hotel management. I have a Hotel Administration degree from Cornell University and during my career have worked at some very upscale hotels in the USA, Germany and Finland. I also worked at a sports arena a few years earlier.
Four years ago I was ready for something completely different. I saw an ad in the newspaper for the job here at Linnanmäki. All my life when I've been in Finland, I've been living in Helsinki, so I was very familiar with the park. At the spur of the moment, I thought I'd submit my application. Three months later, low and behold, I was offered the job.
Motivate your staff and the rest will follow
Actually, my experience in hotel management prepared me excellently for this job. We have a lot of temporary staff, a lot of young staff, there's the service culture. You are always looking at ways to surprise and exceed guest's expectations.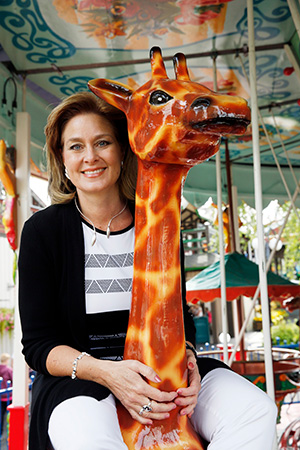 What makes me tick, and I believe the only way you can succeed in a service industry, is to motivate your staff first. If staff are motivated and committed, if they are excited to be here, then they will provide great guest service.
About 50% of the seasonal staff we renew each season. It's always good to have fresh blood and new eyes.
On the other hand, it's important to have experience. We have over over 60 permanent staff members. Over 20 of those are in the maintenance department. Many have been with us a long time and have extensive experience. You can't learn amusement ride maintenance from a book; you have to be in the park.
Improving sales and guest satisfaction
We are one of the most visited tourist attractions in Finland and have between 1 and 1.2 million visitors a year. That is quite good when you think we are only open six months a year (May to October).
During my first full year (2015), we grew the sales by almost 8%. The following year it was bit more, and this year it looks like we are about 4% up over 2016. So we have grown quite a bit. We continuously measure guest and staff satisfaction and we have grown both of those, too.
About 80 per cent of our guests are Finns, and out of those I would say about 70-80 per cent are repeat visitors. People come to us from generation to generation. We also get a lot of people from Estonia. They don't have an amusement park of their own and we are only one-and-a-half hours by boat from Tallinn. Then there's the Swedes obviously; all the neighbouring countries. The Russian tourists are starting to come back, too, and we also see some people from Asia.
Autumn nights come alive
We had a lot of zombies roaming around the park this September. Traditionally it has been our slowest month. We wanted to do something to encourage teenagers to come with their new classmates, give them a bit of a thrill. We tried a horror event – Linnanmäen iik!week ­– last year. If we're honest, we didn't really know what we were doing, but it got good feedback so we thought we'd do it again. This year we doubled the budget and brought in again a company called Dusk Tilt Dawn to help us. People were very happy; some said it was almost too scary!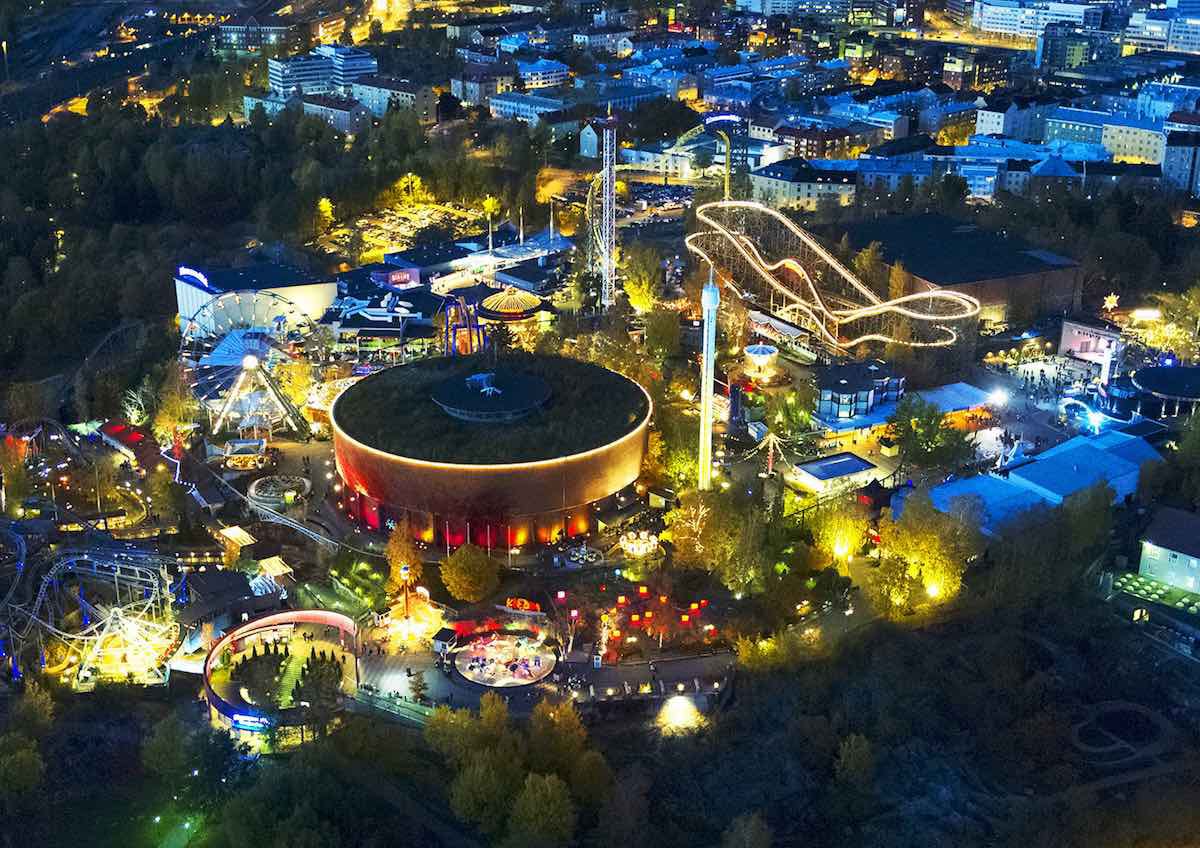 In October we have another event that runs for two weeks. It's called The Carnival of Lights, and has been very popular for 12 years already. During this time, the whole of the amusement park is covered in spectacular lights. Interiors of many familiar rides are lit up in surprising ways for the event. Around the park you will also find light projections from different artists. Our busiest days of the season are always during the Carnival of Lights, it's a really magical period.
We then close the park for the season after this event. In the city of Helsinki there are a lot of Christmas markets and it would be foolish to try and compete. I know some parks in Sweden and Germany open for the winter, but it's much colder here and we can't operate the rides in such temperatures. We also need the maintenance and building time for the coming season.
The park did try a winter event in February some years ago, before my time. It was focused around all the things you can do in snow. The problem was there was either no snow, too much snow or it would be -25°C. It never worked, so now we only open half the year!

Having fun for a good cause
Linnanmäki amusement park was founded in 1950 by six child welfare organisations that became the Children's Day Foundation. Almost all of our net profits are donated to children's welfare, so when people have fun with us they do good at the same time. This year we will donate €4.5 million for the welfare of Finnish children. That's a lot of money, and we are all very proud of that.
We have no entrance fee in to the park. Because of our background we also have 10 free children's rides, so people who may not have the money can still come and enjoy small children's rides and the sightseeing Panorama tower.
Each summer during our peak season (June to August), our hugely popular 'Attraction Buddies' are here to help young guests. They are available to visit a few attractions with a child if their guardian cannot or does not want to ride themselves. The service is brought to Linnanmäki's visitors by one of our main sponsors, SOK/HOK-Elanto.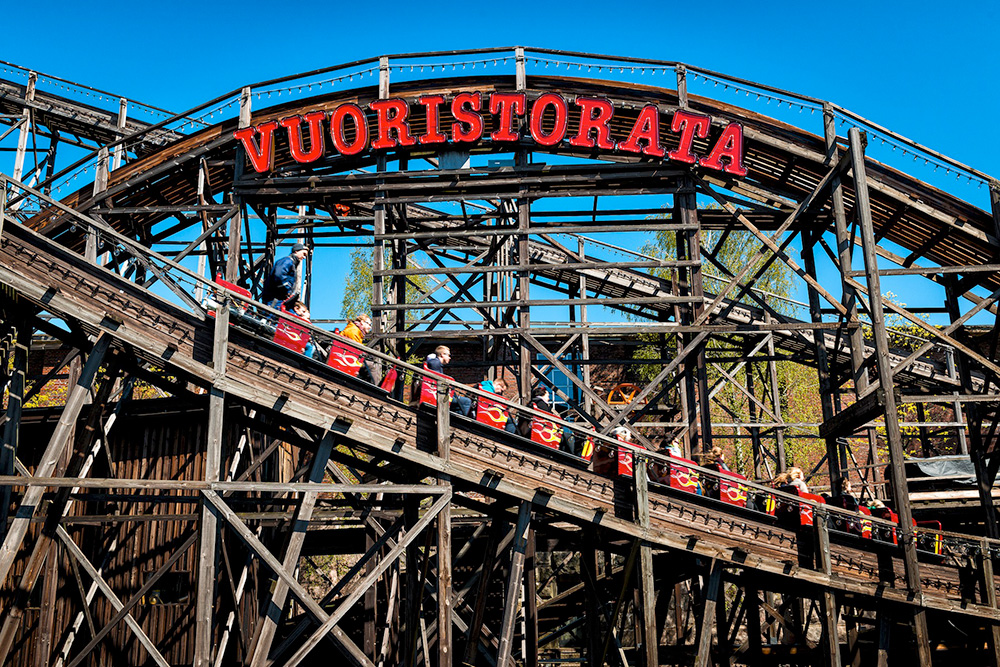 Riding high in the city
Because of our location on a hill, when you are riding some of our taller rides you get a really great view of Helsinki. We also put a lot of emphasis on nature and the landscaping; it's quite a beautiful park.
Our wooden rollercoaster, Vuoristorata, was built in 1951. It has ACE Coaster Classic status and is one of the few still left in the world with a brake man. It's a great ride. We have some other interesting coasters including Kirnu (Intamin ZacSpin), Ukko (Maurer SkyLoop) and Tulireki (Mack E-Motion coaster).
We have four tower rides in the park. The Kingi freefall tower by Moser Rides is one of my favourites. I also love water rides, so the Hurjakjaru raft ride is a highlight.

We have a fun house, Vekkula, which has been here since the 1970s. That has been one of most popular attractions in the park over the years. Unfortunately, 2017 was the last season for this classic attraction. However, we have plans to build an even more amazing fun house in the future. We have got a nice ghost train too, Kyöpelinvuoren hotelli.
Our new ride for 2017 was Magia by Technical Park. It spins visitors clockwise and anti-clockwise at eye-watering speed. We wanted something that twists and spins like the old ride that was in its place, a Huss Booster. Amongst other attractions, we still have an old Huss Top Spin in the park, too.
VR vs the wind in your hair
We were the first park in the Nordic countries to have a VR coaster when we introduced Linnunrata eXtra in 2016. One of the leading factors behind our decision to use this attraction was that it is an indoor family coaster. I've tried VR glasses on other coasters. If it's too wild a ride you kind of loose out, you might as well be rocking around on a lounge chair. I think this coaster (by Zierer) is big enough that you feel the motion, but it's not too scary.
The VR content is very well synchronised with the ride, it's good quality and you don't get nauseous. We partnered with Mack Rides and MackMedia after trying out their system at Europa-Park. We have two films. One is a fun and surprising space content. Then we have some scarier content that we put on for the horror event and the rest of the season.
We will definitely not do VR with every ride. I like it on the one ride that we have. For the wilder rides, I don't think it's a good fit. Nothing can replace the real experience where you have the wind in your hair and you see what the world looks like upside down!
Wraps and per caps
Obviously, food and beverage is a very important part of our per caps, and represents about 25 per cent of revenue in the park. We have many F&B options. When you've been on a lot of rides, you want might want something a little sweet or salty.
At Cotton Candy School, guests can make their own cotton candy under the instruction of Professor Socrates. It's a lot of fun!
However, we have a lot of healthy choices too, like salads, meatballs or tortilla wraps.
If our guests do not want to go and do 20 rides, hopefully they'll play some of our traditional skill games. For the corporate market segment, we developed a very popular escape room concept all around the park. This team building game has been more popular than we ever imagined. We have been able to grow our games revenue by 17%. Then we have companies that want to rent out the park for three or four hours for their private functions. We have about 20 of those bookings a year.
We are currently looking at technical solutions to use big data to link everything together, including spending money, all on your wristband.
You have the fish, we'll have the chips
The land on which Linnanmäki sits is owned by the city of Helsinki and is on a very long rental contract. So we will be here for many years to come! Until recently we had a 50:50 partnership with Merlin Entertainments in the Sea Life aquarium inside the park. Last summer we sold our shares, and now Merlin rents the space from us. When we did the sale, we joked that you can have the fish and we will have the chips! It's a good co-operation and works for both of us.
One of our challenges is that we have no more land and can't expand outside the park's borders. People always expect new rides and innovations, but for if we put in something new, we have to take something out. Every ride is always somebody's favourite.
Over the past few years, I have visited many other parks. It was important for me to see what's out there and learn the industry. It took a while to decide how we want to develop our park in the future, to understand the purchasing processes and negotiate the best offers for us. Now we pretty much know what we want for the next five years. We have some very exciting things coming up, some very big investments.
Industry convert
You never know what's going to happen in future, but I very much enjoy this job. I love this industry more than I thought I ever would.
My main goal at Linnanmäki is to make our park a great place to work. I want people to remember this place and say "wow, those years I worked there were a highlight of my career, or really great for the development of my future career". I hope our culture is such that it really brings out the best in people. And of course I want the families that come here to have a great experience and keep coming back from generation to generation.