Michigan's Adventure is the state's largest amusement and water park.  Located in Muskegon County, it features more than 60 rides. The 250-acre (1.0 km²) park also includes an outdoor water park, WildWater Adventure, that has just upgraded its offering for younger guests.
The park has been owned and operated by Cedar Fair Entertainment Company since 2001, yet it still retains the atmosphere and ethos of a family-run business.
Camille Jourden-Mark, (left) Vice President and General Manager at Michigan's Adventure, spoke with Blooloop about her background, and the park's history and evolution.
The story starts in 1956, when Camille Jourden-Mark was two years old.  Her father, Roger Jourden, bought a 250-acre amusement property called Deer Park.  It was mainly a petting zoo at this time, with deer, llamas, monkeys, chickens and ducks.  Jourden renamed the park Deer Park Funland.
The first ride was built in 1958 – an Alan Herschell 16-gauge train called the Deer Park Special.
The Park's Youngest Worker – Aged Six
Jourden-Mark was actively involved with the park from a very young age.  She recalls how her parents built a duck pond when she was just six.  "I operated the duck pond which was a game.  My parents felt it was a good way to know where I was in the park, to keep me safe.  I generated revenue for the park as well."
Over the next decade, Jourden-Mark continued to work for the park, both on the games side and with merchandising.  As she grew older, so her responsibilities grew.   "By the time I was 16, I was actually helping with training new associates," she says.  "Several times I conducted interviews when my father wasn't available."
A Change of Name and a Shift in Career
1988 was an exciting year, both for the park and for Jourden-Mark herself.  "We changed the name of the park from Deerpark Funland to Michigan's Adventure that year," she recalls. "We also put in our first wooden coaster."
In addition, her parents asked if she would consider spending a year in group sales after she graduated from college with a degree is Business, Advertising/Public Relations.  Jourden-Mark had never intended to make the park her working life.  However she had worked there during each vacation, learning more and more about the business.  She ended up working in every department, with the exception of maintenance.
Jourden-Mark agreed to join the team.  Initially her plan was to stay just for the one year but the park clearly got under her skin.  "Obviously, I never left," she says.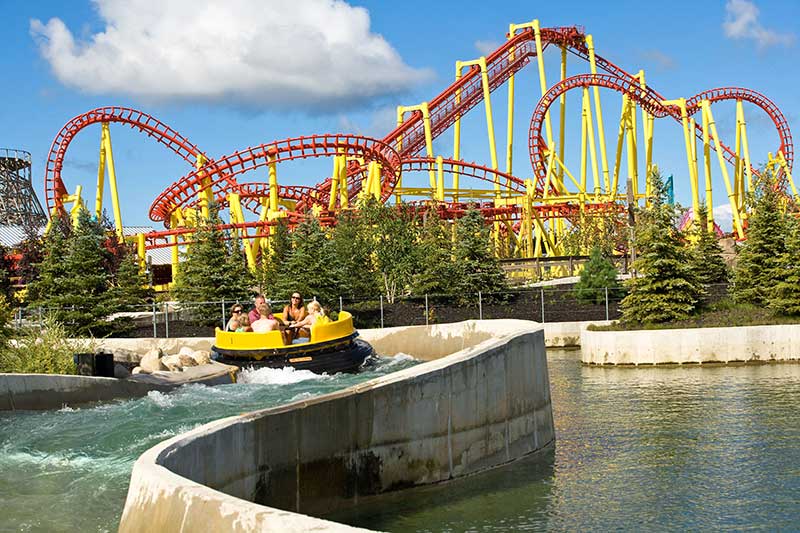 Adding Water to the Attraction Mix
The park is headlined by seven roller coasters, including the world-class and critically acclaimed wooden roller coaster, Shivering Timbers (see video below).  The historic Corkscrew coaster is over a mile long and 125 feet tall. Another famous ride is the suspended looping coaster, Thunderhawk.
Wildwater Adventure opened in 1990. Originally the waterpark included eight water slides, a wave pool, a children's play area and a lazy river. "I became our first lifeguard instructor in 1990, when we built our waterpark," says Jourden-Mark.  In 1997 the waterpark was extended to include two more wave pools, the Snake Pit slide complex, the Mine Shaft family raft ride and a children's play area.  Further additions came when Cedar Fair took over the park, adding cabanas and the high thrill Funnel of Fear tornado slide.  Beach Party was added in 2011, a children's play area with geysers, net bridges, slides, spray guns and dumpers.
Keeping the Family Involved
In 2001 the family sold the park to Cedar Fair.  The company owns and operates eleven amusement parks, alongside water parks and hotels.  However the ethos at Michigan's Adventure remained very much that of a family park and the family are still very much involved.
Jourden-Mark even met her husband at the park.  "He started when he was 15," she recalls. "And he worked in several areas as well. Today he is still here as Vice President of maintenance and construction."
Their two youngest children also work at Michigan's Adventure.  However their older son works for 'the competition' – another Cedar Fair attraction, Cedar Point.  "He has a corporate position there with a roll-out project," says Jourden-Mark, "so we are still very much all in the business."
Coping with the Competition
The closest competitor to Michigan's Adventure is Cedar Point, also owned by Cedar Fair.  The 364 acre amusement park is in neighbouring Ohio, on a Lake Erie peninsula.  It is the second-oldest amusement park in the United States and features over 70 rides, including 16 roller coasters, over twice as many as Michigan's Adventure.  Jourden-Mark is well aware of the challenges this brings.  "It's a constant challenge, having one of the best parks in the country as the closest park to us,"
There is a significant size discrepancy between the two parks, and competing for the same demographic is not an option.
Rather than trying to go head to head with Cedar Point, their primary focus is families with smaller children.  "By the time kids are in their teens, and early 20s they want to go to Cedar Point, for the biggest, the tallest, the fastest rides.  In contrast, Michigan's Adventure is a great starting park for people with little ones."
However the park and the waterpark do both contain attractions with 'teen appeal' so Michigan's Adventure is a good choice for families with a broad mix of ages.  Not too big that little children get overwhelmed yet with some wilder, deeper thrills for older ages.
Good Value for Young Families
A ticket for Michigan's Adventure, which comprises both amusement park and waterpark at a pay-one-price, offers good value for young families.
"When people come to our park they get both parks for the whole day," says Jourden-Mark. "There is certainly enough here to keep guests busy. In fact, many of our guests do a two-day visit, where they do the waterpark one day, and the amusement park the next."
The attraction offers a range of tickets, with extra deals available online.  Season Passes include unlimited visits to Michigan's Adventure and WildWater Adventure, alongside food and merchandise discounts. The pass pays for itself in less than three visits making it great value for those within the area.
Playing to Strengths 
Michigan's Adventure's operating season runs from Memorial Day through Labor Day. "This year we will open the Wednesday prior to Memorial Day," says Jourden-Mark.  "We then begin our daily operations the Friday before Memorial Day. We open with Physics Day, when high and middle school students can study the physics of the rides."
Jourden-Mark is keen to play to the park's strengths, rather than try to compete with other Cedar Fair parks.
"All of the other Cedar Fair parks do HalloWeekends and different Haunt Events, but we have chosen not to. It has been considered, but our closest big city is Grand Rapids, which is an hour away, and I know many of our Grand Rapids guests visit Cedar Point during their HalloWeekend events."
Seasonal Aspect of the Park Helps Keep it Fresh
Keeping the attraction fresh so visitors return again and again is key.  One of the advantages of being a seasonal business is that the pause between seasons gives the management team a chance to analyse the past year and plan for the next.
"Every year we get that fresh start to create new goals," says Jourden-Mark.  "We can really focus on improving the guest experience through better service and through new food options in the park.  New attractions are always great, but of course we don't get those every year.  However we can focus on the detail of the landscaping, the cleanliness of the park, the courtesy of our associates, and, of course, first and foremost, safety."
Technology is Impacting on all Areas 
As far as rides are concerned, the park doesn't have virtual reality experiences, Jourden-Mark explains.  However that doesn't mean that technology is unimportant.
"It has certainly played a big role with our different ticketing systems," she says. "And we have some changes coming into play this year with our admissions.  We will be taking photos right at the turnstiles, and implementing four seasons passes as well as two-day tickets.  Guests won't have to come into the office for that. We will also be introducing, for the first time this year, some self-order kiosks within food service, to improve efficiency and the guest experience. That will be new for this coming season."
Splashpad® by Vortex and the All-new 'Half Pint Paradise' 
"The kiddie area in our waterpark is being totally upgraded," says Jourden-Mark.  The existing facilities were removed and replaced with seven new children's rides.  Splashpad is a dynamic zero-depth play area, created and installed by Vortex.  It combines the sensations of different water movement – flowing, misting and jetting – with over 250 features.  "It has interactive water play features with a sailboat, a sea serpent and other sea creatures," says Jourden-Mark, "as well as plenty of activities to stimulate the imagination of kids."
As the space is zero-depth it makes the area very safe.  Innovative recirculation and capture and repurpose water management systems reduce water consumption, making the play area sustainable and eco-friendly.
In addition there is a dumping water structure and bubbling geysers.  "It really is a great enhanced kids' area."
Rerouting Traffic Makes the Waterpark Safer
Making the park super-safe and friendly for small children is a key focus.  "We are rerouting some of the traffic in the waterpark," says Jourden-Mark. "Making one area of our waterpark much larger, and connecting it with Beach Party, which is also a kids' attraction."  The park has three wave pools and this new move will bring small children closer to the wave pool with the smallest waves.
"It will be a great family area for parents with little children.  We have also created a new entrance to our number one teen ride, the Funnel of Fear, so small children will be able to run around safely without any cross-traffic."
A Clear, Focused Mission that Stands the Test of Time
"Our mission hasn't changed over the years," says Jourden-Mark. "It has always been about giving families a place to have fun together, in a safe and family friendly environment.  That has always been our main focus."
She recognises that guests will always want something new so the challenge is to provide that while still keeping the park safe, friendly and fun.  "Part of what we do is to adapt to and anticipate the needs of the guests each season," she says. "We keep the offering fresh and exciting, in one way or another, while always giving great guest service and value.  When a guest comes to our park with kids they leave wanting to come back for more."