With its extraordinary shows and spectaculars, Puy du Fou wows audiences on a daily basis. Having perfected the park's live entertainment model in France, CEO Nicolas de Villiers wants to turn Puy du Fou into a global brand.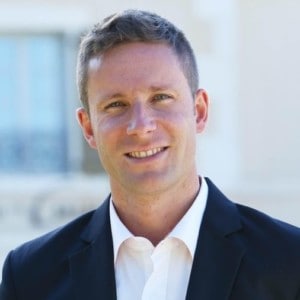 Following the opening of Puy du Fou España last year, new projects are planned in China, and the American continent could be next. Here, Nicolas de Villers speaks exclusively to blooloop, discussing what makes the French park special and looking at plans for future expansions.
What makes Puy du Fou different from other theme parks?
"Puy du Fou is a very special kind of leisure park. We are a show park, we have no rides. We are surrounded by nature and the natural environment. It's a model that doesn't exist anywhere else in the world as far as I know, but it's been a huge success in France.
"Puy du Fou was born 43 years ago when my father did one show, the Cinéscénie. It's now one of the biggest shows in the world, with over 2,500 performers. After 10 years, he created a park with some historical villages.
"At the end of the 90s, we created the first outdoor show with some performers, horses, eagles and special effects. We created a lot more shows in the 2000s. Now we have six hotels, so we can also welcome some business tourism."
"Each show is based on history. In France it is based upon French history, in Spain, it is Spanish history. We try to create a new show every year. It's very important for us. This is the way not only to keep your audience fresh but to keep your teams with you because they love to create.
"The technology in the shows is completely hidden. It has to serve the staging and storytelling. When we make a whole castle disappear, of course, there is huge technology behind this. But we want you only to see the magic effects."
Everything at Puy du Fou appears to be historical, even down to the food in the restaurants. How do you ensure such consistency?
"It's the same team who conceive everything. The restaurants, the hotels, and also the shows. The way we think is, it's like a journey in time."
"This is one of the main strengths of Puy du Fou: everything is very authentic. There is nothing that could escape you from the dream. The trees, the decor, scenery, everything has to be carefully prepared and well made. Even the materials we use. We use real stone, real wood. So you can touch it and feel it is authentic."
Are animals almost as important in your shows as human performers?
"When you deal with history, you have to deal with animals, because animals were the best friend of humans for thousands of years. Before the car, you had the horse. You cannot think humans made history on their own. They made history with animals. We just forgot that because we live in cities now."
"The animals, in a way, are easier to stage. But you have to accept that when you put an animal on stage it cannot be the same show every day. They need the freedom to go at the speed they want. Animals stay always like kids. They love to play, and as soon as they start to play you can see that they are in good health.
"We control that very carefully. If they are healthy, they are mentally speaking in a good mood; they like to play the show. If they don't like to play the show, you see that very quickly. A bird, a horse, even a duck, can have a mood."
Tell us about your new show for this year. It is a reimagining of an existing night show on the lake?
"Les Noce de Feu means something like the Wedding of Fire in English. It's a very simple story, some lyrics of a poem at the beginning but then no dialogue. We have re-orchestrated completely the classical music.
"It's very poetic, but you can't imagine that a carriage drawn by some swans will emerge from the water. You see also some holograms on the lake, and a pianist skiing on the water with his piano. It's a kind of phantasmagory, everybody likes it, and we are very happy with it."
"We also have some new effects in the Cinéscénie this year. We go through history in this show, from the Middle Ages to the Second World War.
"There is a big party scene in the 1930s. Suddenly a plane arrives to break up the party and drop some bombs on stage. The plane is huge, 20 metres, it comes over the audience, which is very surprising. People are asking is it a drone, how it possible to have this above the stage? It's a real aircraft!"
How are you managing this season with social distancing in the park?
"We have, let's say, an average of 3,000 seats in each big show, except the Cinéscénie, which is 13,000 seats. The capacity of the park could be as much as 38,000. Now our peak days are a bit less than 20,000.
"We have some people that are afraid of coming because of this coronavirus. Either they don't want to come because of the disease, or because you have to wear a mask."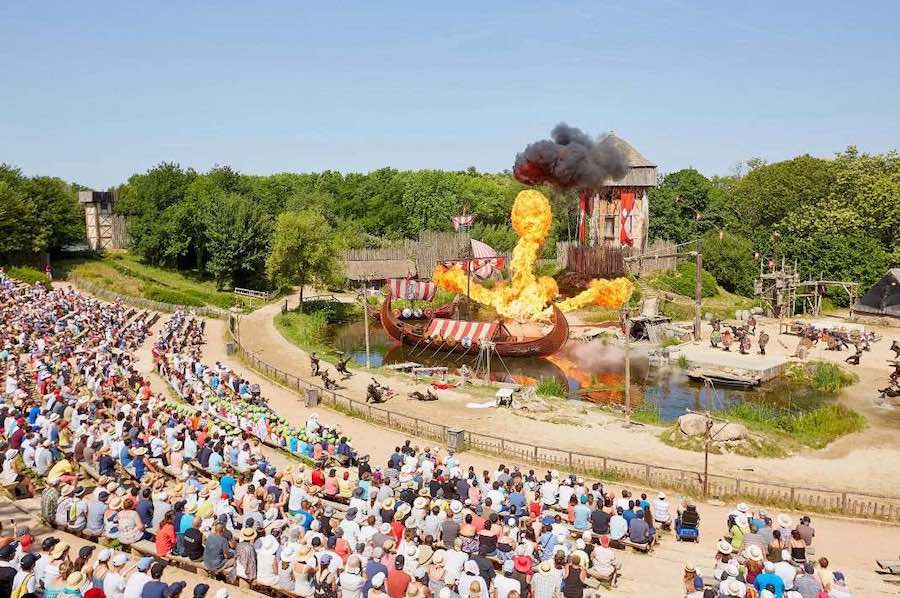 "Because of the show schedule, we can organise the walk of the people in the park. When people go to the musketeer show at 10 am, then we know they will see the Viking show at 11 am. But we can change the schedule every day, and also inside the day. So if there is a large attendance, we can add some shows.
When did you realise you could export the Puy du Fou model internationally?
Around 2010, people were coming to us and asking them to make a Puy du Fou in their country, based upon their culture, their heritage, their history. Then I went to Efteling, just to visit with my team. The big boss of Efteling asked me to remake a show that they had.
"That show [Ravelijn] allowed us to start our international expansion, and Efteling helped us a lot. That was in 2013, and we still have about 50 people there now."
"In 2016 we did another show in England for someone else. After that I thought, OK, I am able to create a show with my team abroad, so let's create our own shows. For Puy du Fou España we have a site in Toledo and started a new adventure in Spain there. A lot of tourists come because it is close to Madrid, and we have had a warm welcome politically speaking.
Puy du Fou and Efteling each have a distinctive style. How did you achieve a show with Ravelijn that represented both parties?
"Let's say we had to get dressed as an Efteling man or woman. Efteling is 1,000km from our base in France and has, as you say, a very strong style. We had to adapt our way to this thinking, this artistic view."
"When you see this show, you see an Efteling style. But you can recognise some Puy du Fou ingredients. On stage, there are more than 20 performers, horse riders, falconers and stunts.
Puy du Fou España started last year with a night show. Is the supporting theme park still on track?
"We are lucky COVID has not delayed the park. What was delayed is the night show this year. The premiere was the end of August 2019. We got a large success and planned to open the night show from April to October this year. We opened in July.
"That means we lost three months. But we didn't lose a lot of time building the park. We are aiming for an opening of March 2021. We can do it."
"We will have four big shows and three little villages. It will be a Puy du Fou park as you see in France but smaller. We will have many more shows in the next 10 years, but the first four will be really big shows. Let's say they are similar [to France] in the way we stage them, but the stories are completely Spanish.
"We don't want to have hotels at Puy du Fou España. There are some very good hotels in Toledo, and we are very close to the city. It's also good because they are historical hotels, the city is very historical, so you don't really break the dream when you sleep in downtown Toledo.
Puy du Fou Asia is your biggest project yet. What will be different, other than the stories?
"You know the Chinese see things in a very different, large way. Yes, we can create some shows [similar to] what we do in France, but larger. I think China is also going to enable us to test some concepts. For me, that means the way I will bring you into a story.
"You have two questions when you make a show. One is what is the story, what do you want to tell? The second question is how do you want to tell it, what do you want to show?"
"We can be much more immersive, not just because it's China and we will have the means to stage something bigger, but because the attendance is bigger. It is one-third of humankind. You cannot avoid China is you want to expand your brand. I want to be a global brand within the next 15 years, that is my target. To do that, I need to go to China."
What have been some of the challenges of working in China?
"The first challenge of is course is the cultural difference between us and China. We must understand the way they think. What will be the purpose, the content of the park? Not only the attendance but also the spirit of the project. Trust is something that is quite difficult to get. But this is normal because we operate so differently."
What were your requirements when looking for partners in China?
"You cannot go into China without a local partner. Even Disney has a Chinese partner. Because you cannot own the land, it is not possible to be the main owner of the company as a foreign company. So you have to find some acceptable business model which will work for everybody."
"We are actually working on several projects. I cannot say now who are the partners, but they are some state companies. We prefer to work with big companies because they do not see us a challenge to them. Let's be humble, we are so small in comparison."
Your first project will be at the foot of the Great Wall of China?
"Yes, we discussed this project. But when you sign something in China, it is just the beginning of the discussion. When you sign in Europe or Western Countries, it is the end of the negotiation."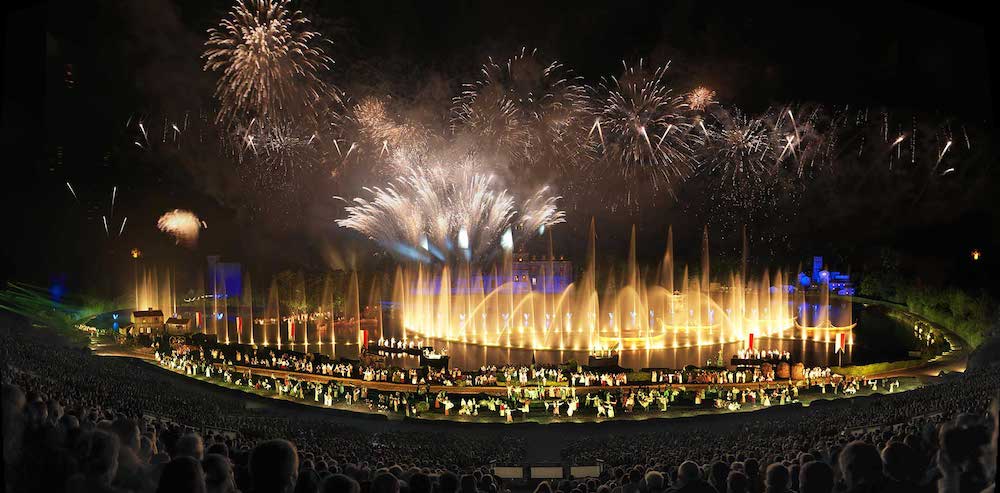 "So the idea is to see what we can make, what political authorisation we can get. It takes time, but we know that. We have a small team in China to develop the first phase of the project. Let's say in 2025 we will have opened something in China. This was my target from the very beginning, and I think we can do it."
Will you start with just one show or a full theme park?
"It depends on the place. We could start in the same way as we did in France or Spain, but we could also start with one big park from the very beginning. A few cities are in competition. Among them are some of the biggest cities in China. They are offering us some beautiful places and lands."
"But we are not thinking about only creating a park. We have other concepts."
So you don't just want to do create large spectaculars with huge casts of performers anymore?
"In China, we could do that, of course. It's a big part of Puy Du Fou's signature, but I don't want all my life to reproduce the same things. We have to offer new experiences to the people.
"Your kids and my kids will have Google glasses or Apple glasses in the next 10 years, maybe the next five years. What will they see in the glasses? They will see some augmented reality. What does it mean? It means that they won't think of the world the same way as you and me. They won't have the same relationship with reality."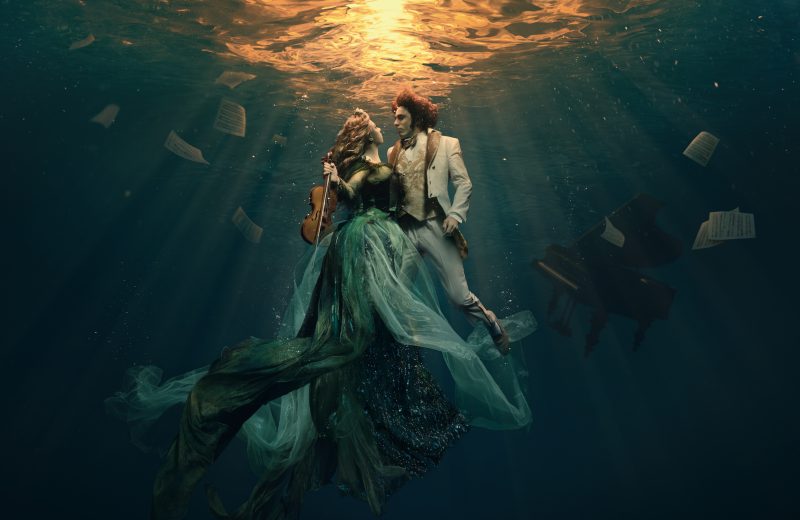 "So if you play with the same special effects and same way of staging in 30 years from now, it won't work I don't think. The Netflix expansion is very interesting. The movie business production model is completely changed. This kind of phenomena has to be analysed by us to understand what happens in the real world. You cannot offer leisure if you are not connected to your world."
Where else in the world do you need to go to become a global brand?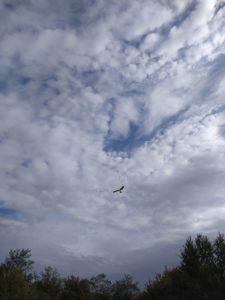 "Where should I go after [Europe and Asia]? To another part of the world, which is more in the West. Maybe I should put a Puy du Fou flag on the American continent? I do not know if it would be in the USA or not. But it doesn't matter yet.
"I have to go step by step, and we are now in 2020. I am just studying the opportunities there, but it is a little early to say if it will be in this country or that one."
Few people have copied Puy du Fou, despite your success. Why do you think this is?
"My comparison would be typically French. It's like when you go to a restaurant with three stars. You eat the things the restaurant offers you and think it's good, but it doesn't seem so complicated to do. You look at the decoration and think the same.
"Then you go back home and you try to create the same place, the same cooking, but actually you cannot get the three stars. Why? Because there is something that is completely invisible. It's like the salt in the cooking, and that's the soul of the show."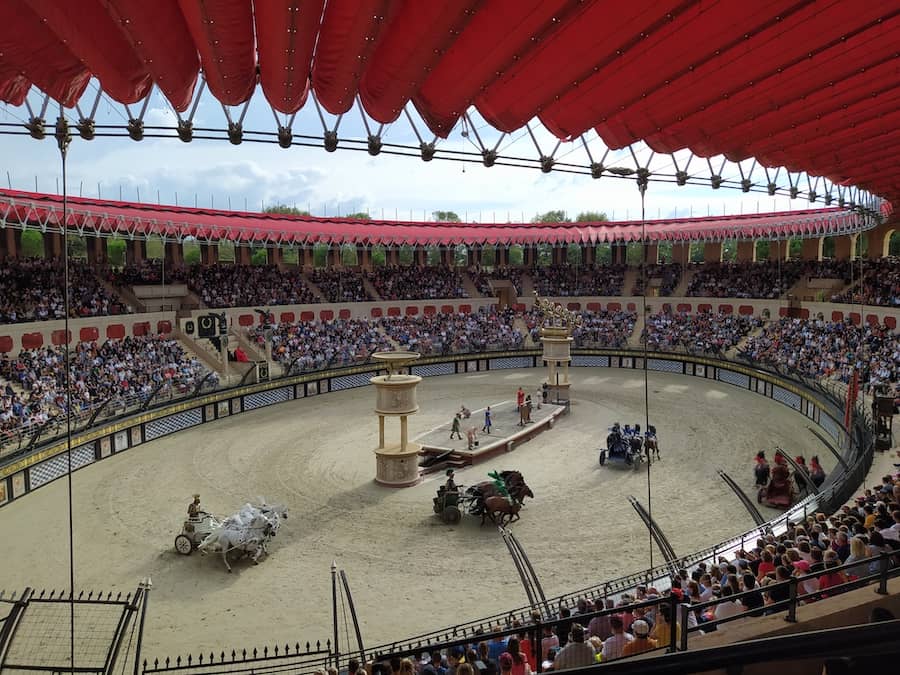 "When we do a show, people think it's so simple. The idea is simple. But to make it, you have to have long experience of what could work, what would not work, and why. All the experiences, all the tests, all the failures, everything backstage, is what brings you to success. You could try to copy Puy du Fou, but you will copy only the visible part.
"Maybe this is the reason we have not been copied many times. But I think Chinese people will try to copy us."
You're still involved in the artistic direction of many shows. How do you remain so hands-on?
"I have a very good team, who are preparing all the elements. So I ask for a mood board on this theme and I have the mood board very well done two or three days later. I ask for a 3D sketch and my team knows exactly what I want. I write new ideas every day, every night, all the time. To start from an idea on paper to making a show, there is a very strict methodology, and my team masters it very well."
"When you create four shows with big casts that will open on the same day, like we are doing in Spain, I cannot be at the same time in all four shows.
"So, how can I manage this? It's like when you're a chef cooking ingredients. You write some instructions [for someone] to make it instead of you, so that when you arrive you just test it. This way I can manage many projects at the same time, even in China."
How do you manage your time on a daily/weekly basis?
"This morning before talking to you, I had my Chinese morning. Every Tuesday, Wednesday, and sometimes Friday, I think in Chinese until 11 in the morning. Then it's over. I speak Spanish only at 5pm because Spain starts very late and finishes very late."
"Sometimes it takes two years to think about a concept or project. But we go very fast. To avoid having big, big files in your office everywhere, you have to go fast. Even the artistic decisions. We work a long time in advance so that if you look at the script for a show after 15 days and think it's not good, you have the time to remake it."
How much potential for growth is left in France?
"We can have maybe a bit more guests in the park. But the location of Puy du Fou is very far from every big city in France, so I really don't believe that we can aim at 3 million guests [attendance in 2019 was 2.3 million].
"It's not bad news for us to be limited in France. It's an opportunity not to lose your soul, to keep a human scale. It doesn't mean we won't create new shows. We have thought of many new ideas for France, but we can also road test some ideas internationally.
"We can expand the hotels for sure. I think we can keep people longer. Now most of the people stay two days, but we can imagine to keep them three days, four days; it depends on what we have to offer."
https://youtu.be/gEbOl-K77Hs
"It's very fashionable in the leisure industry to say, 'When will you open the second gate?' It's not so easy. Look at Disney's experience in France. Now I think they are strong enough to have two parks, but at the time they opened the second park it was not as successful as they expected.
"So we should be very careful with this idea of a second park. And if you open a second park, it has to be very different from the first one."
Do you still consider yourself a family business?

"Yes, it is a kind of family business, because my father created Puy du Fou, and I am the chief executive now. We do not get any money from dividends or property rights. From the beginning, we did not want to touch this money. When you say you do this job for the passion not the money, it's a beautiful speech, but then prove it. I prefer to prove it. The good news is I can go a lot faster to realise my dreams.
"My children are very young, but they are interested in Puy du Fou in general, which is very good news for me. But as their father, I have to say it is for each to make their decision about what they want to do."
All images kind courtesy of Puy du Fou