Pandora – The World of Avatar opened to the public on Saturday, and many seemed to like what they saw. 
Main image, above: Walt Disney CEO Bob Iger with James Cameron at the media preview of Pandora on May 25.
The new themed Avatar area at Walt Disney World's Animal Kingdom in Florida is set a generation after the human-Na'vi conflict in the Oscar-winning 3D film from James Cameron. The lush 12-acre Pandoran landscape recreates a land 4.4 light years away from Earth. It is the result of a collaboration between Cameron's Lightstorm Entertainment and Walt Disney Imagineering, lead by Joe Rohde. After dark, the new land glows with bioluminescent flora and special nighttime programming.
"I never thought I'd see the day when the Pandora I imagined could be made physically real," said James Cameron at the media preview on May 24. "Working with Disney to bring this world to life has been an amazing experience. The result is something I think everyone will love for generations to come."
Now anyone who has ever dreamed of visiting Pandora can step into its astonishing landscape and ecosystem. Na'vi, the indigenous blue people in the film, call this land their home. Cave paintings give hints of their culture, and totems they weaved point guests down pathways threading through the overgrown rainforest. As they go, they hear the bizarre sounds of animals not of this world and alien plants that glow with light. Disney Imagineers created a soundscape to evoke an alien jungle.
Two main attractions are featured. Avatar Flight of Passage sends explorers, wearing 3D glasses, swooping and soaring above Pandora on the back of a winged banshee. Floating mountains, rushing waterfalls, vast seas and dense jungle pass under-wing. Thanks to the riding position – sat astride a banshee – the multi-sensory, wind-in-your-face experience offers a fresh take on the flying theatre.
"You are grounded on a winged predator and flying through these amazing environments with special effects to add to the thrill," notes Rohde.
Na'vi River Journey offers a more leisurely experience to guests visiting the Animal Kingdom. Aboard eight-person reed boats, families follow a sacred river deep into the bioluminescent rainforest. They cruise under a canopy of exotic glowing plants, passing rock formations and Pandoran creatures on the move. This voyage culminates in an encounter with the Na'vi Shaman of Songs, who sends positive energy out into the forest.
"It's not the movie AVATAR that we are portraying," Rohde reminds us. "It is the planet Pandora where you can come, you can visit, and have your own unique adventure. Rather than reliving the adventures of characters from the film, you're going to come to the planet where those things happened — and have your own set of adventures you can own."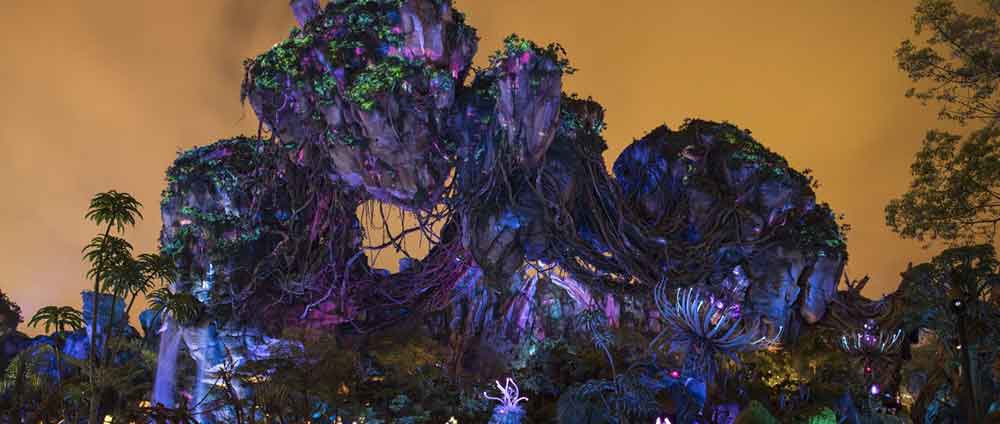 Disney says some of the most creative sculptors in the world were recruited to help shape the new land. The overriding message is of connecting everything to the value of nature, and the transformative power of adventure and conservation. Crossing an entry bridge, rusted-over across the years, guests follow a winding forest pathway to where the surreal landscape first comes into view. The exotic Valley of Mo'ara spreads before them. Other-worldly sights, sounds and scenes abound. Adventurers roam verdant pathways underneath floating mountains laced with waterfalls dropping to quiet ponds inside this bioluminescent rainforest.
In addition to Avatar Flight of Passage and Na'vi River Journey, themed F&B and retail are on offer, of course. Satu'li Canteen is a fast-casual restaurant housed in an old Quonset hut. Pongu Pongu is a specialty-beverage kiosk that serves up refreshments and a treat called Lumpia (loom-pee-ah), a pineapple-cream cheese spring roll. Windtraders stocks Na'vi cultural items, toys, science kits and more.
According to The Orlando Sentinel, there was an estimated six-hour wait to step foot into Pandora ahead of opening on Saturday, May 27. Formidable lines to get onto the two new rides and even the gift shop followed.
"I'm looking forward to seeing something different than what you would normally see," said Carolina Ferrer, a Walt Disney World annual passholder from Miami. "Usually we wouldn't come to Animal Kingdom, really. It was kind of like our last-resort park, but now I think it's a priority to come."
All images courtesy Disney