Guests at SeaWorld San Diego in California can now enjoy a submarine voyage through an aquarium, and look forward to the Electric Eel coaster.
Ocean Explorer
The new ride is the signature attraction of the new Ocean Explorer realm, which soft opened over the Memorial Day weekend (May 27 to 29).
Passengers are challenged to become researchers on a mission to collect data as they learn how they can help animals. An on board digital navigation dashboard, as well as a few other surprises along their journey, enhance guests' understanding of the ocean ecosystem. The submarine ride system was supplied by Chance Rides. The experience lasts around three minutes.
Located on a three-acre site, Ocean Explorer replaces the Animal Connections exhibit and the Circle of Flags. Additional ride include Tentacle Twirl (Zierer Wave Swinger), Sea Dragon Drop (Zierer Family Freefall Tower), Aqua Scout (Zamperla Jump Around) and OctArock (Zamperla Happy Swing).
The new realm is also home to a series of undersea research bases housing multiple aquariums and interactive activities. In addition, Sea World San Diego also debuted Orca Encounter (see video below) for Memorial Day, replacing the Shamu show.
"I'm extremely excited about Ocean Explorer and I know our guests, of all ages, are going to love this fun, interactive and educational new area of the park," says Marilyn Hannes, SeaWorld San Diego park president.
New Electric Eel coaster gains preliminary approval
A new ride that will be the tallest and fastest and rollercoaster at SeaWorld San Diego won the approval of the Californian city's planning commission on May 25. Electric Eel – pictured below – a Premier Rides launch coaster, must now get the green light from the City Council and California Coastal Commission.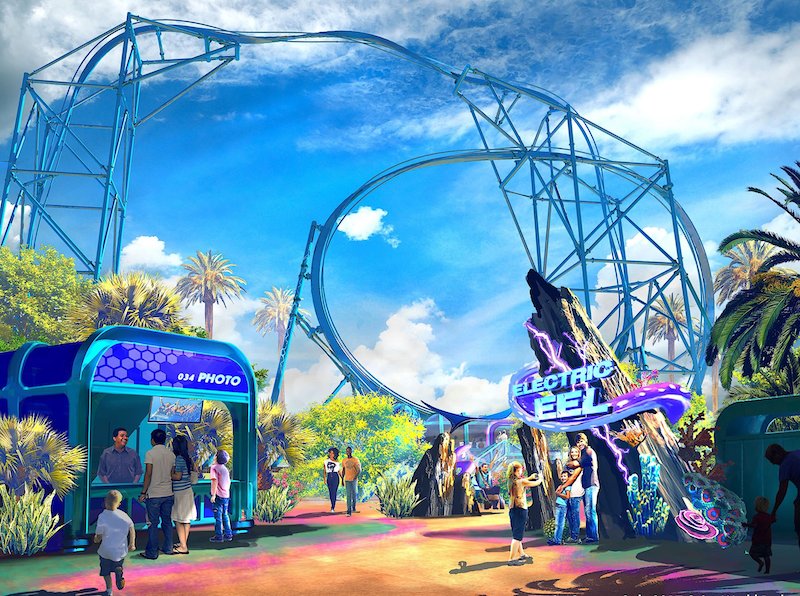 Although the city of San Diego maintains a 30-feet (9.14m) height limit in the coastal zone, SeaWorld's masterplan allows for an exception of up to 160ft on four designated sites. The coaster location is one of those sites. The marine park hopes to have the ride open by early summer 2018.
Images courtesy SeaWorld San Diego