KCC Entertainment Design has confirmed that it is the designer of China's first Smurfs Theme Park, which will open this coming autumn in Shanghai.
The project in the Pudong district of the city will be realised by Chinese developer Shimao Property Holdings Limited in partnership with Belgian company IMPS, holder of the rights to the Smurf's brand. The family-oriented theme park will be part of the wider Dream City project in Shanghai.
The Smurfs Theme Park will comprise both an indoor and an outdoor area, each of approximately 10,000 sqm. There will be four themed zones: The Forest, Smurfs Village, Gargamel's House and The Outdoors.
Guests will be able to enjoy over 20 themed attractions and experiences ranging from a Smurfs Berry Coaster and augmented reality Gargamel Experience to simpler offerings like climbing courses and Smurf Golf.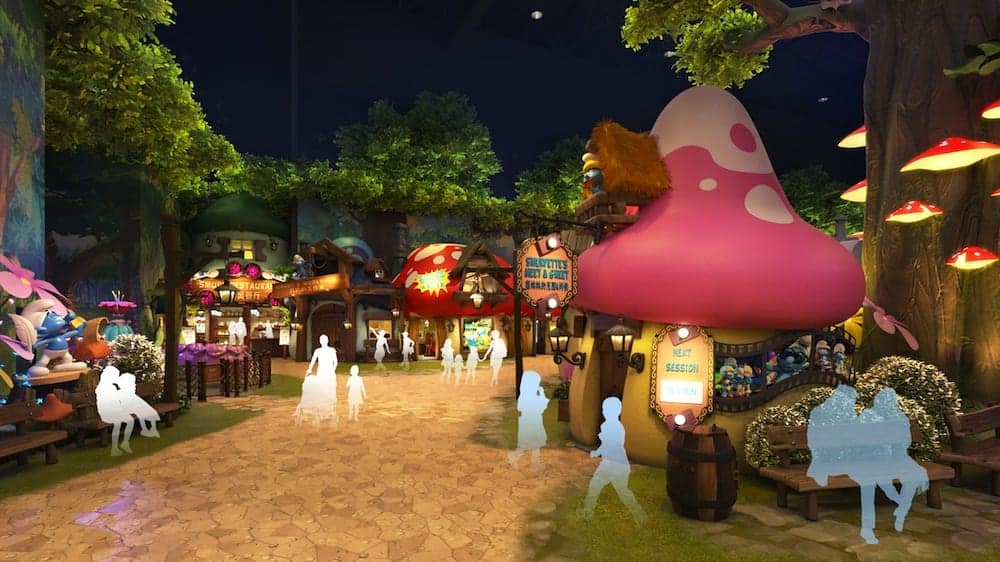 "We want the visitor to be completely immersed into the life of the Smurfs and get the feeling they are part of the Smurfs family," says KCC's CEO, Yannick Maes. "By adapting the light and by using projections, we will mimic different times of the day and different weather conditions.
"
On several occasions during the year, the park will receive a makeover as part of planned seasonal events and festivities. These will include such offerings as Chinese Smurf Year, Smurfy Halloween and The Smurfs Berry Festival. In line with the 17 Global Goals For Sustainable Development established by the United Nations and Unicef, the Smurfs, or 'Team Smurfs' are ambassadors for these goals that will be integrated into the theme park.
"We have integrated these goals throughout the park in a non-intrusive and playful way on interactive screens and in park-wide quests," says Maes. "Both children and their parents can learn about these goals and are invited to become a member of Team Smurfs."
Based in Belgium, KCC Entertainment Design has designed many outdoor and indoor theme parks across the world. In 2019, eight KCC-designed entertainment projects will open around the world. These will include two in China, a theme park in Guangzhou and an FEC in Sanya.
At a press conference announcing the Smurfs Theme Park project in Pudong on March 20, the relationship between China and Belgium was highlighted. Maes and representatives of Shimao and IMPS were joined by the Belgian general consul Paul Lambert, the economic and commercial consul of Brussels, Mattias Debroyer, and the consul of Wallonia Export-Investment Agency, Stephano Smars.
The Smurfs Theme Park is projected to open around September.