As Walt Disney World Resort continues its historic transformation of Epcot, Walt Disney Imagineering has created an immersive attraction, the Epcot Experience, for visitors to get a look at the upcoming changes.
The expansion and renovation of Epcot is the biggest transformation of any Disney theme park in the company's history.
Epcot is set to welcome the first attraction inspired by Mary Poppins, as well as Guardians of the Galaxy: Cosmic Rewind, and the Moana-themed Journey of Water.
The Epcot Experience will be a showcase of the exciting changes coming up, and the first in-depth look at the theme park's plans.
360-degree, floor-to-ceiling screen at Epcot Experience
Located inside the Odyssey Events Pavilion, it will use cutting-edge technology as it celebrates the past, present and future of Epcot.
Visitors will enter a large, circular room where they will watch a continuous 12-minute film on a 360-degree, floor-to-ceiling screen.
The immersive presentation will show archival footage from before Epcot's 1982 opening, also previewing the PLAY! Pavilion and the vision for Spaceship Earth.
It will also unveil the new attractions based on Disney films, as well as Epcot's upcoming nighttime spectacular, 'HarmonioUS'.
Celebrating the past, present and future of Epcot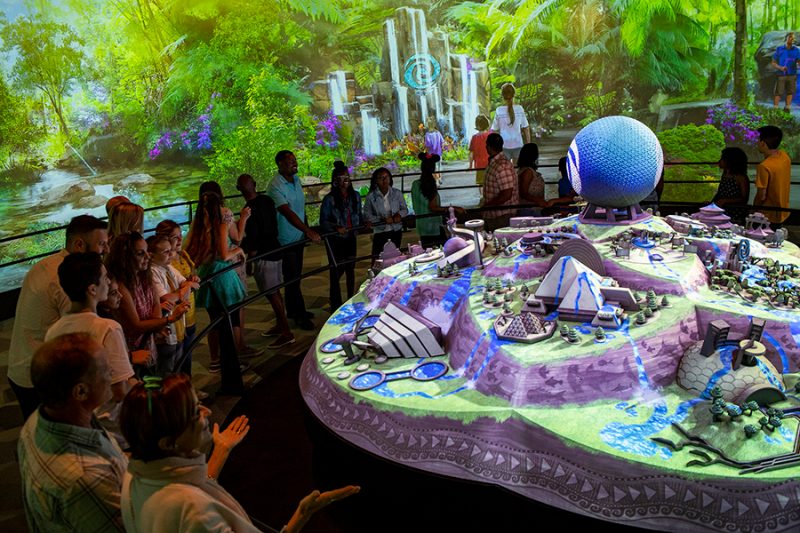 As well as a 3D model of Epcot, which seemingly changes in time with the film, the attraction uses projection-mapping technology to highlight different areas of the park.
The Epcot Experience displays artefacts and memorabilia, including an Epcot park map and medallion from opening day on October 1, 1982.
Also available to view are concept art and models of future Epcot, as well as pin sets and attraction posters.
'Epcot Forever' nighttime spectacular also debuts
To celebrate the anniversary of Epcot's grand opening in 1982, the park also debuted 'Epcot Forever'. The new nighttime spectacular boasts fireworks, lasers and colourful glowing kites.
Images: Disney