Disney fans have been treated to a preview of the Star Wars themed lands coming to two of its US parks in 2019.
Ahead of this weekend's D23 Expo, Walt Disney Parks and Resorts Chairman Bob Chapek unveiled a model of the richly-detailed worlds under development at Disneyland park in Anaheim, California, and Disney's Hollywood Studios in Orlando.
"To say we are excited for the Star Wars-themed lands to open in 2019 is an understatement," said Chapek. "All along, we have said this will be game-changing, and through the model we can begin to see how truly epic these immersive new worlds will be."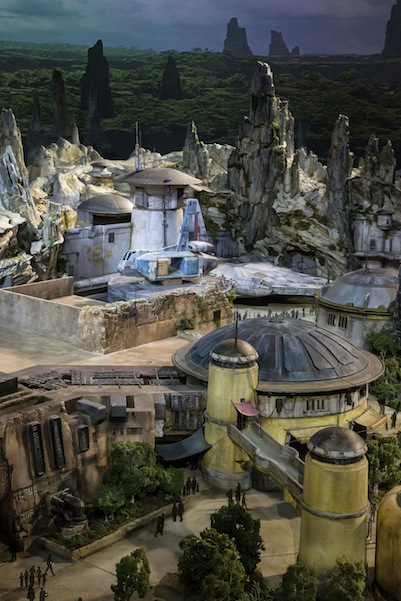 Chapek plans to share new details about the project during the Walt Disney Parks and Resorts Hall D23 presentation on Saturday, July 15. The model will remain on display at the pavilion throughout the weekend. In addition, the pavilion will display models, artwork and media depicting some of the locations, starships, creatures, and droids that guests will encounter when they visit the themed "planet."
Millennium Falcon and more
The Star Wars themed lands, first announced by Chapek at D23 Expo 2015, will open in two years' time with two anchor attractions. One will gives guests the chance to pilot the Millennium Falcon on a secret mission. The other will place Star Wars fans in the middle of a battle between the First Order and the Resistance. The 14-acre (5.6 hectare) zones will represent each park's largest ever single-themed land expansion.
The Walt Disney Company acquired Star Wars rights owner Lucasfilm in 2012. A number of smaller Star Wars attractions can already be enjoyed by guests at Disney parks around the world. These include Star Tours – The Adventures Continue and interactive entertainment like Jedi Training: Trials of the Temple.
D23 is the official Disney fan club. D23 Expo 2017 takes place at the Anaheim Convention Centre outside Los Angeles from July 14 to 16.
Images copyright Joshua Sudock/Disney Parks