Walt Disney's original Disneyland concept map has newly come to light and is expected to make $1 million at auction.
Disney created the sketch in 1953 which features many of the landmarks that visitors would recognise today including Cinderella Castle and Main Street.
There are some interesting differences, however, that reveal how the design evolved. Tomorrowland was originally named World of Tomorrow and Lilliputian Land never materialised. Adventureland was subsequently relocated.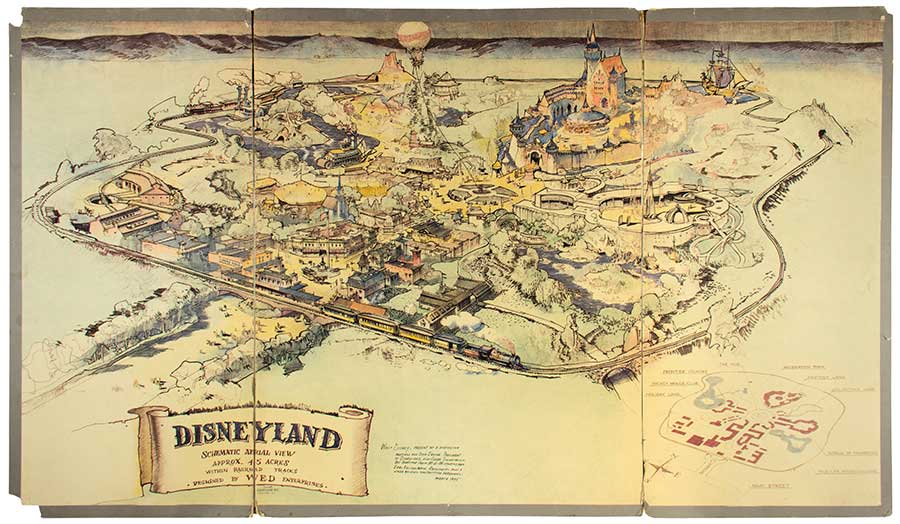 Walt originally envisioned Disneyland as a 45-acre park. Today, it is almost double that size.
The Daily Mail reports that collector, Ron Clark, acquired the sketch piece from a former employee 40 years ago who had known Walt Disney personally.
According to Clark, he felt a 'spirit of presence' the minute he saw the 3 ½-foot by 5 ½ -foot ink and pencil drawing. He has also expressed a wish that the map returns to the Walt Disney Co. Whether a representative will be among the bidders remains to be seen.
Auctioneer, Mike Van Eaton, confirmed that the original Disneyland concept map could fetch as much as $1 million when it goes under the hammer on June 25th.
Image courtesy Van Eaton Galleries
http://www.dailymail.co.uk/news/article-4493092/Walt-s-original-Disneyland-concept-sketches-rediscovered.html