Creator of world-class attractions, IDEATTACK has unveiled details of two new attractions for Evergrande Fairytale World theme parks.
Last year, the company was retained by Evergrande to provide designs for its first two Fairytale World theme parks in China.
Since then, IDEATTACK has been hard at work developing concepts for world-class attractions designed to immerse guests in 'exotic, faraway places and enchanted worlds'.
The first to be unveiled are Pangu Creation, a large-scale, 4D trackless dark ride and Fury of the Dragon King, a live-action stunt show.
Pangu Creation 4D trackless dark ride features massive animatronic creatures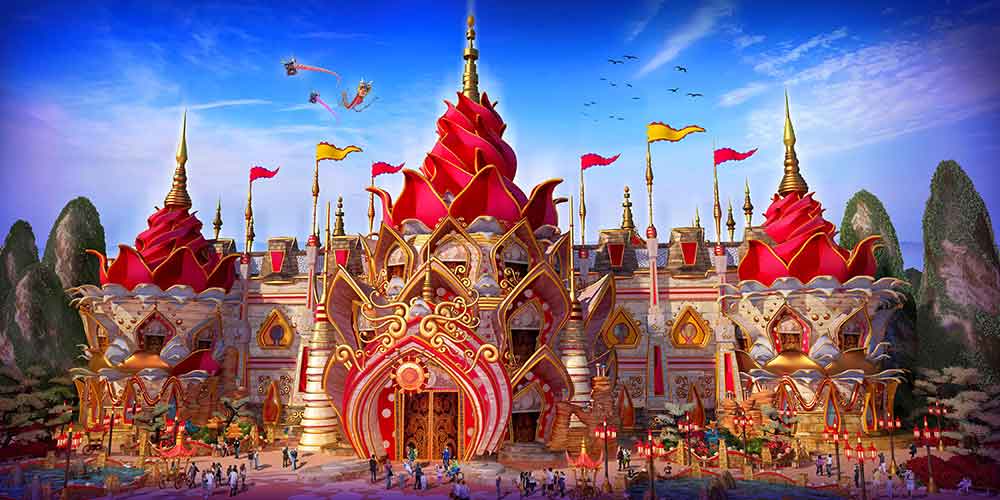 Pangu Creation is inspired by the classic Chinese Creation Story.
As soon as they join the queue line, guests are immersed in an ancient Chinese village at sunset, taking them back in time thousands of years. Glowing lanterns light the buildings and sound effects such as birds chirping and distant roosters crowing add to the rural atmosphere.
As the queue winds through the narrow stone streets of the village, visitors can interact with elements including touchscreen 'books' and 'paintings'. These allow them to explore mythological Chinese creatures and more.
The route leads to an ornate, whimsical-looking structure where the Storyteller character appears 'magically out of thin air'. He invites the visitors to experience the Chinese Creation tale.
Guests move to the loading area where their ride vehicles are waiting, in the shape of stylised giant jade and gold-laden turtles.
Travelling back to the "beginning of all things', guests are immersed in the story of Pangu as he battles the Chaos Dragons.
The finale brings riders face-to-face with massive animatronic figures of mythical creatures from the Creation Story – a phoenix, the Jade Dragon, and a qilin.
Fury of the Dragon King – waterscreens and pyrotechnics
Fury of the Dragon King is a large-scale live action stunt show inspired by the classic tale of Nezha, the warrior diety, and his epic battle with Ao Guang, the Dragon King.
The story has been brought up-to-date with state-of-the-art special effects. Fury of the Dragon King will feature a large performance cast and a custom-built theatre.
Water screens and pyrotechnics will place guests at the heart of the action as Nezha and the unruly sea dragons battle together.
The attraction immerses guests in the Dragon King's palace.
The theming includes rocky walls and a floor alive with multicoloured coral, sea anemones, fish and octopuses.
The show itself is an entertaining blend of breath-taking stunts, comedy and surprises including a huge animatronic Dragon King.
Images: IDEATTACK and Evergrande