MK Themed Attractions, the Danish theming expert, has helped Danish theme park Tivoli Friheden to attract more visitors with a Flower Festival.
MK Themed Attractions is pleased to announce that it has helped popular amusement park Tivoli Friheden to improve its attendance by 45% this summer. This is due to the implementation of a brand new Flower Festival event held at the park.
In fact, the Flower Festival was so successful that Tivoli Friheden plans to hold it again in 2021 and 2022.
A successful event
"I'm pleased at how well the new season has been received by our visitors," says sales and marketing manager at the park, Morten Palm Andersen. "Actually, we had so many visitors during the summer that we made a record in July, where we had the pleasure of 114,000 guests"
As part of the new event, MK Themed Attractions designed sculptures that would engage the audience, taking into account topics like climate change and a passion for nature. These were produced at the company's 20,000+ square foot production factory in the Philippines.
Along with its sister company Création Group, which has over 50 years of experience in producing animatronic figures, MK Themed Attractions created two talking trees. For an added level of interactivity for guests, the talking trees could be activated with the touch of a button, when they would tell stories about the park.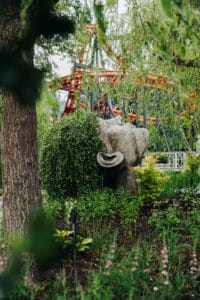 Another sculpture depicted Mother Earth with a face and hair made of ivy and flowers. All the sculptures created by the company included a description so that guests could engage with the ideas behind the designs.
Multisensory experiences
In order to create a fun event to welcome guests back to the park following the pandemic, Tivoli Friheden, which is located near Aarhus in Denmark, decided to hold the biggest flower-festival in the country, designed to be an engaging, multisensory experience. The event featured creative events, inspirational gardens, climate talks, and workshops for all ages.
In order to bring this vision to life, MK Themed Attractions designed and produced artistic fibreglass sculptures, including oversized flowers, transforming the park into a flowering universe.
Last month, MK Themed Attractions launched a new Halloween catalogue in English and French, to help attractions prepare for Halloween 2020.