Sanitise Now is pleased to announce that it has partnered with WOW! EZ Finishes' in OHIO to focus on delivering sanitiser and sanitiser dispensers for the theme park and attractions industry, as operators prepare to welcome visitors once more in the wake of the global pandemic.
WOW! EZ Finishes' have been supplying a high end and effective chemical solutions across the USA since 2006.
Helping attractions to recover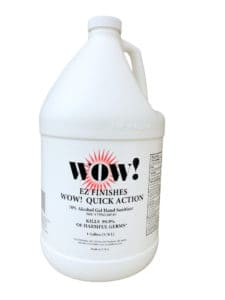 As the attractions industry adapts to the new normal, this partnership will help operators to provide a safe environment for guests. Together, Sanitise Now and WOW! EZ Finishes will provide an ideal combination of dispensers and sanitizer, allowing attractions to reopen safely.
Sanitise Now Director, Jordan Hurley, says, "we have been working with WOW! for the last few months on growing our presence in the USA and they have extensive expertise in the chemical and sanitizing industry and they are our perfect partner to be able to deliver the full package to the USA attractions industry."
As a Black Friday deal, Sanitise Now is now also offering a free gallon of sanitiser with every two dispensers, with sturdy metal floor stands.
The durable machines deliver the right dose of sanitiser with each use to cut down on waste and are able to store five litres, dispensing 833 doses per litre. It is a clean and fuss-free solution with a drip tray to prevent spills and mess.
The company's automatic sanitiser dispensers are now in use at a wide range business around the world, such as Flemings Mayfair Hotel, Nobu Hotels, Native Hotel Group, Genting Casino Group, Teesside International Airport and many more.
More information can be obtained by emailing: info@sanitisenow.co.uk.