Shanghai Disney Resort has announced that construction has started on Shanghai Disneyland's immersive Zootopia expansion, with site preparation work now completed.
The Zootopia attraction will be Shanghai Disneyland's eighth themed land. It will also be the first Zootopia-themed expansion at a Disney park.
Zootopia will come to life at Shanghai Disneyland, with guests immersed in the mammal metropolis alongside characters from the movie.
Eighth themed land at Shanghai Disneyland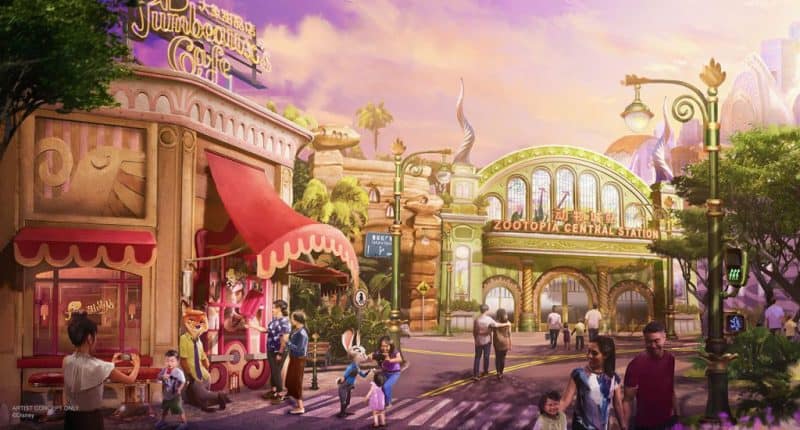 "This is an immensely exciting time for Shanghai Disney Resort and Zootopia fans alike," said Joe Schott, president and general manager, Shanghai Disney Resort.
"Since we announced the development of our new Zootopia-themed land earlier this year we have been overwhelmed by the excitement and anticipation expressed by fans from across China and around the world."
Zootopia will be located adjacent to Fantasyland. It will be a diverse and vibrant city inhabited by characters from the Walt Disney Animation Studios film.
Zootopia will be an immersive mammal metropolis
These will include Nick Wilde and Judy Hopps, as well as Flash the Sloth, Gazelle, Officer Clawhauser, Chief Bogo and Yax the Yak.
Shanghai Disneyland currently features a themed construction wall with characters from Zootopia, including Flash and polar bear. More characters will be added to the wall in the coming months.
Zootopia is the second major expansion of Shanghai Disney Resort, following the opening of Disney Pixar Toy Story Land.
Themed construction wall with Zootopia characters
"We are pleased to announce the start of main construction for the new land today, a significant milestone in its development," added Schott.
"This expansion demonstrates Shanghai Disney Resort's commitment to bringing new and unique experiences to our guests, offering more reasons for them to come visit us again and again."
Elsewhere, OLC recently announced new details about expansions and attractions coming to Tokyo Disneyland Park on April 15, including the Beauty and the Beast area and ride.
Images: Disney