Qiddiya Investment Company (QIC) staged a press conference on August 25th, to discuss plans for the Six Flags theme park that will anchor its new entertainment destination outside the Saudi Arabian capital of Riyadh.
This will be the largest and most expensive Six Flags park to date, featuring 28 rides and attractions. Twelve of those will set new world records, including the world's tallest, longest and fastest roller coaster.
In addition, it will feature the world's tallest triple launch coaster, a tilting coaster, a wood-steel hybrid coaster, a record-breaking drop tower, multiple water rides, interactive dark rides and immersive experiences.
Spanning 32 hectares (79 acres), Six Flags Qiddiya is set to open during Qiddiya's first phase in 2023. QIC says that the wider 334 square-kilometre destination, built to a masterplan by the Bjarke Ingels Group (BIG), will become the Kingdom of Saudi Arabia's capital for entertainment, sports and the arts.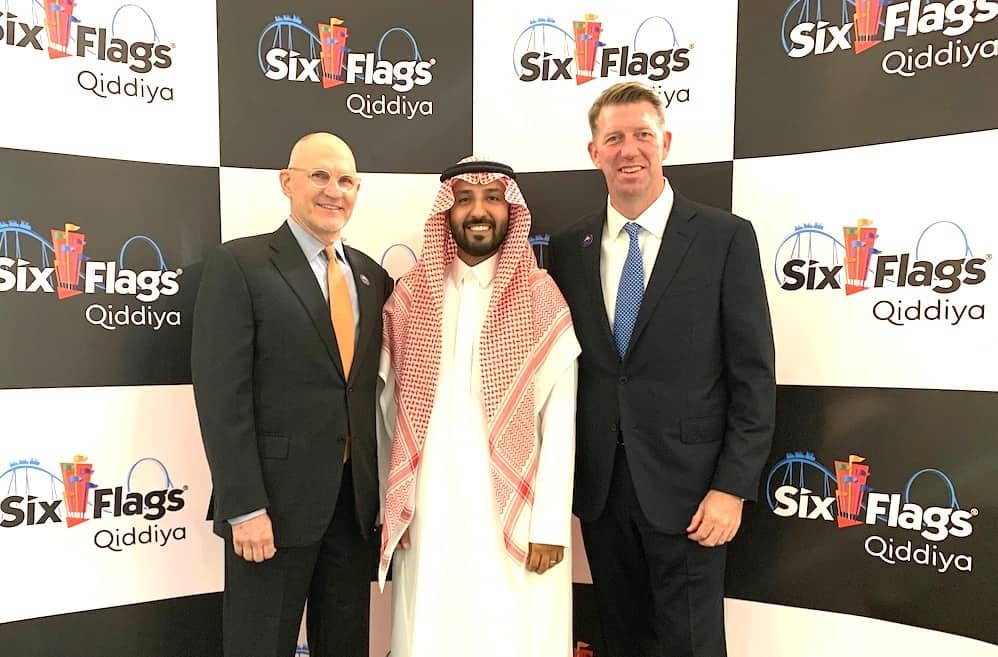 A multi-billion project
As a closed joint-stock company wholly owned by Saudi's Public Investment Fund, QIC is not obliged to reveal the total investment cost. However, as a 'giga' project, the entire development is expected to cost the equivalent of "multiple billion US dollars," according to chief executive officer Michael Reininger. Six Flags will build and operate the theme park in a co-operative licensing agreement with QIC.
"Our vision," said Reininger, "is to make Six Flags Qiddiya a theme park that delivers all the thrills and excitement that audiences from all over the world have come to expect from the Six Flags brand, and to elevate those experiences with authentic themes connected to the location."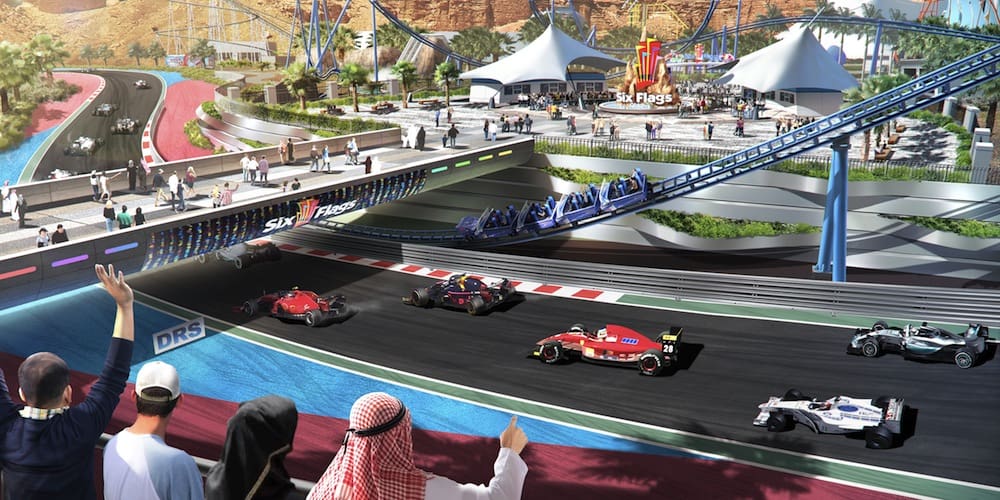 The location is set against a dramatic backdrop of sandstone cliffs, 45km from central Riyadh. A Qiddiya Experience Centre currently stands next to the site, and construction is expected to begin in 2020.
"We are thrilled to be part of a project of such scale and scope and are proud to celebrate this milestone with Qiddiya," said David McKillips, president of international development at Six Flags. He and Reininger were joined on stage by Faisal Almoither, QIC's chief of staff.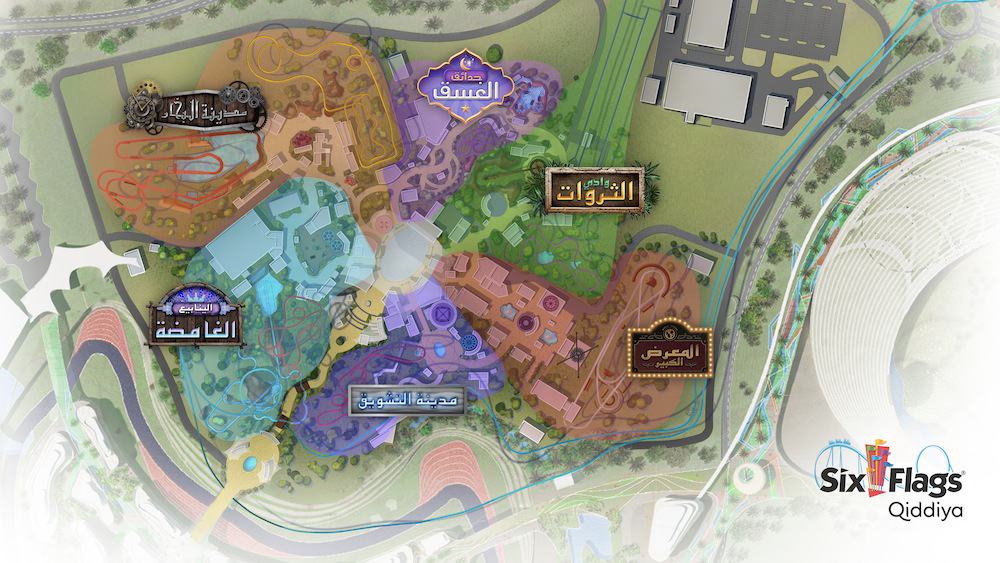 Made up of six themed lands, Six Flags Qiddiya will be "designed for Saudis of all ages who seek family entertainment experiences steeped in their rich culture and history," said McKillips.
Six Flags Qiddiya ­- six themed lands and a unique setting
The central hub to the park will be a covered area called The Citadel. Shops, cafes and restaurants will be accomodated beneath a billowing canopy inspired by traditional Bedouin tents. From here guests can enter each of the themed lands through different portals.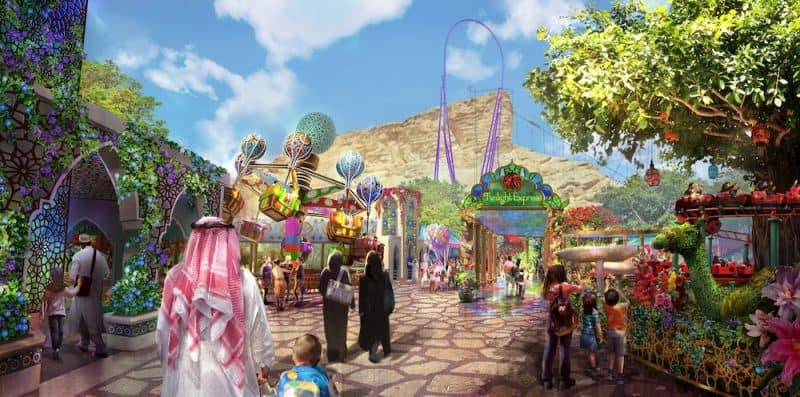 The City of Thrills is described as a "forward-looking, boundary-pushing, future city anchored in Arabic design motifs." Highlights will include the park's signature Falcon's Flight. The launch coaster will be longest, tallest and fastest roller coaster in the world, its layout partially following the natural terrain. Sirocco Tower, meanwhile, will be the world's tallest drop-tower.
At Discovery Springs, guests will be able to enjoy a variety of attractions that offer a respite from the heat as they stroll among waterfalls, aqueducts, geysers, exotic plants and trees. The key ride here will be Sea Stallion, a coaster-like attraction where riders can control the speed and acceleration of their own vehicle. Other rides will include an interactive dark ride and water-based drop tower called The Plunge.
Water rides and roller coasters
In Steam Town, "the past and future collide in a rugged frontier town powered by steam and echoed with screams." Key attractions will include the Sawmill Falls water coaster and Iron Rattler Mine Train. The latter will be a tilting coaster with a hydraulic lift followed by a plunge into a steam-filled mineshaft.
Designed for younger children and their families, Twilight Gardens is an oversized landscape filled with colourful flowers and friendly creatures. Attractions will include the Twilight Express coaster and Critter Chase, a 3D interactive dark ride. At night, the area will come alive with twinkling lights and glowing displays.
Valley of Fortune is set amidst "time-worn architectural ruins of old Arabian masonry, enlivened by the activity and trade of fortune seekers from around the world." The land's signature ride will be a triple launch coaster. Named Spitfire, it will feature the world's tallest inversion. Other attractions will include a flying island called Skywatch.
Fusing elements of traditional carnival midways with great feats of science and technology, Grand Exposition will boast its own Arabian Carousel. Thrill-seekers, however, may head straight for the Gyro Pendulum swing ride or Colossus. Taking the name of one Six Flags' most loved coasters, the latter will be a wood-steel hybrid featuring 800 metres of track.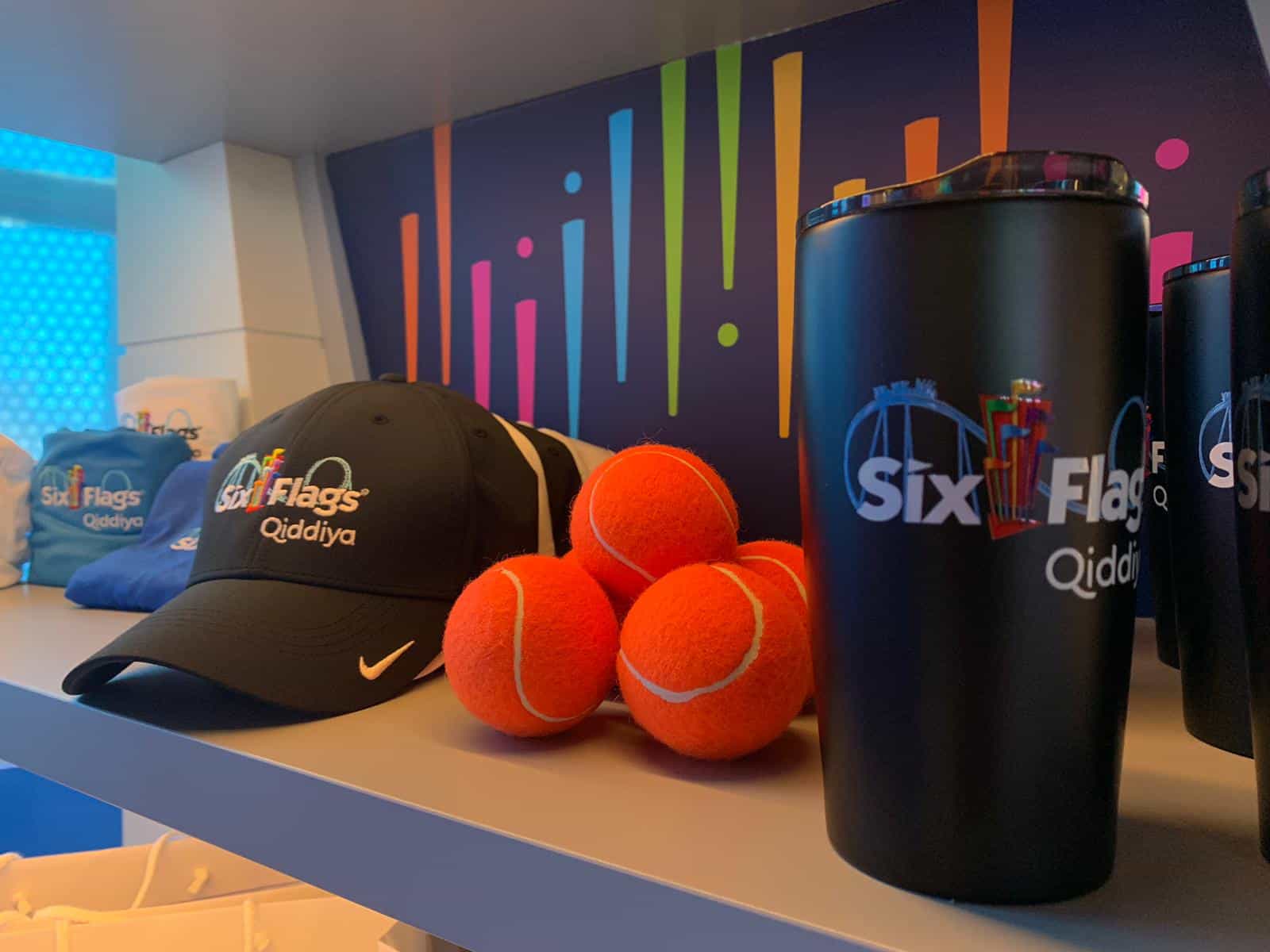 Cool attractions and cool guests
The park will be built to accommodate 10-15,000 people per day. Operating year-round, in the summer months it will stay open late to allow guests to combat the heat. Shading, landscaping and water misters will be employed to cool visitors down.
Six Flags Qiddiya will form Qiddiya's 'Resort Core' together with a motorsport theme park, a waterpark and dining and entertainment district. Also opening in phase 1 will be five hotels, catering to different markets and price points.
Built in three phases, Qiddiya will eventually feature additional elements including an Eco Core focusing on sports, a Motion Core hosting events, plus a residential neighbourhood and golf courses.
Saudi Arabia's tourism vision
The project represents a key part of Saudi Arabia's Vision 2030, which aims to boost tourism revenue to 10 per cent of GDP. According to QIC, the destination will "unlock tremendous opportunity, enabling economic diversification, while enhancing the quality of life for Saudi citizens."