Darien Lake theme park resort in New York is celebrating the storming debut of Tantrum, supplied by Ride Entertainment.
The vibrant orange and green attraction is a Gerstlauer Euro-Fighter and the largest coaster at the park for nearly twenty years.
"Tantrum was a great project and really fits the park," said Andreas Simonis, one of the Managing Directors of Gerstlauer Amusement Rides. "The orange and green colours the park chose really pop, it stands out among the park's great coaster collection."
Darien Lake welcomed the new arrival with an equally lively press event and opening day celebration. Thanks to a partnership with Perry's Ice Cream, guests could even sample an ice cream created in the coaster's honour – Tantrum Twist. Guests lapped up the ride and the ice cream with equal enthusiasm.
Talking to WSYR, General Manager, Chris Thorpe, said the park was 'very excited to be opening this ride. It's our first ride in ten years that we've put in. What's unique to this attraction is that it's straight up, beyond vertical."
Tantrum kicks off with a 'scream-worthy rush'
Chief Business Development Officer for Ride Entertainment, Adam Sandy, described the ride as a powerhouse:
"It takes a lot of people by surprise because of its size," he explained. "Darien Lake Park has a lot of big coasters, so Tantrum isn't the largest ride there. But, the vertical lift and beyond-vertical drop start the ride off with a scream-worthy rush and after that it is non-stop, back-to-back inversions that make for a fun, intense ride from the time you leave the chain until the magnetic brakes slow you."
Each ride vehicle accommodates 8 passengers. The park has the option of running one, two or three trains each day.
As well as supplying the coaster, Ride Entertainment also handled the ride installation. Bill Wright, Managing Director of the company's Installation Division, oversaw the work:
"They really have a great team to work with," he said. "We worked hand-in-hand with the Darien team to get the ride up as quickly as possible and get the soft opening done in time for Memorial Day Weekend. A majority of the ride steel went up in only a few days."
Ride Stats
Manufacturer: Gerstlauer Amusement Rides (Germany)
Model: Euro-Fighter
Height: 98 feet (30 metres)
Track Length: 1,246 feet (380 metres)
Top Speed: 51 mph (85 km/h)
Number of Trains: 3, 8-passenger
Height Requirement: 48 inches (1.22 metres)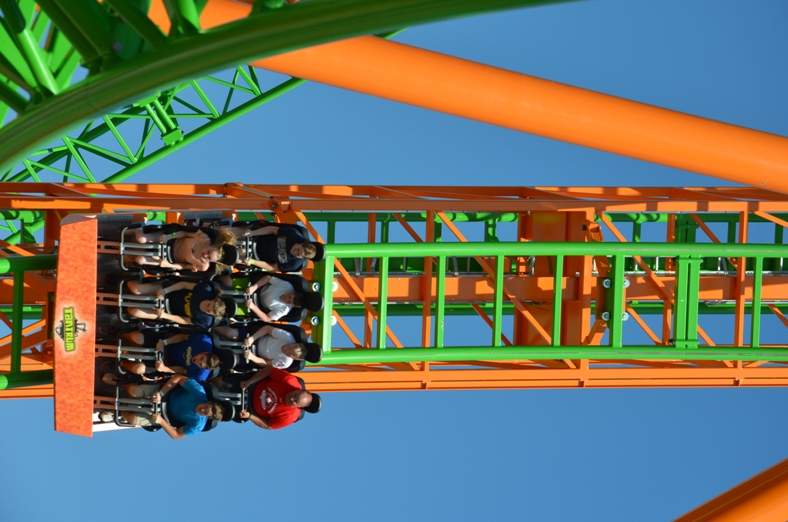 Elements
Vertical Lift
97-degree Beyond Vertical Drop
Immelman
Diving Loop
Structure Slalom
Top Hat
Tilted Loop