The Vaughan, Ontario theme park will be adding two new rides, plus an extended splash and play area in 2018.
Canada's Wonderland has announced that the two new rides will be Lumberjack and Flying Canoes.
Lumberjack is a thrill ride that takes riders soaring up to 75 feet (21m) on two swinging axe pendulums; they're then propelled into a 360 degree looping thrill.
Flying Canoes, on the other hand, is an interactive family ride comprising two person canoes rotating swiftly around a circuit.  Riders are able to control their flight journey.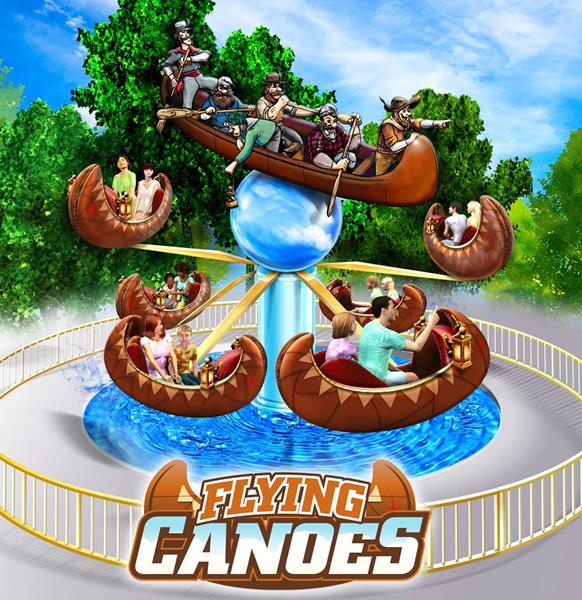 In addition, Canada's Wonderland will be expanding its Splash Island's children's pool.  The area will expand to twice its present size, and will incorporate all-new interactive spray features.
"Each year, we are dedicated to providing our guests with new world-class thrills and family entertainment," says Norm Pirtovshek, vice president and general manager of Canada's Wonderland. "For the 2018 season, our three new attractions will add to our diverse collection of rides and experiences that will capture the imagination of thrill seekers of all ages."
Canada's Wonderland, located just outside Toronto, is now in its 31st season. It spans 300-acres and contains more than 200 attractions including 16 rollercoasters. It is also home to Splash Works, a 20-acre water park.
2018 Season Passes are now on sale at the lowest price of the year. They include unlimited visits in 2018 plus one free visit during the remainder of the 2017 season (this excludes Halloween Haunt). The offer ends October 29th 2017.
Canada's Wonderland is owned and operated by Cedar Fair Entertainment Company, one of the world's largest regional amusement resort operators. Cedar Fair owns and operates 11 amusement parks, two outdoor water parks, one indoor water park and five hotels.