After TRON Lightcycle / Run reached a major construction milestone, Walt Disney World is giving visitors the chance to preview TRON Lightcycles in Tomorrowland at Magic Kingdom Park.
The pair of TRON Lightcycles are now on display to guests at Magic Kingdom's Tomorrowland, providing an opportunity to view the vehicles for TRON Lightcycle / Run.
The high-tech, coaster-style attraction is scheduled to open at Magic Kingdom Park in 2021, in time for Walt Disney World's 50th anniversary.
TRON Lightcycles are located near Space Mountain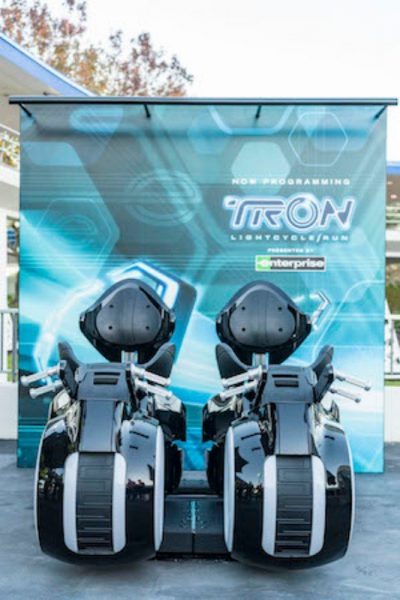 TRON Lightcycle / Run riders will board a train of two-wheeled Lightcycles for a 'thrilling' race through the 'digital frontier'.
Shanghai Disneyland features a similar attraction, called Tron Lightcycle Power Run, which debuted on opening day in 2016.
The TRON Lightcycles are located in a new area near Space Mountain, and guests are able to sit on the vehicles for photo opportunities.
Last month, TRON Lightcycle / Run reached a major construction milestone, with the final piece of the ride track installed at Walt Disney World.
Walt Disney Imagineering previously shared a video, which you can watch below, providing a behind-the-scenes look at the new ride.
Scott Pratt, project coordinator at Walt Disney Imagineering, said: "It finishes a loop of over 3,000 feet of track and over 120 pieces.
"The guests are going to feel exhilaration and they're going to come off wanting to ride it over and over again," he added.
TRON Lightcycle / Run opening in 2021
Walt Disney World Resort has been busy teasing new attractions and rides, recently sharing a special look at Mickey & Minnie's Runaway Railway and unveiling an influx of new attractions at Epcot.
Meanwhile, Star Wars: Galactic Starcruiser is debuting in 2021 at Walt Disney World Resort, and Cirque du Soleil has unveiled the name and premiere date of Drawn to Life, the new production opening at Disney Springs in April 2020.
Images: Disney