The developer of Warner Bros World Abu Dhabi has revealed that the upcoming movie park at Yas Island is now 60% complete. On track to open in 2018, it will feature six indoor "immersive worlds".
The themed lands will be as follows:
• Metropolis and Gotham City. These two interconnected areas of the park will be inspired by DC Super Heroes and Super-Villains.
• Cartoon Junction, Bedrock and Dynamite Gulch. Each of these lands will be themed around characters and brands from Looney Tunes and Hanna-Barbera.
• Warner Bros Plaza. Reminiscent of old Hollywood, it will evoke the rich history of Warner Bros Studios
"Miral is proud to confirm that we're making great progress with our partners," says Mohamed Abdullah Al Zaabi, CEO of Miral, the company that oversees all parks and attractions at Yas Island. "Warner Bros World Abu Dhabi is a key part of our ambition to make Yas Island a top 10 global destination for family fun."
Inside the new 1.65 million square feet theme park, visitors will enjoy 29 world-class rides, shows and attractions. The selection includes thrill rides, family attractions and live entertainment. Specific rides or manufacturers have yet to announced, but a few recognisble attractions can be seen in the renderings here.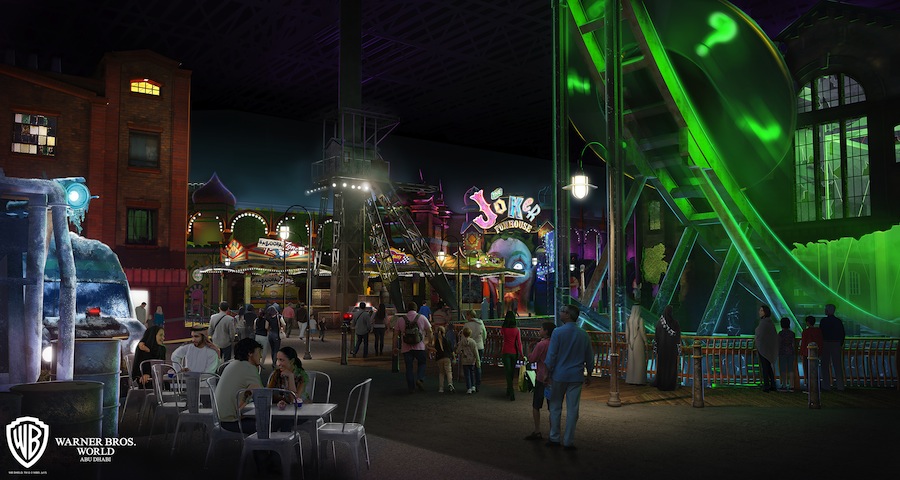 Hollywood comes to Abu Dhabi
Warner Bros World Abu Dhabi sits adjacent to Yas Mall and will be the third theme park at Yas Island, joining Ferrari World Abu Dhabi and Yas Waterworld. To enter the new park, visitors must pass beneath a giant Warner Bros Shield archway. This takes them straight into Warner Bros Plaza. Here guests will be transported to Hollywood with Art Deco architecture and other authentic Tinseltown details.
For the first time in the Middle East, Super Hero fans will be able to stroll the streets of Superman's Metropolis and Batman's Gotham City. In this larger-than-life land, heroic exploits and action-packed family fun wait around every corner.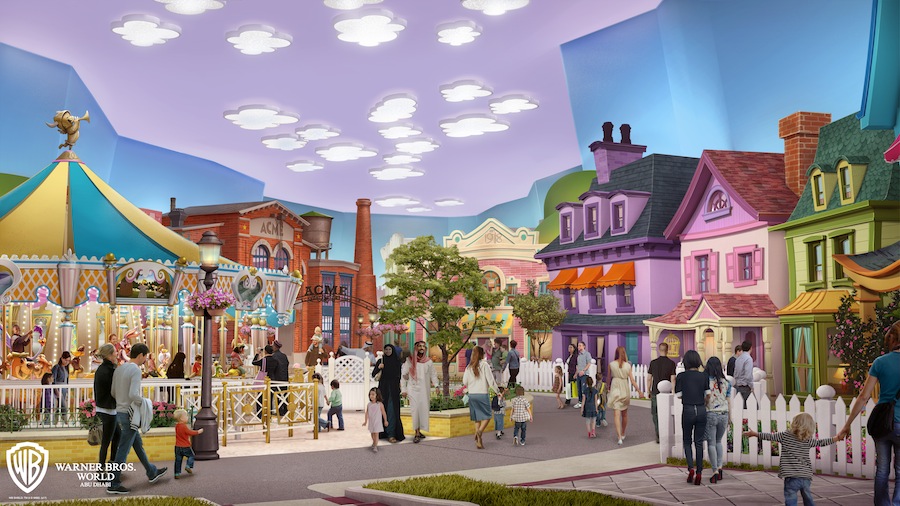 Cartoon Junction will bring together Bugs Bunny, Scooby-Doo and other famous cartoon characters. Dynamite Gulch, meanwhile, will transport visitors to the stars and deep into the canyon. Finally there's Bedrock, a prehistoric world powered by birds and dinosaurs. Here the modern stone-age family can have a "yabba dabba doo" time just like The Flintstones.
Warner Bros World Abu Dhabi is being developed in partnership with Warner Bros Consumer Products and DC Entertainment. To build the park, 5,500 specialist engineers, workers and craftsmen have been engaged at Yas Island for around two years.
"Warner Bros World Abu Dhabi will brings some of the Studios' most iconic characters and stories to life under one roof for the first time in the Middle East," says Pam Lifford, president of Warner Bros Consumer Products. "We have been closely collaborating with Miral to faithfully construct immersive worlds that resonate with precise details. We are thrilled to share these unique experiences with fans next year."
More to come at Yas Island
Also opening at Yas Island in 2018 will be KidZania at Yas Mall and CLYMB, the world's widest flight chamber and tallest indoor climbing wall. These will be followed in 2022 by a fourth theme park from Miral, SeaWorld Abu Dhabi.