At Warner Bros World Abu Dhabi guests will be able to visit Gotham City to ride in the Batwing and take on a Riddler-themed roller coaster.
Warner Bros World Abu Dhabi has unveiled details of the rides and attractions in the land themed on the Batman universe. Designed to look like Gotham City, guests will be able to walk the streets with characters such as the Joker, the Riddler, Scarecrow, Catwoman, and Harley Quinn.
The area will feature an immersive simulator ride called Batman – Knight Flight. Guests will board a robotically controlled flying Batwing to help Batman fight crime in Gotham. The ride starts at Wayne Tech headquarters, where guests step through a secret panel to find they have been recruited as test pilots. The flight simulator will blend immersive scenery and effects with drops, spins, climbs and rolls.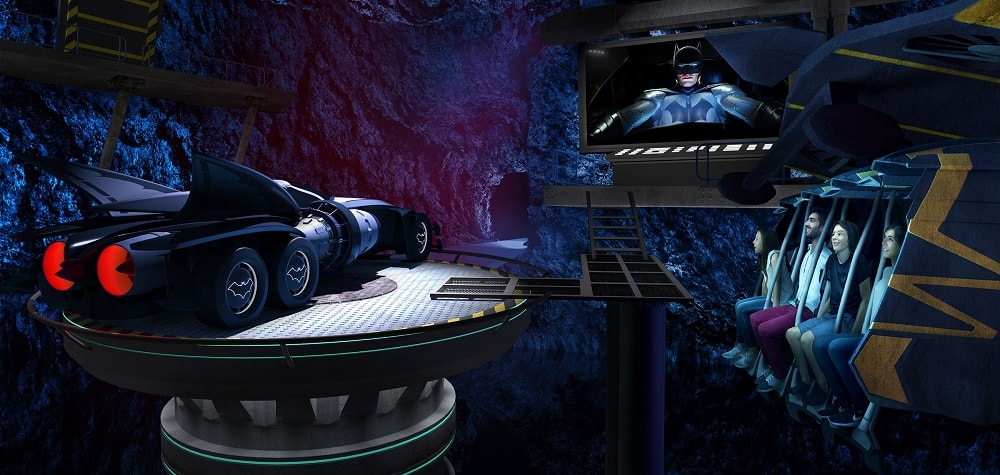 Another flight-themed ride is Scarecrow Scare Raid that will feature "dramatic aerobatics and whirlwind barrel rolls". There is also a spinning roller coaster dubbed Riddler Revolution that has been "designed by The Riddler himself".
Guests will find a hall of mirrors, a labyrinth, shrinking corridors and more in The Joker's Funhouse and they can play a range of games at Rogues Gallery on Gotham Pier.
Restaurants in the zone include the police-themed Gotham City's Finest and the Hall of Doom, which is designed to look like it's hidden in an abandoned subway station.
Mark Gsellman, general manager of Warner Bros World Abu Dhabi, said: "Home to fan-favourite DC Super Heroes, we're very excited for our guests to experience the immersive environment of Gotham City, where Batman will emerge from the shadows to help fight crime and stop the city's Super-Villains.
"From heart-pounding flight simulators to authentic landmarks, this land is sure to leave a lasting impression on guests of all ages."
Featuring a total of 29 rides, interactive attractions and live entertainment across six themed lands, Warner Bros World Abu Dhabi is being developed by Miral in partnership with Warner Bros Products and DC Entertainment and is situated on Yas Island.
The $1bn indoor theme park previously released images and descriptions of the rides in the Metropolis and Cartoon Junction lands. It is due to open this summer.
Images: c. Warner Bros World Abu Dhabi.