Warner Bros. World Abu Dhabi, a $1bn indoor theme park developed by Miral on Yas Island in the UAE, will open to visitors on 25 July.
The announcement was made by Mohamed Khalifa Al Mubarak, chairman of Miral, during a media tour. Warner Bros. World Abu Dhabi will be the largest indoor theme park in the world at 153,000sqm when it opens and has been in development for seven years.
"The park is another great addition to Yas Island's immersive experiences and award-winning attractions," said Al Mubarak. "It gives us great pride to have partnered with Warner Bros Consumer Products to launch the world's largest Warner Bros branded indoor theme park right here in Abu Dhabi.
"As part of our fulfilmentt to Abu Dhabi's ambition to drive increased visitors and enhance the UAE's appeal as an international destination, we are thrilled that fans will be able to enjoy the outcome of this partnership and the massive, fun and engaging park offerings in a few months."
The park will feature six themed lands based on DC super heroes and characters from Warner Bros films and cartoons. The lands – Metropolis, Gotham City, Cartoon Junction, Bedrock, Dynamite Gulch and Warner Bros Plaza – combine to offer a total of 29 rides, shows and attractions.
Warner Bros World Abu Dhabi has released details of the rides in five of the six themed lands.
Metropolis, is themed on the Manhattan-like city that is the home to Superman. In the land, guests will find Superman 360 – Battle for Metropolis, which the park describes as "a pulse-pounding attraction that features the Man of Steel in a riveting battle of good versus evil that will decide the fate of Metropolis".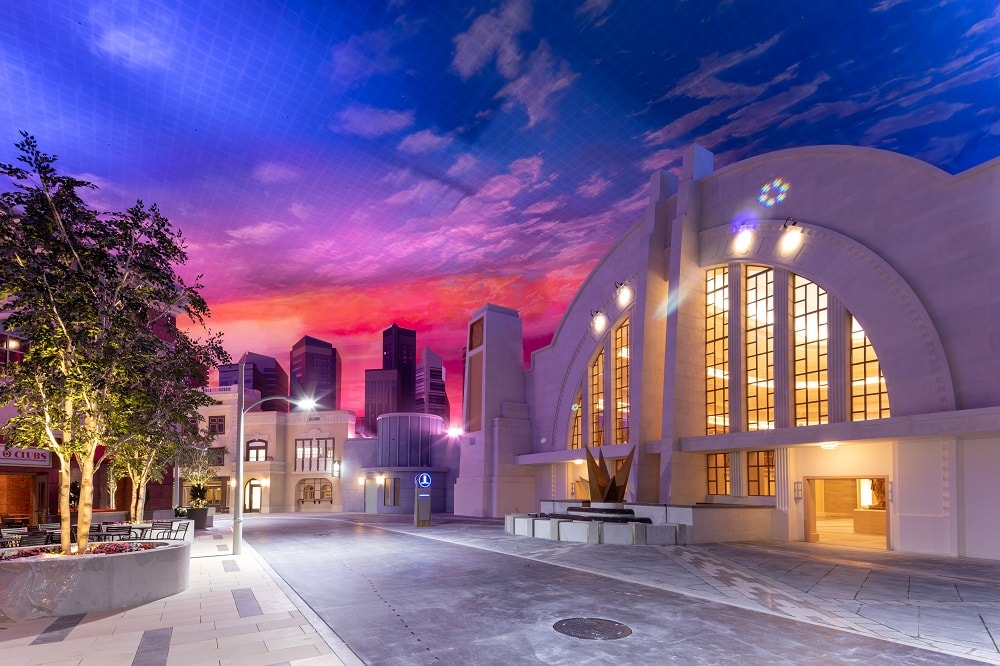 The area also features Green Lantern – Galactic Odyssey, a 4D flying theatre, as well as a recreation of the Hall of Justice, in which guests will find the Justice League – Warworld Attacks dark ride.
The Gotham City land is themed on the Batman universe. Guests will be able to walk the streets with characters such as the Joker, the Riddler, Scarecrow, Catwoman, and Harley Quinn.
The area will feature an immersive simulator ride called Batman – Knight Flight. Guests will board a robotically controlled flying Batwing to help Batman fight crime in Gotham.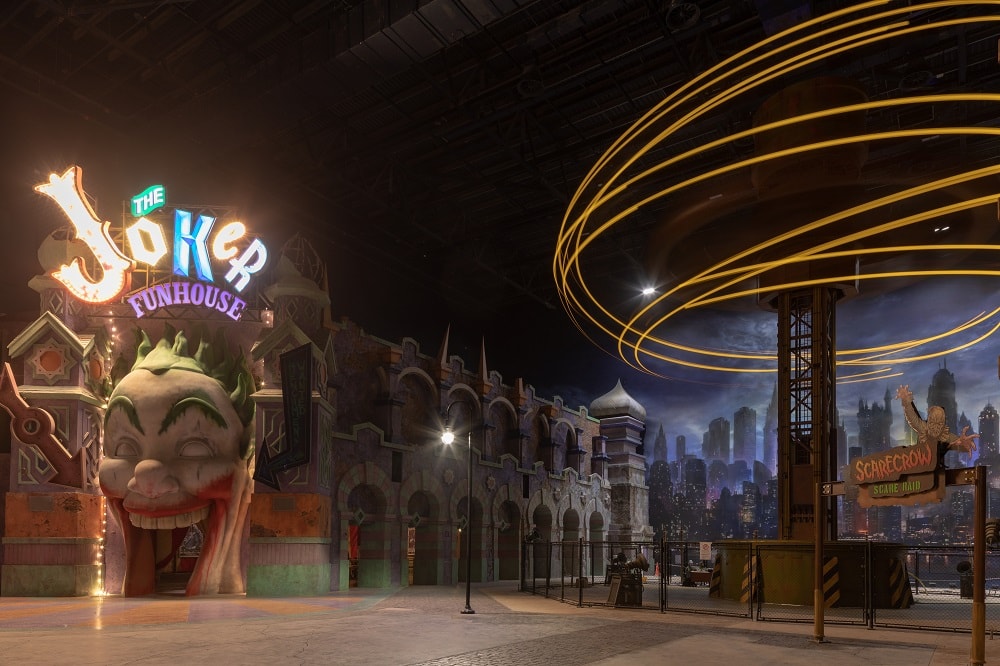 Another flight-themed ride is Scarecrow Scare Raid that will feature "dramatic aerobatics and whirlwind barrel rolls". There is also a spinning roller coaster dubbed Riddler Revolution that has been "designed by The Riddler himself".
Visitors to Cartoon Junction will find the area populated with animated characters including Bugs Bunny, Daffy Duck, Tweety, Sylvester, Tasmanian Devil and Elmer Fudd.
It has nine family-friendly rides and attraction including Tom and Jerry Swiss Cheese Spin, a spinning coaster that careens throughout the duo's house on a fast-moving chase full of twists and turns.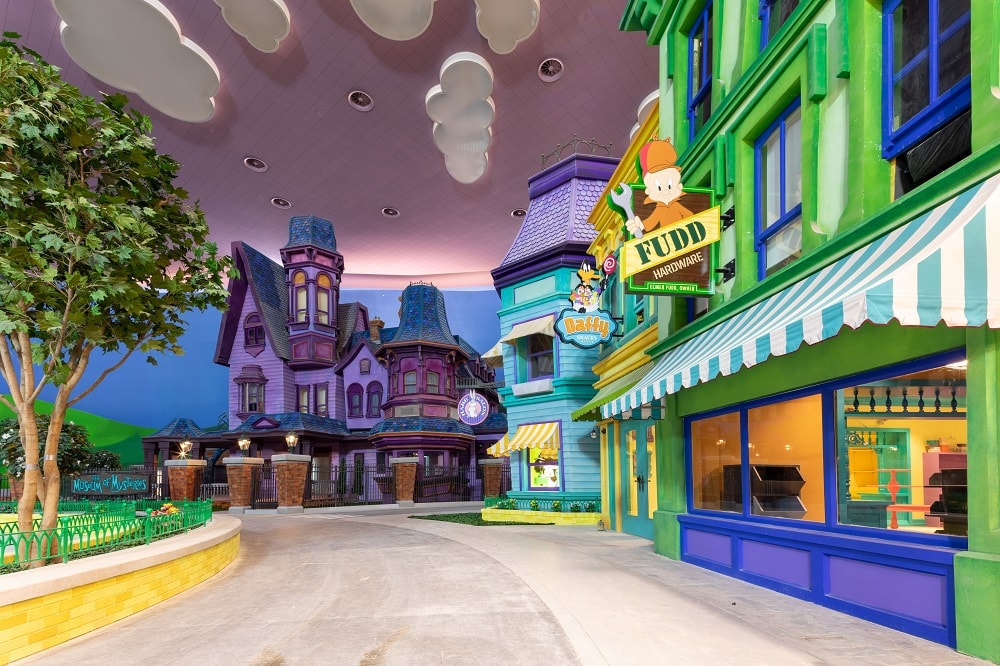 There is also the Scooby Doo – The Museum of Mysteries dark ride that allows visitors to board their own Mystery Machines to follow Scooby and the gang as they uncover the secrets of the museum. The ride culminates in a chase reminiscent of the hijinks in the cartoons.
Other attractions include Ani-Mayhem, an interactive dark ride that takes passengers on a mission to deliver their own cartoon chaos, and Meet Bugs! (and Daffy), a walk-through experience at the vintage downtown theatre where guests can join Bugs Bunny on stage.
The area also houses Cartoon Junction Carousel and the ACME Factory, which features a car ride, a vertical jump tower and a spinning ride for younger children.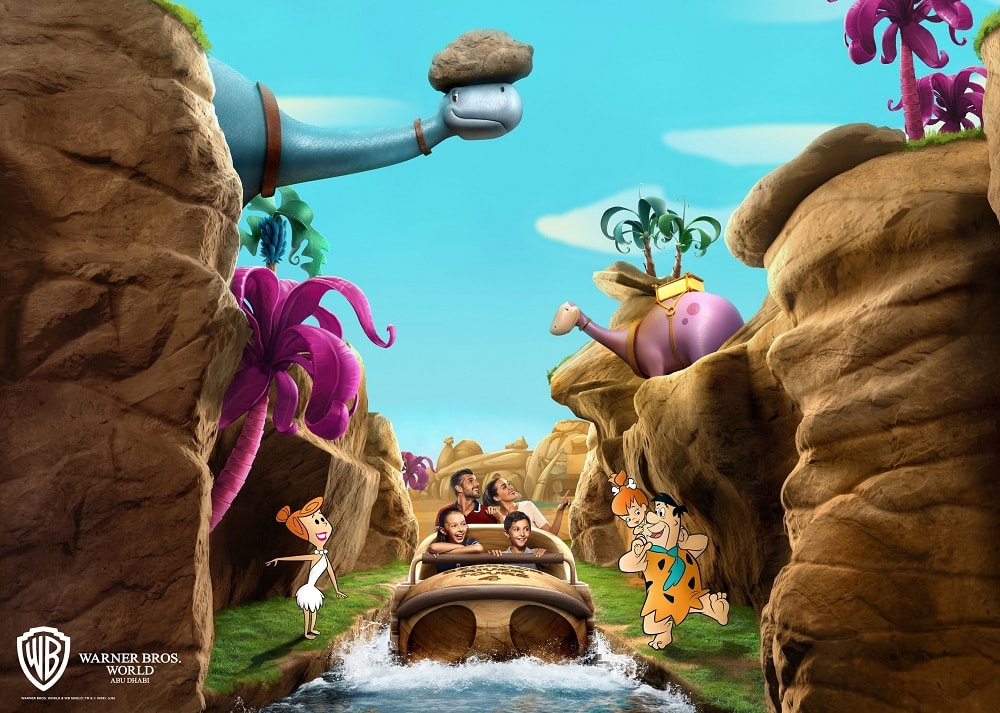 Bedrock is themed on The Flintstones, a cartoon about a stone-age family that has spawned multiple television series and films. Attractions include The Flintstones Bedrock River Adventure, a boat ride through scenic stone-age wetlands and the prehistoric neighbourhoods of Bedrock.
Dynamite Gulch is an animated storyland where visitors will encounter the famed duo Road Runner and Wile E Coyote, as well as beloved characters such as Marvin The Martian, Yosemite Sam, and The Jetsons.
Guests can experience Wile E Coyote and the Road Runner's dizzying dash first-hand on the Fast and Furry-ous roller coaster. The coaster invites passengers to climb onto Wile E Coyote's latest gadget – the ACME Road Rocket 9000 – for an exciting journey through the desert cactus and chasms, joining Wile E Coyote in pursuit of Road Runner.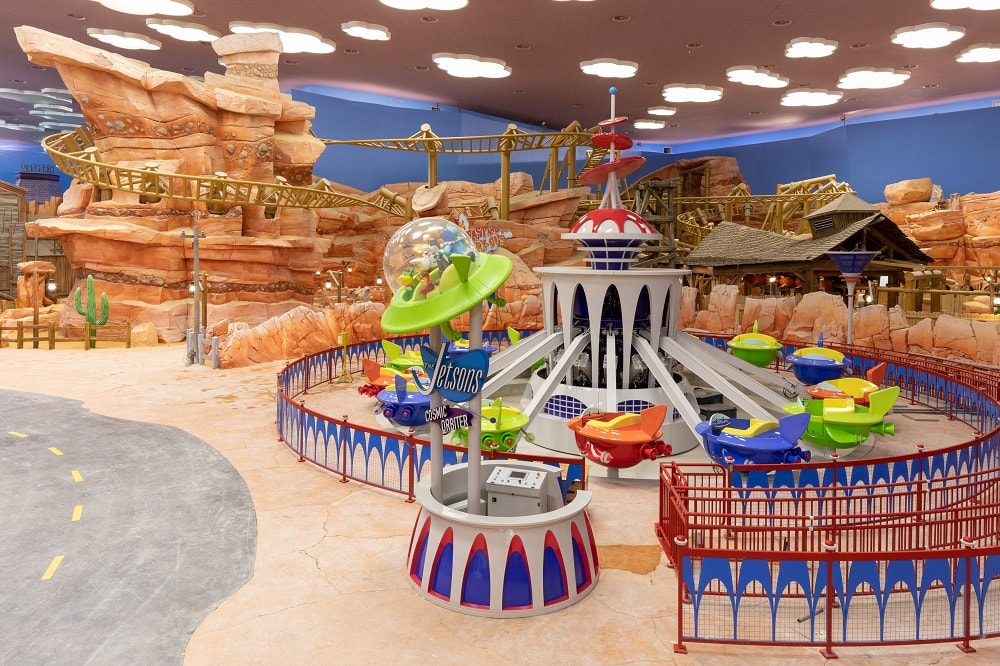 Nearby, The Jetsons Cosmic Orbiter lets guests fly their own futuristic spaceship as they circle a space-age landing pad on a high-energy joyride. Meanwhile,  Marvin The Martian Crater Crashers turns a crash-landing crater into mini-bumper car fun.
Miral has worked with Warner Bros Consumer Products and DC Entertainment to develop the park. It will complement Miral's Yas Island destination portfolio, which includes Ferrari World Abu Dhabi, Yas Waterworld, CLYMB and the recently announced SeaWorld Abu Dhabi.
Images: c. Warner Bros World Abu Dhabi.