It's been two decades since dan pearlman Experience Architecture devised a radical new approach to zoo design in Hannover. The company recently unveiled its latest panda project in its home city of Berlin. Now it is working on some ground-breaking indoor waterparks too.
dan pearlman CEO Kieran Stanley tells us why he believes it is time that the European indoor waterpark model gets some fresh thinking.
The short holiday market in Europe is growing, due to a change of lifestyle rather than costs. A big factor is time: families are taking three or four short holidays a year instead of one long one. The market is also growing because of the fear of terrorism and people's reluctance to travel. Loyalty to your local market is a growing trend too, and that was the case even before events of the past few years.
Places like Center Parcs are benefiting from the short holiday phenomenon. In Germany it took Tropical Islands a long time to develop. But, now, they have an attractive two to three-day package and are open 24/7.
What Europa-Park is doing is clever by trying to broaden the season with an upcoming waterpark as an add-on to its core offer. A standalone waterpark is a more difficult sell. You need a catchment area that is very local and very loyal. Usage of the space is also important. The masterplan needs to foresee expansion possibilities, whether that is for adventure, wellness, or whatever guests are demanding.
Reinventing the waterpark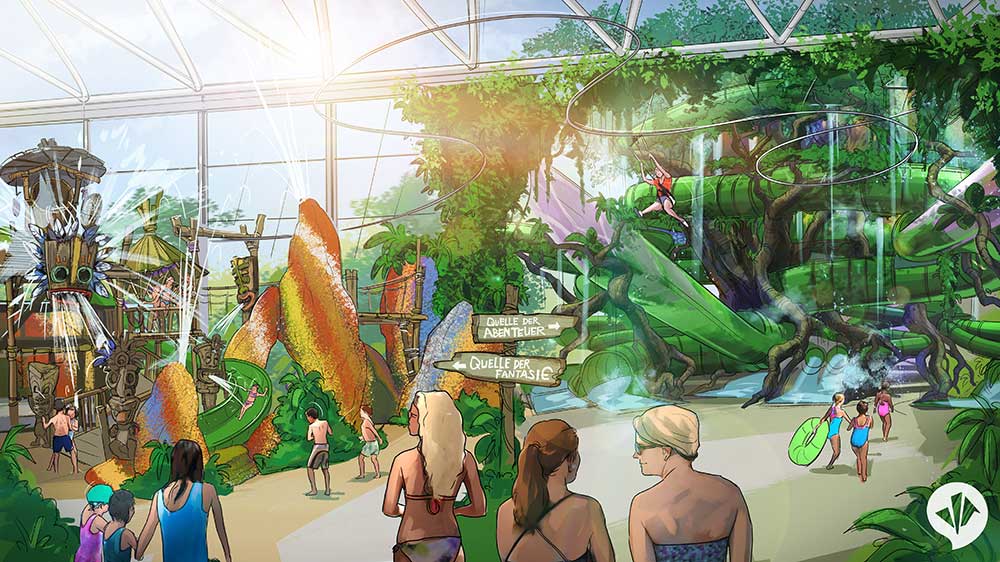 In this part of Europe we have a lot of pools, thermal baths and wellness facilities. It is one of those, Spreewelten in Brandeburg outside of Berlin, where Dan Pearlman will debut the first of two new water recreation concepts. It is a redesign of an existing non-themed indoor park with a new apartment hotel.
The reason Spreewelten approached us is because they noticed that their numbers had started going down, and that there was no real attractiveness to the pool or the building. The Spreewald region has a lot of tourists though, and is famous for its little canals. The outdoor activities range from stand-up boating and canoe rides, to bike rides and hiking trails. The waterpark is right in the middle of it all. They wanted to add a themed hotel as an attraction in itself, but which, together with the waterpark, would offer a two-day proposition.
Penguin swims
We are just now in the middle of the design phase. I'd like to think of us as a strategic partner rather than an architectural planner. With most other architectural companies, the client will already have done the feasibility study, then the programming with a different company, but we start with that. And we do not draw a single line until we know what needs to be planned.
We really took the waterpark model apart on this project. Either you can take the traditional Polynesian/South Sea theming, where you don't do anything at all, or you can keep it very stylised. Our idea was to take the forest theme of the Spreewald and transform the indoor bath/waterpark into a full-on immersive experience.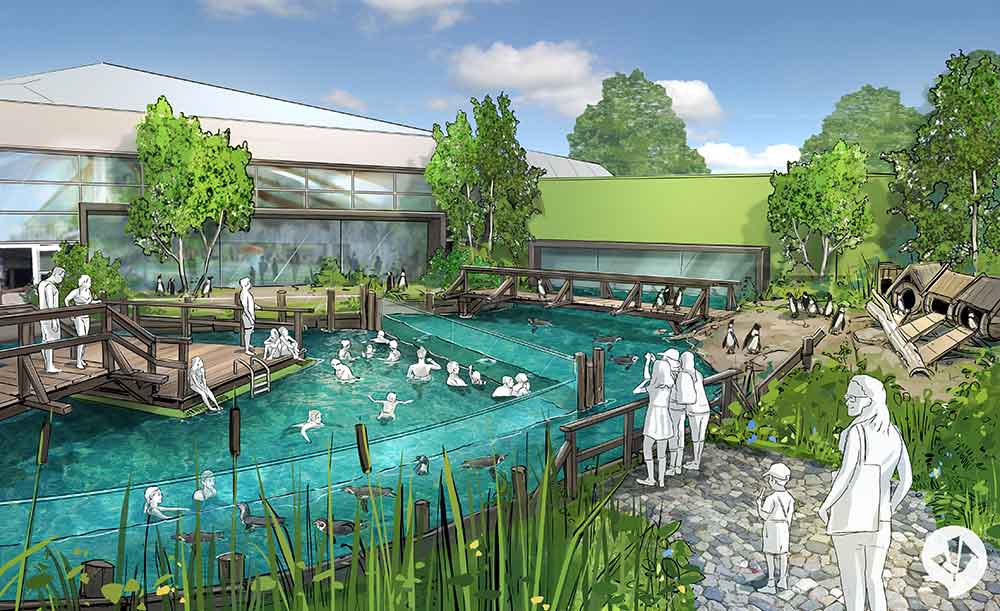 One thing that remains popular at Spreewelten is that you can swim with penguins, or seemingly swim with penguins. It is the only experience of its kind in Germany, and has been copied in Italy. We will play a bit with the characterisation of the penguins, bringing them into the story and making it stronger for kids. The pool will be closed this September to allow for the transformation, and then reopen in April 2018.
Back to nature with an indoor waterpark
The other waterpark project we are working on we unfortunately can't yet identify, but it is a big one. It's an approximately €180 million project in Europe. Unlike Spreewelten, it is a completely new build on the site of an older leisure complex. We are in masterplan/concept phase at the moment.
The reason they chose us was because of the work dan pearlman has done with clients with regard to story-building with zoos, aquariums, and in other leisure parks. What better way to immerse guests in a story than in the context of wellness or a waterpark? You have people practically with their clothes off. You can really take them on a journey when they are relaxed and in an intimate situation.
We are taking nature as our palette to work on this project, using the different, quirky forms of nature you find around the world: waterfalls, fantastic cliff forms etc. The main thing that we are trying to create is the idea of your own oasis.
Once we had done all the programming, we identified everything we needed for the target groups. There are seven different springs to be discovered inside the park. Each is a source of strength, patience, wisdom, energy, youth and so on. These strengths are then allocated to the different areas, from wellness to adventure. It is a different approach for waterparks. Theming, yes, you can do theming, but we wanted also to create something that was very unique in its outlook.
Panda power in Berlin
Our work at Erlebnis-Zoo Hannover, where we take you around the world in a day, has been benchmarked worldwide. The present Zoo Berlin Director, Andreas Knieriem, was the head vet at Hannover back in the mid-90s. Building what has been referenced as the new global standard for Panda habitats, at Everland in South Korea, also strengthened our case for Panda Garden in Berlin, where we delivered the strategic masterplan.
Berlin is the oldest zoo in Europe and has some very old listed buildings. It also has this giant Chinese style entrance gate. We've reinstated an old Chinese pagoda, which was previously used as a music pavilion. But we did not simply want to put the panda into a pagoda; that would be the wrong context. Yes, we immerse visitors into the theme of China, but then there is this demarcation line. The moment you go over that line, the pavilion has a sort of modern architecture with beautiful lines that let the landscape flow through it. It's the natural habitat of the Panda if you will, that's the way we did it.
Interactivity doesn't stop for man, or animal
When designing animal habitats, you always take, as your basic parameters, the conditions the animal is used to. In Sichuan, the panda's natural habitat, they tend to live in the higher altitude areas because they prefer not to be too hot and humid. In the summer, Berlin can get somewhat hot, so we've added shade. But the city also has plenty of cold, at least in winter, so the living conditions indoors are totally high tech and air conditioned.
We have created as much space as possible for visitors to see and interact with the pandas. They are, however, inactive for a lot of the time. So what we've done is create an interpretative exhibit so that, when the pandas are sleeping, you can see a lot of information on screens. It is not enough to just put one sign up and hope that will do.
Panda Garden was officially opened by Chancellor Merkel on July 5. Zoo Berlin already attracts 3.4 million visits a year, which is a huge amount for a zoo. I am not sure how many they will get because of the pandas, but they are already experiencing a huge influx.
Images copyright dan pearlman Erlebnisarchitektur/Frank Roesner.