Nineties nostalgia is alive and well at The Crystal Maze Live Experience. Blooloop talks to the attraction's co-creator who tells us why he chose to crowdfund its two UK venues, explains its appeal to the corporate market, and observes how his slightly un-hinged 'Maze Masters' really make it a-maze-ing.
The original escape room experience?
To anyone outside Great Britain or under the age of 25, The Crystal Maze probably won't mean much. Yet this TV game show, which ran on Channel 4 from 1990 to 1996, has a special place in the heart of many pre-millennials.
Pre-dating most escape room experiences, teams were set mental, physical, skill or mystery challenges across four themed zones. On successful completion of a task, players were awarded crystals, but locked in if they failed. At the end they scrambled around the Crystal Dome to collect foil tokens blown around by giant fans. Presiding over all this was eccentric Maze Master and Rocky Horror Show creator Richard O'Brien, and later Ed-Tudor Pole.
After a one-off special last summer fronted by Stephen Merchant, the TV show returned to Channel 4 this summer with actor, comedian and director Richard Ayoade at the helm –but not before fans got to experience the challenge for real in London and Manchester. Tom Lionetti-Maguire (above right), who set up The Crystal Maze Live Experience together with friends Ben Hodges and Greg Fittock, tells us all about it.
A theatrical experience
My background is as an actor. I trained a long time ago, did all sorts of West End jobs and other stuff, but then became aware of interactive theatre. I'm a big fan of what people like Secret Cinema and Punchdrunk do. I saw that there was this incredible appetite for live immersive experiences, where you become part of the show. That blending of the worlds theatre and attractions was really exciting and inspired myself, Ben and Dean to do something. So we set up a production company, Little Lion Entertainment, and we kept coming back to this idea of a live Crystal Maze.
The TV show is based on Fort Boyard, a French format which has been successful in many countries, but was reimagined it into a much more UK-centric format as The Crystal Maze. I think these sort of mad game shows are so much more fun than a stripped-down general knowledge quiz. Getting the IP took a long time, but it was a big deal. To be fair to [rights holder] Zodiac, we came to them with a crazy idea and they had the foresight to go with it.
I don't think of what we've created as an escape room, but I guess we knew there was an appetite for that kind of entertainment. Just like interactive theatre though, it really attracts a variety of people; all ages, all cultures.
Making the Maze
There's certainly a lot of nostalgia out there for The Crystal Maze, so we knew we were onto something. Even in the early days as we were setting up the London attraction we had lot of offers from angel investors. But none of them really cared about what it was, it was just a money-making exercise for them.
With perk-based crowdfunding, people really care about it, you build a community behind it. We kept the offer simple [the attraction was funded via Indiegogo]. We said: "This is our idea, if you pledge some money you get to be one of the first people to come and play". And people did.
American gazumpers
It was a really arduous six months trying to secure the London site. Just as it's difficult to find somewhere to live in London, it's also really difficult to find the space to do something new and creative. No one's interested when you say "I need 30,000 square feet to build a Crystal Maze". We were finding places, buy then we'd get gazumped by an American property developer who was going to build a hundred flats.
We were conscious that the attraction had to be in Zone 1 [Central London], because there's no point making something that people can't get to. The place that we found in the end used to be an accountancy college. It's a crazy building, I think it was a cinema originally. It has this beautiful main hall with an art deco glass atrium and a hotch-potch of spaces over five floors. It proved to be perfect place to put a maze in.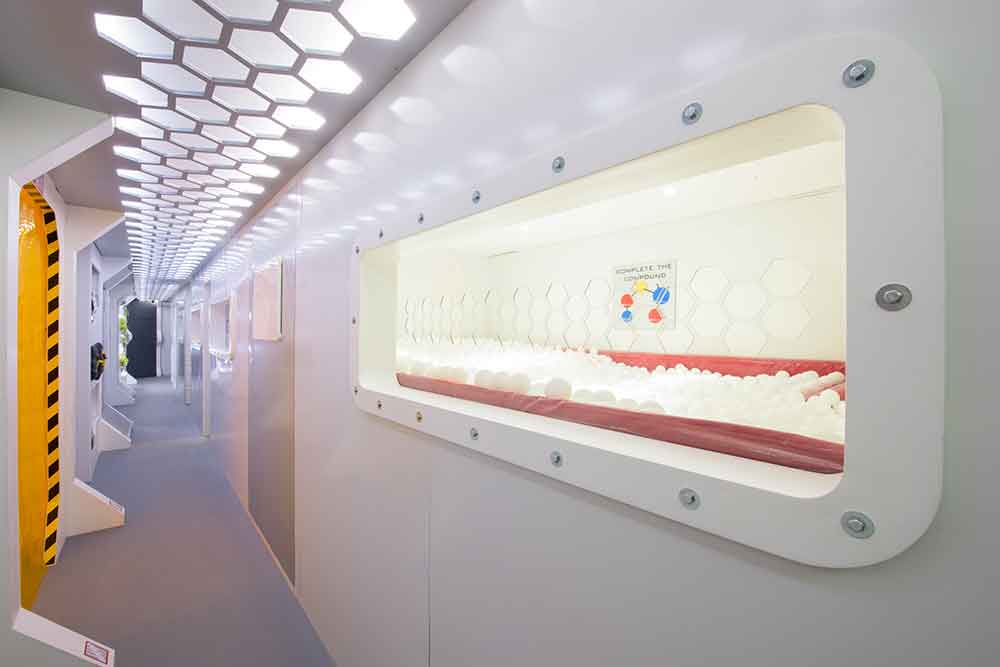 We primarily used set builders and scenic artists rather than theming companies to build the mazes. The Manchester site, at the old Granada Studios [formerly operated as Coronation Street: The Tour] was like a blessing from the sky. We've even incorporated some of old mixing desks from the studios into the theming. This venue, and plans for the wider site to be a music, media, attraction-based destination with The Factory and The Bonded Warehouse will be really good for us.
Meeting expectations
We opened the London site in March 2016. We had the pressure of time, but there was also a lot of expectation because of people's love for The Crystal Maze. It had to be fantastic and authentic. The production company making the new series for Channel 4 approached us while we were building it. I'm not sure if they had already been thinking about a revival, but they ended up using our venue to film the Stand Up for Cancer special with Stephen Merchant. They've since built a new set in Bristol, designed by James Dillon who did the original TV sets.
We were sold out for a a full year in London, and advance bookings continue to be strong. The Manchester site then followed this April. The Crystal Maze experience starts as soon as you walk through the door and put on your retro bomber jackets. The suspense and the drama builds as you go through the four zones – Aztec, Industrial, Futuristic and Medieval.
But it's not just the games or the physical world, when you layer on the actors, the music, it all comes together to create something really authentic. Some of the games have been adapted from the TV series, others we have created ourselves. Some of the best ideas for games usually come after five or six pints in the pub!
TripAdvisor doesn't like lock-ins!
The Maze Masters are something that we are really proud of. We have 60 actors working across the two sites. All have been to drama school, some come from stand-up comedy backgrounds. They are all incredible in their own right, all f*cking mental, but they are brilliant and really make the experience for our guests.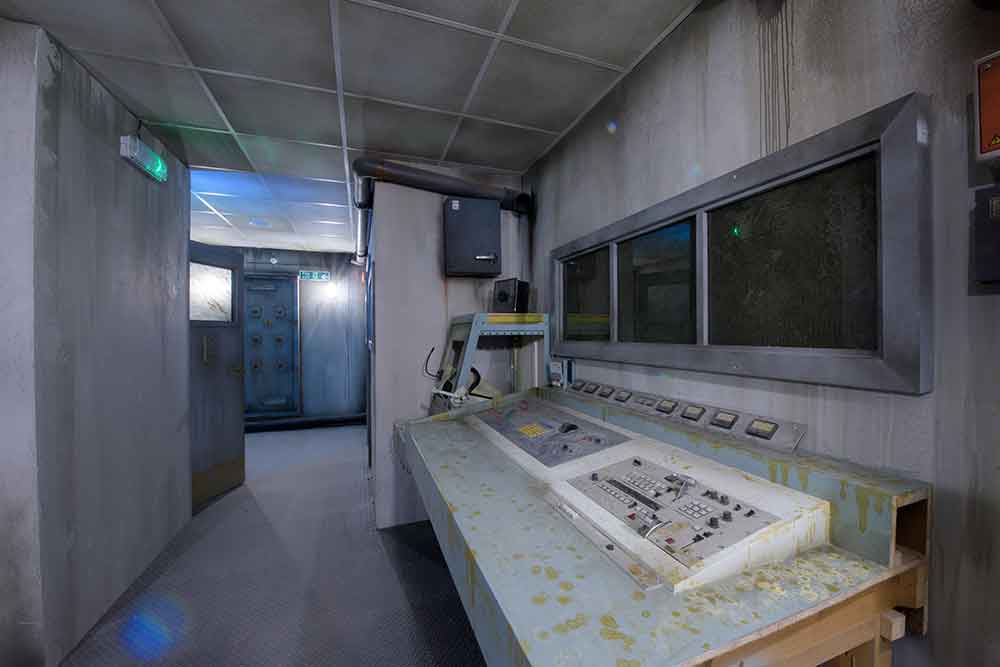 Each show typically lasts 75 minutes, and there is also a pre-show briefing and introduction before entering the Maze. The number of games depends on the tasks chosen and how quickly people move through the different zones. The more crystals teams earn, the more time they'll get in the final challenge – The Crystal Dome. Although we do virtual 'lock-ins' like the TV show, we tend to avoid actually locking people into the rooms for operational reasons. Also it's not good for our TripAdvisor scores!
Teams of up to eight are despatched in batched sequences every seven minutes. Manchester is the larger of the two sites and we can get around 900 people through there on a Saturday. As well as the Maze Masters, we also have someone following the teams to reset the games. There's 28 games, so it's a completely different experience every time you visit. We've already seen some people coming back to the London maze four or five times.
Lessons learned in the attractions business
When you get into this world of attractions you realise that you have to have so may hats to make it work. You can't just be the crazy creative guy. You also need to think about health and safety regulations, fire regs, legal contracts, sponsorship deals and so many more things. How might a six-and-a-half foot man break something when he uses it? And I now know more about concrete render than I ever thought I would!
At the end of the day, no one knows how to build a Crystal Maze. There's no blueprint, you've just got to do it and learn. Along the way, we've made friends with quite a few people, other attraction operators. And people now ask for our advice, which is nice.
We did some competitor analysis before settling on price. Again, it's difficult because I don't think we're like anything else out there. We looked at other immersive shows, escape rooms, traditional indoor attractions like Madame Tussauds, London Dungeons, and also West End shows; all the things we are up against. Prices vary across the London and Manchester attractions and over the week, ranging from £30 to £60 per player per session.
Obviously I am biased, but I think you get a huge amount of value when you come here. You've got a Maze Master with you the whole time, you're involved in everything, playing games, running around, going from zone to zone; there's no drop in energy.
Corporate business and bomber jackets
Both venues are proving very popular with corporate groups. We've had some really big names go through and I think if your company's doing well it's a really nice way to treat your team. What else is there out there? Paintballing and go-karting are old hat. In London we also have a bar by the Crystal Dome for visitors to continue their experience once they complete the maze.
For those true fans of the show we've got some great merchandise on sale, from T-shirts and bomber jackets to souvenir crystals players can take home. Hopefully the new TV series will bring the Crystal Maze to a fresh audience, because you can speak to some people that are under 20 and they have no idea what it is. This makes you feel really old!
Simple, retro fun
We will potentially be opening more Crystal Maze live venues. And we've got lots of new, exciting projects with Little Lion Entertainment, not just in the UK but hopefully abroad too. It's a really exciting time for us. Hopefully we can announce some stuff early next year. I think at the moment, myself, Ben and Greg want to stay hands-on because of quality control. But it's not to say we wouldn't bring others on board if it meant we could move a bit quicker.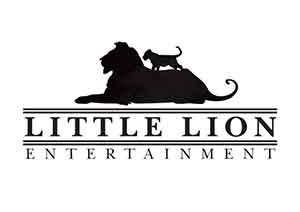 It's been an incredible few years. We've learned so much. Seeing people come and have fun is just so rewarding. What I like about The Crystal Maze Live Experience is there's nothing pretentious about this, no delusions of grandeur. Just like the new TV series, it's a little bit tongue in cheek. Ultimately this thing is fun; come and play it with your mates, that's all there is to it.
The Crystal Maze Live Experience can be found at Old Lion Street in London and old Granada Studios in Manchester. The new series of the Crystal Maze with Richard Ayoade began on Channel 4 on August 25