The world's first Storm Racer Waterslide by global aquatic attractions specialist, Polin Waterparks, has opened at Aqualand Frejus in France.
According to Polin, the Storm Racer boasts a number of key features that set it apart from everything that's gone before. These include unique geometry, high capacity, a pioneering ride configuration and an exclusive, interactive 'Watersplash' feature.
Aqualand Frejus has been keen to embrace Polin's innovations. The park was the first in France to install Polin's iconic King Cobra which has been named Europe's Best Waterslide seven times.
"We know how quickly people's interests can change, and we want to make sure we are always top of mind when they are considering how to spend their entertainment dollars," comments Wilfrid Lenandeis, Director of Operations, Aspro Group.
"We focus on delivering an incredible value-for-money experience so guests will come back and are never disappointed."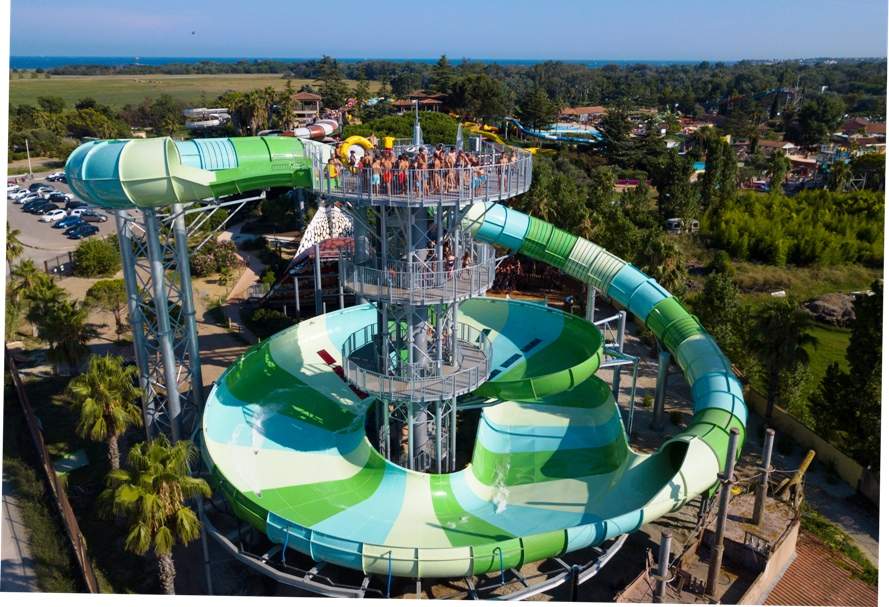 Centred around its massive central tower, Storm Racer looks set to be another game-changer. By adding the competitive Watersplash element to the ride experience, Polin has ensured that riders can't resist coming back for more.
Sensors detect highest point reached by raft
As rafts shoot to the top of the slope, the Watersplash sensors detect the exact high point reached. The sensors are connected to a lighting system that displays results on a score board. What's more, at each level, the lighting system displays another colour and, if the raft makes it to the top, the Watersplash feature activates, and water splashes over the riders adding an extra fun element.
Winners can be determined based on hourly, daily or seasonal scores to ensure months of competition between teams.
The Storm Racer uses multiple family rafts running simultaneously which means it can accommodate 8 x 120 riders per hour. This makes it a winner for parks and guests alike with shorter waiting times and more manageable queues.
Meet the Polin team and see the Storm Racer at EAS, Booths #1-603 & #1-1003, RAI Amsterdam, 25-27 September 2018.