Following the successful debut of three VRSlide attractions in Europe over the last two years, Ballast VR has announced that its unique virtual reality waterslide is now open at Vana Nava Water Jungle in Hua Hin, Thailand, which is the company's first major attraction in the Asian market.
"Our guests have been amazed at how perfectly VR technology is adapted to the slides," says Natha Jamasevi, Operations manager at Vana Nava Water Jungle. "It has unlocked a new level of excitement for them and inspired many to try new experiences!
"After the temporary closure, we relaunched the VR campaign, and we now have had over 16,000 paid VR riders in only 4 months and over 14 million impressions. Despite the challenging situation with COVID-19, the VRSlide technology has brought new guests and repeat guests to our park."
The VRSlide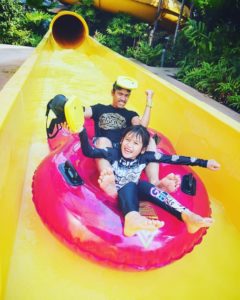 The company's VRSlide system uses a patented method of sensors and cutting-edge software to synchronise virtual reality visuals with a real-life waterslide experience. Each installation uses 25 VR headsets to keep a consistent throughput. Guests have the choice to ride with or without VR, and most attractions are charging around $2.50 – $3.00 per ride for the VR version.
The VR headsets are charged through wireless docks when not in use and are monitored over a secure Wi-Fi connection to evaluate the day's activity. Over the four venues now offering the VRSlide experience, Ballast has found that each park sees between 4,000 and 14,000 uses per month, per slide. Since the first VRSlide opened in 2018, more than $1.3 million in park revenues have been generated by the experience.
VR fun at Vana Nava Jungle Water
The latest installation, at Vana Nava Jungle Water, is Ballast VR's first two-person vehicle version, which doubles the capacity of the original product. Guests at the park can enjoy three different VR experiences:
Snow Dragon – an adventure through a snowy castle defended by fire-breathing dragons, where riders must overcome a series of traps to find the cave of hidden treasures
Mystic Jungle – a journey through a mystical jungle world, custom made for the attraction, with waterfalls, exotic plants and a psychedelic cavern
Sky Temple – an exciting land in the sky, filled with temple ruins, hot air balloons and floating islands which are home to fanciful animals
Guest safety is paramount
The waterproof VRSlide headsets are also easy to clean after each use, meaning they remain as popular as ever despite the COVID-19 pandemic.
"Guest safety and headset sanitization have always been a top priority at Ballast since 2018," says Stephen Greenwood, Ballast VR's CEO. "But now more than ever, we are taking all measures to ensure that using Ballast VR products remain a safe experience that guests can feel confident in participating in.
"Our fourth and most advanced installation has allowed us to perfect our VRSlide technology and content creation process in a way that makes us confident we can build VRSlide attractions safely anywhere in the world.  It's not only an incredible guest experience, it's also a proven new revenue stream for waterparks everywhere."
Ballast VR is a world leader in waterpark VR and has completed more than 25 installations around the world since 2018. Its VRSlide and DIVR solutions generate revenue for parks while also providing a fun and unique experience for guests.