Bloomington, Minnesota is moving forward with plans to build a $250m water park adjacent and attached to the Mall of America (MOA).
The Bloomington City Council and Port Authority have approved a $10.1 million contract for the project in the South Loop area.
The council will work with co-developers and MOA owners Triple 5 on considering a final design, estimating construction costs, and other feasibility questions.
Triple Five is well-known for its two North American malls – MOA and the West Edmonton Mall (WEM) in Alberta. With 40 million visitors a year, Mall of American is the most popular attraction in the US.
https://www.instagram.com/p/BvC497XBF90/
These malls are so large, with such a variety of entertainment on offer, that visitors spend an average of 2.5 days on a stay.
Mall of America water park project moves forward
"The City Council and Port Authority took an important step tonight towards making the waterpark project a reality which would be an amenity, not only for Bloomington, but for the Minneapolis-St. Paul region," said Bloomington Mayor Gene Winstead.
The 335,000-square-foot attraction would be one of the largest indoor water parks in North America. Work could start as early as spring 2020, with completion scheduled for 2022.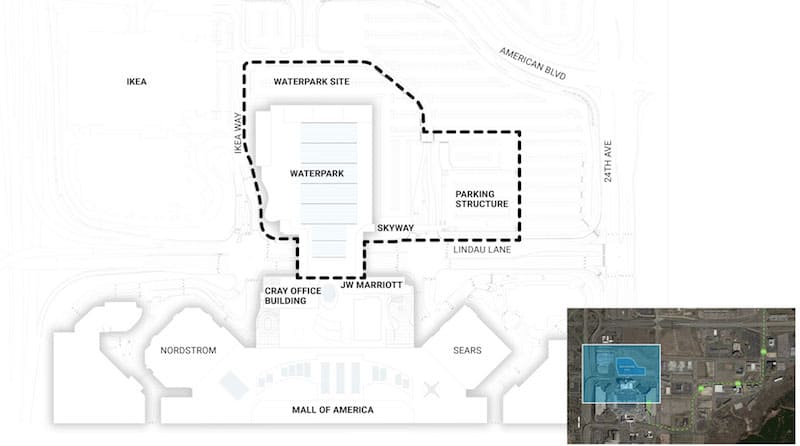 It would be constructed with a skyway attaching the water park to the MOA via the Marriott Hotel.
The approval of the agreement marks the beginning of the next stage, including final design and construction cost estimation.
WEM in Canada has a 215,000-square-foot integrated water park featuring slides, rides, a wave pool, surfing leagues and beach-themed events. It attracts over 500,000 users annually.
https://www.instagram.com/p/BuwQb6UnBYs/
Triple Five has become synonymous with the concept of retailtainment – combining retail with high class attractions for over 30 years.
Blooloop previously spoke to Don Ghermezian, President of Triple Five, about how this family-led group is not only surviving, but thriving, in a tough retail climate. He also shared his predictions for the future of retail.
Images: City of Bloomington, MN