Despite some strong performance in Asia, the global picture was of a 'moderate' year for theme park attendance, according to the authors of The Theme Index 2019.
Published today in tandem with The Museum Index, the report reveals a more variable 12 months for the world's top museums. (You can download it here for free)
The cover to the 52-page study by the Themed Entertainment Association (TEA) and AECOM features an image of Star Wars Galaxy's Edge at Disneyland Park in California. The original Disney park recorded a flat attendance of 18.6 million. It remains the world's second-busiest theme park, behind Disney's Magic Kingdom in Florida – up 0.5 per cent to 20.9 million. Disney's Animal Kingdom, which also introduced Galaxy's Edge last year, rose 1.0 per cent to 13.8 million.
In China, operators such as OCT, Chimelong and Fantawild reported high single or double-digit increases. With an 8.4% rise to 11.7 million, Chimelong Ocean Kingdom becomes the eighth (up from 10th) busiest park on the planet. The world's busiest non-Disney/Universal property, it outperformed Shanghai Disneyland by almost half a million.
Together, the world's top 10 theme park operators achieved a combined 4 per cent attendance increase over 2018.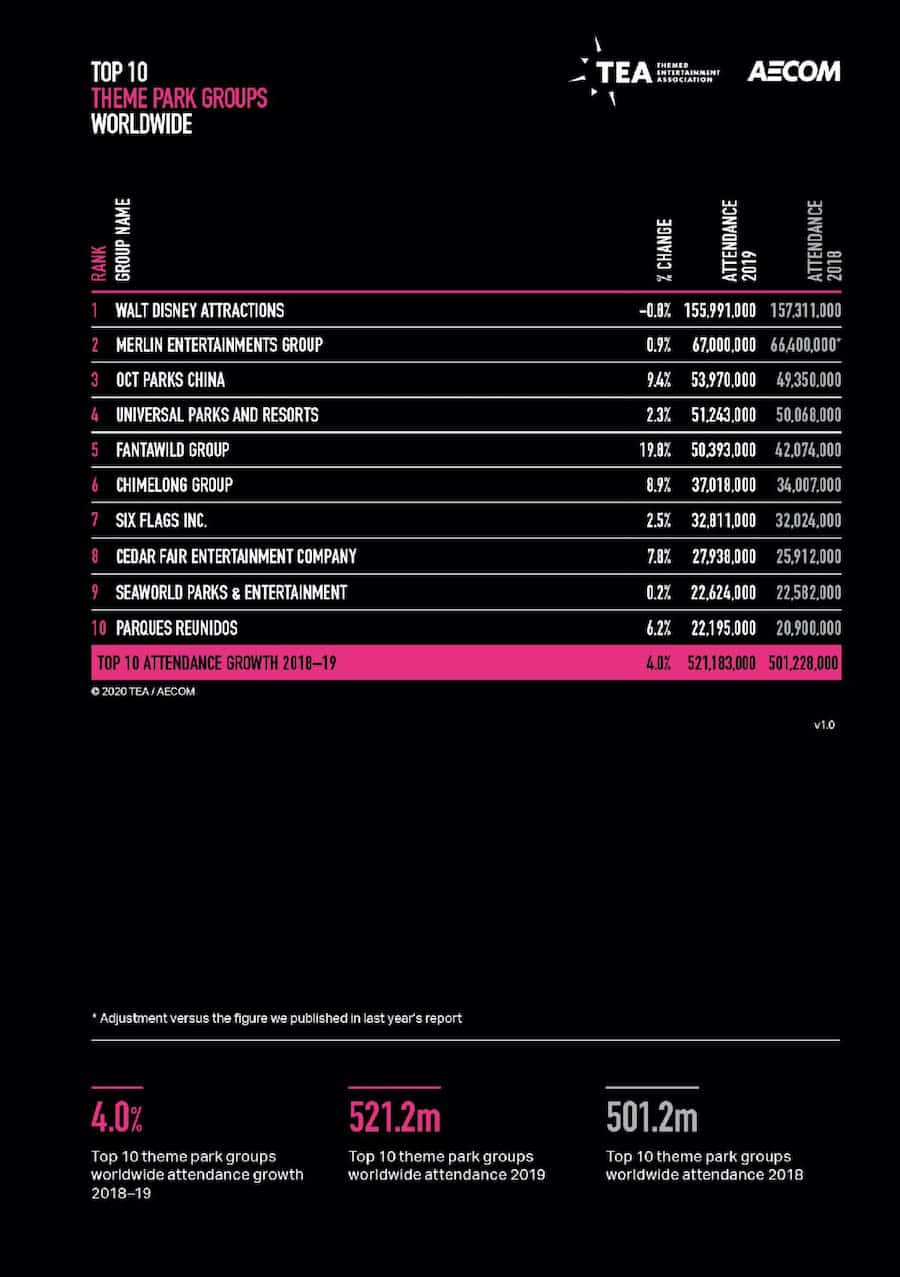 A mild-mannered year
"As a whole, 2019 was a rather mild-mannered year in the industry," says John Robinett, Senior Vice President – Economics, AECOM. "After clearing the half-billion attendance mark in 2018, the world's top theme parks, water parks and attractions continued to climb to 521.2 million."
According to Robinett, stable results in the established European and American markets might indicate "some pre-recessionary pressures were building under the surface before the tectonic Covid-19 shifted the foundation of the world's health and economies."
In the EMEA (Europe, Middle East and Africa) region, Merlin's LEGOLAND parks showed consistent growth. Germany's parks also did well. And with a 7 per cent surge to 2.32 million, Parc Astérix reclaimed the title of France's second busiest theme park from Puy do Fou.
Louvre holds onto top spot
The 20 most-visited museums in the world welcomed some 105.5 million visits in 2019. That's a 2.4 per cent decrease compared to 108.1 million in 2018. Number one was again the Louvre in Paris, but it dipped from 10.2 to 9.6 million (-5.9%) after a remarkable performance in 2018.
Asia's top 20 museums gained global market share. Meanwhile, visits to the leading museums in North America declined due to a variety of factors.
"History shows that attendance swings at the world's top museums are primarily driven by blockbuster exhibitions," says Linda Cheu, Vice President at AECOM.
As a fresh feature for 2019, The Museum Index also includes a list of new and noteworthy museums around the world.
Download the report
The Theme Index and Museum Index 2019 can be downloaded for free here. The full report contains the following charts, plus added analysis from AECOM:
Top 10 Theme Park Groups Worldwide
Top 25 Amusement/Theme Parks Worldwide
Top 20 Water Parks Worldwide
Top 20 Museums Worldwide
Top 20 Amusement/Theme Parks North America
Top 10 Amusement/Theme Parks Latin America
Top 20 Water Parks North America
Top 10 Water Parks Latin America
Top 20 Amusement/Theme Parks Asia-Pacific
Top 20 Water Parks Asia-Pacific
Top 20 Amusement/Theme Parks EMEA
Top 10 Water Parks Asia-Pacific
Top 20 Museums North America
Top 20 Museums Asia-Pacific
Top 20 Museums EMEA
More information about the previous year's report can be found here.