Leading provider of innovative aquatic play solutions, Waterplay® Solutions has announced the launch of its latest collection, Shoreline.
Shoreline has been created in collaboration with world-renowned public space designer, Markus Ehring.
Inspired by lively ocean tides, Shoreline is designed to encourage children to 'spin, whirl, spray, cover and collaborate'. The new collection provides a host of options for splash pads and aquatic play spaces.
"The concept of Shoreline is to continue the Grasslands journey onto the waterfront, where kids are immersed in a whole new wave of discoveries focused around interaction, collaboration and sensory play," explains Waterplay Creative Manager, Shanley Hutchinson.
Shoreline offers 19 new innovative products and a range of dynamic water effects to inspire all ages and abilities.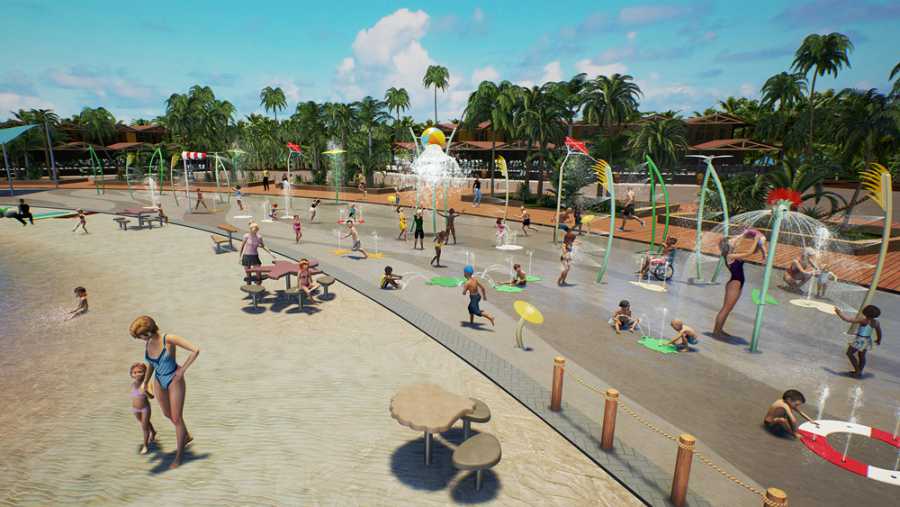 Created to encourage collaboration
The range includes the towering 13.5' Beach Ball Soaker which creates a head-to-toe splash effect. AquaLume™ produces light effects in the form of colourful shadows, adding visual interest to the playpad surface. Interactive ground sprays shaped as friendly sea turtles and starfish will doubtless appeal to younger participants. These have been created to encourage collaboration. The children work together to cover nozzles and make water spray higher.
The Whirler Action Activator™ promotes both fun and water conservation. It features a disc that children can whirl to activate surrounding features. All components use the playPHASE™ anchoring system, making for easy installation. What's more, additional products can be seamlessly integrated or interchanged over time.
The Shoreline range of recreational furnishings follows the ocean theme.
According to Waterplay, Shoreline adapts to any play environment and is the perfect fit for community parks, aquatic facilities or attractions seeking to add immersive water play experiences for the whole family.
Waterplay has been developing innovative aquatic play solutions for the global community for three decades. The company's suite of products includes freestanding aquatic play solutions designed to splash and spray, activity towers, urban features and water management solutions.