WhiteWater, a leading waterpark manufacturer, has announced that it now holds exclusive rights to the iconic rotating water slide SlideWheel. It also welcomes Rainer Maelzer to the team.
WhiteWater is pleased to announce that a deal has been reached with Wiegand-Maelzer to grant WhiteWater exclusive rights to SlideWheel. This follows the landmark partnership agreement between the two companies in 2018 for WhiteWater to licence the attraction.
SlideWheel is a visitor favourite. The world's first rotating water slide was inspired by the Ferris wheel and has been recognised by several awards, including the IAAPA Impact Award, a Brass Ring Award, a THEA Award, and a Leading Edge Award. The ride features a unique, dynamic motion, where visitors enjoy backwards sliding, strong G-forces and pendulum forces. It is an iconic ride which stands out in a park skyline, as demonstrated by the installation at Chimelong which features a striking lighting system. SlideWheel is now exclusively manufactured by and available from WhiteWater.
A warm welcome
WhiteWater has also announced that Rainer Maelzer is joining the team. Maelzer was previously part of the Wiegand-Maelzer team behind SlideWheel. He brings with him a wealth of knowledge and expertise in the water slide and water park industry. WhiteWater would like to extend a warm welcome to Maelzer and is confident that with this new addition to the team it will continue to drive growth and create more innovative products. The company is known for the highest standards of quality and safety as well as unique and thrilling rides.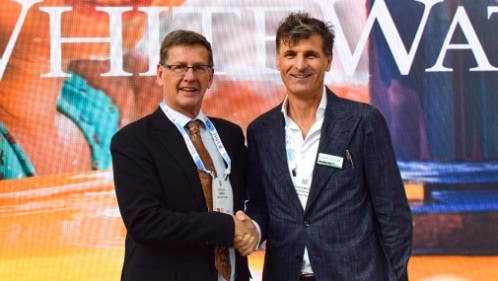 WhiteWater recently opened a recording-breaking installation of the Spinning Rapids Fusion water ride at Shanghai Haichang Ocean Park, named Lava Drifting.  It is the longest spinning rapids ride in the world, as well as being the world's first spinning rapids ride with actual rapid rivers.
The company has several projects coming up including Vinpearl in Vietnam, Aqean Bay in the Philippines, Ocean Park in Hong Kong and three STCs in China for Evergrande Group.
WhiteWater's 2019 openings feature Island H2O Live! at Margaritaville Resort, Orlando, Perfect Day at CocoCay by Royal Caribbean Cruise Lines, OCT Nanjing Playa Maya Waterpark and Six Flags Chongqing Waterpark, as well as many more.
The company recently welcomed Domenic Sicoli as the new Director of Design Services, who brings with him 23 years of experience in the industry.