This summer sees the opening of a ground-breaking panda exhibit at Berlin Zoo. It will house a pair of giant pandas from Beijing with high hopes that they will breed.
The project has been designed by dan pearlman Experience Architecture and overseen by Berlin Zoo director Dr Andreas Knieriem.
Blooloop talked to Dr Knieriem, about the project and the challenges of designing an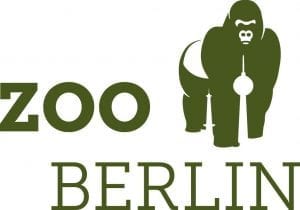 exhibit that suits both giant pandas with their pernickety habits, and the visitors who love to see these engaging creatures.
Dr Knieriem is a veterinary surgeon who was appointed to the role of zoo director in 2014. He had previously been instrumental in the restructuring of Hanover Adventure Zoo and Hellabrunn Zoo. A committed advocate for species conservation, his vision is of a human/animal interaction that represents modern insights and sensibilities. He is currently working with an interdisciplinary team to establish goals and planning for the zoo through to 2030.
The Oldest Zoo in Germany
Berlin Zoo, founded in 1844, is the oldest zoo in Germany. It's also the most visited zoo in Europe, and the ninth oldest zoo in the world. Located in Berlin's Tiergarten, it covers over 35 hectares (87 acres), and showcases around 1,500 different species.
The zoo has a breeding programme that helps safeguard endangered species, and participates in conservation and reintroduction initiatives, collaborating with research institutes, universities and fellow zoos worldwide.
Famous charismatic animals have raised the zoo's global profile. Most notable is Knut, the polar bear cub who was rejected at birth by his mother. Another favourite was Bao Bao (below), the giant panda, who died at the record breaking age of 34 in 2012.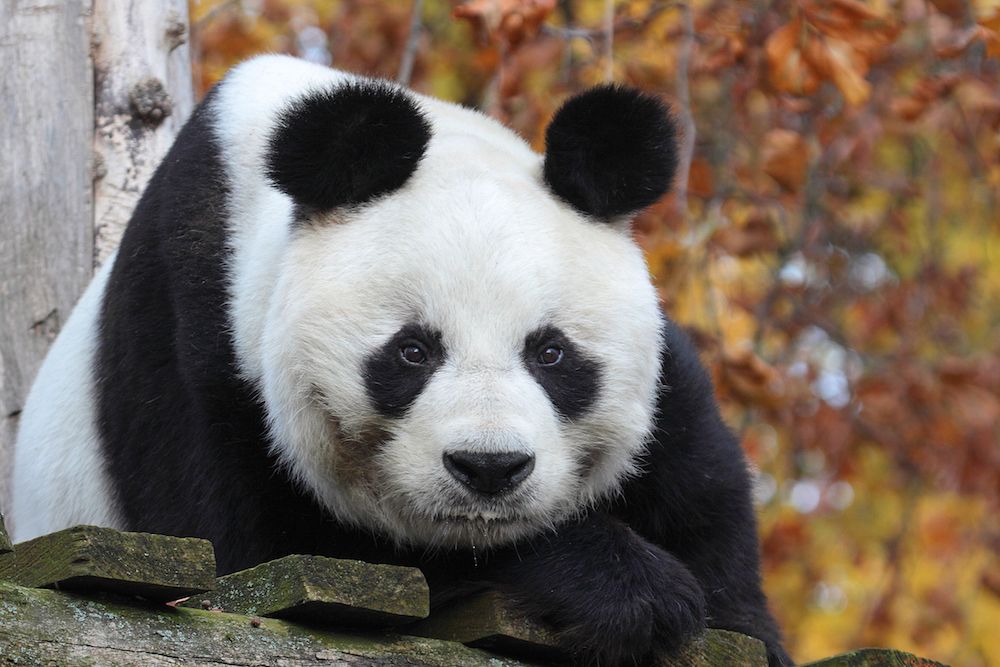 Panda Diplomacy
Now Berlin Zoo is preparing to welcome giant pandas again. Pandas are periodically loaned by the Beijing government as part of "panda diplomacy," to mark breakthroughs in relations with other countries.
Dr Knieriem described the news of the new pandas as "joyful."
Last year Dr Knieriem visited Beijing with Zoological Curator Dr Ragnar Kühne and Kieran Stanley, the CEO of dan pearlman. The objective of the trip was to conduct final contract negotiations with the China Wildlife Conservation Association (CWCA) and the State Forestry Administration (SFA).
The trip also involved a visit to the panda breeding station in Chengdu to fine-tune important issues as the precise variety of bamboo and exact diameter of stalks most favoured by pandas.
Discussion revolved around the exact specifications of the proposed panda environment. The final decision was the question of which pair of pandas would make the journey to Berlin. The pandas will be on long-term loan. China stopped gifting pandas to zoos in 2007 and now only loans them worldwide.
dan pearlman Create a Cutting Edge Habitat that puts Pandas First
Work on the site began last November and dan pearlman Experience Architecture has created a cutting edge habitat for the pandas.
The new panda exhibit will feature extensive indoor and outdoor areas. It exceeds the latest and most stringent welfare requirements. The exhibit will measure over 5,200 square metres. It will be a naturalistic habitat, encompassing some of the park's 200-year old trees to provide shade.
"To us, what's most important is to provide an almost natural habitat for the pandas," says Dr Knieriem. "That doesn't mean that we need hectares of woodland. Pandas eat bamboo all day. It's not high calorie nutrition, so they eat and they sleep. They're not energetic or sporty. But they do need an appropriate amount of space, which should look natural. They also need a functional, attractive house."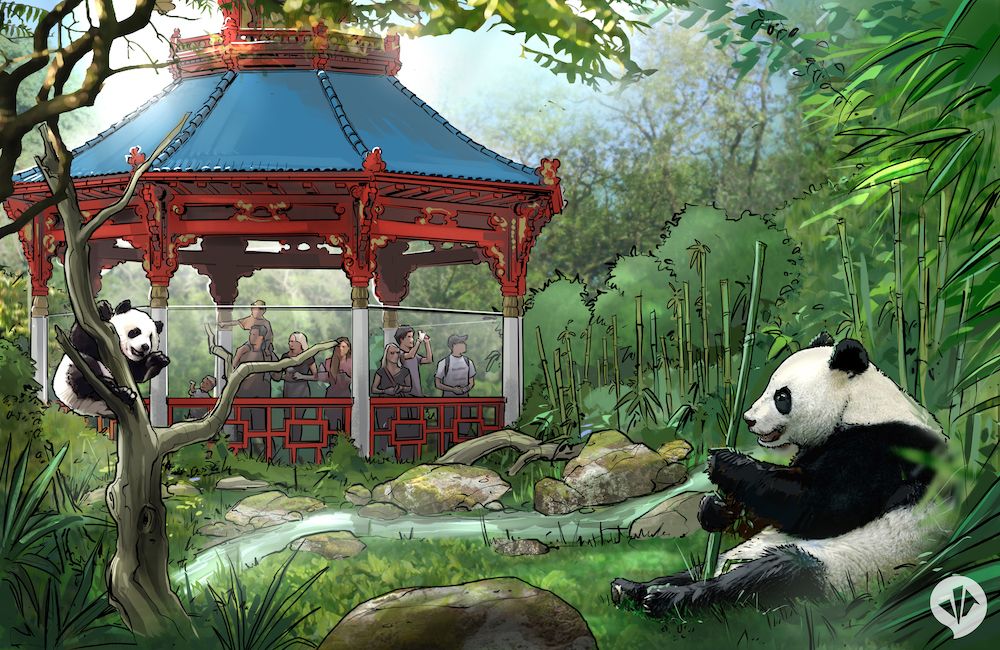 Obviously the exhibit also needs to allow visitors to observe the giant pandas. However everything is done with the pandas' wellbeing at the forefront of the design. "We will also implement limitation structures. So, for example, a gate will restrict the number of visitors standing in front of the exhibit, to spare the pandas stress."
Making Allowances for the Idiosyncrasies of Panda Relationships
A double living space accommodates the idiosyncrasies of the animals. Male and female giant pandas tend to live separately for the majority of the year. They are solitary creatures which only tolerate each other when the female is in oestrus. "For a breeding program, you need fertile animals and a functional house which allows for the breeding situation," says Dr Knieriem. "We have to eliminate stress by ensuring the animals don't have to see each other much. So we need lots of indoor space, as well as the outdoor habitat."
The exhibit needed to be both spacious and designed in such a way that the animals can be quickly separated if they seem stressed. Equally they need to be able to bring the animals together at the ideal time. "If we have a good prognosis for mating behaviour, that has to be implemented," says Dr Knieriem. "So we have a lot of guidelines."
Balancing the Pandas' Needs with Visitor Expectations
Berlin Zoo is one of the oldest zoos in the world. It has a plethora of historical buildings set in a very old natural city park landscape. "Another consideration was that the exhibit should fit into the whole system of Berlin Zoo," says Dr Knieriem. "Pathways have been driven by landscapers, not the requirements of a modern and functional zoo. This made it complicated to find the best place for the new exhibit."
A further challenge was how to implement theme and character. "We planned a Chinese pavilion from which there is a good view over one of the outdoor giant panda exhibits," says Dr Knieriem.
Balancing the pandas' needs with a predicted high visitor count, historic parkland, visitor expectations, a tight time frame and a finite budget made it a daunting task. Nevertheless, Dr Knieriem is very happy with dan pearlman's design.
Dan Pearlman the "Obvious Choice" for the Project
"Selecting dan pearlman as the architects was obvious," says Dr Knieriem. "We needed to work with architects experienced both with landscapes and the functional aspects of keeping animals."
dan pearlman had previously designed, developed and implemented the world-class panda facility at Everland in Korea, which opened on April 21 2016. The architects consulted with fifteen international panda experts early in the design process in order to ensure they would meet the animals' needs.
Knieriam visited the Everland exhibit. It confirmed his feeling that dan pearlman could combine the complex requirements of visitors, staff, landscape and, most importantly, animals, in an outstanding exhibit.
"They needed to be able to build up a story board," he says. "Striking a balance between presenting sufficient information and keeping visitors engaged." It's not only important to balance the outdoor experience with the storytelling. There is also a need to strike a balance between high and low architecture: housing and landscape.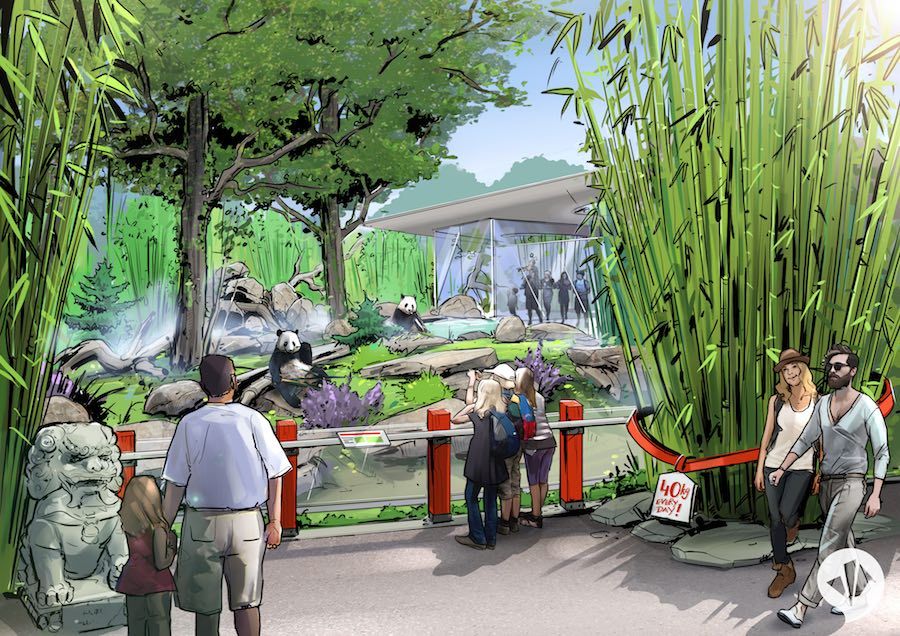 "We needed architects experienced in that. The other factor, which is important if you are keeping animals, are issues related to the safety and security of our staff. That also requires knowledge and experience. For those reasons dan pearlman were the obvious choice. Plus, of course, they are located in Berlin, and I've known them for 20 years."
Berlin's Previous Panda Superstar
Berlin Zoo has been celebrated for its pandas in the past. Bao Bao, the world's most long lived panda, was a gift to former German chancellor Helmut Schmidt from the then Chinese leader, Hua Guofeng, in November 1980.
Bao Bao lived at Berlin Zoo until his death in August 2012, aged 34. He had three female companions over the course of his long life – Tien Tien, Ming Ming and, finally, Yan Yan. Yan Yan lived with him from 1995 until her own death, aged 22, in 2007. However attempts to persuade the pandas to breed were unsuccessful.
"If we are honest, Bao Bao's was a very tiny exhibit," says Dr Knieriem. "We wouldn't keep giant pandas in such an enclosure now."
Giant Pandas at Berlin Zoo Should Increase Visitor Numbers
Dr Knieriem predicts that the presence of giant pandas at Berlin Zoo once more will be reflected by an increase in visitor numbers. However he points out that this isn't a critical consideration, as numbers are already very good.
"We are optimistic. We have a lot of visitors, over 3 million annually, the largest number for any European zoo. While we expect the number will increase, I don't want to give any prognosis on the percentage."
He is similarly cautious about making predictions about the pandas' likelihood of breeding. "If we receive fertile animals, if the male and female like each other, if we get a suggestion from the Chinese breeding society, then it's possible."
Eventually, of course, it will come down to the pandas themselves. "Whether or not they are compatible will depend, just as with humans, on genetic factors. It is the genes which determine whether they like each other or not."
It's all about Bamboo
"What I can say is that these giant pandas will have a large, optimal environment," continues Dr Knieriem. "We hope visitors will appreciate it and think it appropriate. The animals themselves don't demand waterfalls or nice rockwork. But here we are implementing an attractive environment for not only the animals, but for their human visitors."
He explains that pandas have simple – yet specific needs. "In nature, it's often simply a case of who is the prey and who the predator. With pandas it's simpler, because it's all about bamboo. However this is why the panda has problems. Bamboo is so low in energy that the panda has to eat constantly. This is time consuming and it means that the animals – unlike, say, polar bears – have very little energy to spare for anything else."
Nevertheless, even if pandas are not particularly active, visitors still love them. "They are charismatic," says Dr Knieriem. "And they enhance visitors' empathy for animals and nature in general."
Images: kind courtesy Zoo Berlin, concept art Panda Garden Zoo Berlin (c) dan pearlman