The Aquarium of Niagara unveiled a masterplan in February of this year. This includes plans to build a larger, more naturalistic habitat for its seals and sea lions, long-term residents which would not be able to survive in the wild.
The expansion will take three to five years, using a strategic plan by Zoo Advisors. Blooloop caught up with Gary Siddall, Executive Director at Aquarium of Niagara, to hear about the attraction's expansion programme, its ethos, and the impact of the global COVID-19 pandemic.
Located in downtown Niagara Falls, New York, the Aquarium of Niagara is home to rescued seals and sea lions, Humboldt penguins, sharks, jellyfish, and over 120 species of fish and invertebrates. Siddall has held the post of Executive Director since June 2016.
Siddall's connection to the aquarium was forged early, he says:
"I first visited the aquarium as a Cub scout. They had a sleepover program here, and, through that program, I fell in love specifically with sea lions. My passion for aquatic conservation grew from there."
He started volunteering at a young age, and from there, his career progressed up through the ranks.
Celebrating 55 years of the Aquarium of Niagara
The Aquarium of Niagara, which reopened to the public once more on 4 July, celebrated its 55th anniversary on 12 June 2020. While the milestone fell during the period of closure, the Aquarium team were still able to mark the occasion with style.
The organisation produced a video looking back at the Aquarium over the years, as well as a special commemorative T-shirt. Proceeds from the sale of the clothing will support the Aquarium's animal collection.
Like many other organisations, the Aquarium worked hard to keep in touch with its visitors during the lockdown, holding virtual sessions featuring educational content as well as fun insights into the lives of its animal residents.
Check out some Aquarium team members sporting our 55th Anniversary t-shirts as we get ready to reopen next week!

It's not too late to score your own commemorative t-shirt and help us with the ongoing costs associated with animal care.https://t.co/EGcU0nfvNb pic.twitter.com/nm6b9weWb7

— Aquarium of Niagara (@AqNiagara) June 26, 2020
Synthetic seawater
Talking about its history, Siddall says:
"The aquarium opened back in 1965. It was the first aquarium to exclusively use synthetic seawater to maintain its collection. Previously, saltwater would have to be brought in directly from the ocean in order to sustain marine life inland."
Since the Aquarium of Niagara was able to apply the use of synthetic seawater, it was unconstrained by the amount of water that could be shipped and was able to evolve rapidly.
Long term animal care
"Over the years, the Aquarium of Niagara focused on a variety of different animals," says Siddall. "From penguins to seals, sea lions and dolphins. And what we found in the nineties was that there was a real opportunity to tell the story of rescued seals and sea lions.
"That messaging is something that has really grown. Particularly over the last 10 years, where we've really been focusing on and telling the story of all these non-releasable animals that are stranded, rescued, and need long-term care and housing."
"Over the course of the last several years, there has been an increased need for long-term care for seals and sea lions that are stranding on both the Atlantic and Pacific coastline. At the time when that need really started to increase, we found that we had the space, the capacity and the expertise to take on animals with special needs.
"That ranged from animals with visual impairments to mobility challenges. And the story kind of happened from there. It just made sense. So we shifted our strategy towards really providing as many opportunities as possible to take on those animals."
Permanent residents at the Aquarium of Niagara
Animals living permanently at the aquarium include blind grey seal Della, rescued in 1990. She works with her trainers using verbal and tactile cues. Another resident is Medusa, also blind, who loves playing under the waterfall in Rescue Harbor.
View this post on Instagram

Visitors can also see Sandy the harbour seal, who was rescued in 1980 as an abandoned pup. In 1987, Sandy became the first seal ever to receive successful cataract-removal surgery. Other long-term residents include mother and daughter pair Zoey and Zara, as well as sea lion Arie, rescued and released three times before she was deemed unreleasable.
The charismatic sea mammals are ambassadors for their species.
"Rescuing them is really rewarding," says Siddall. "Each of these animals has its own distinct personality. I think that that's what made me fall in love with them all those years ago; they are so individual and unique. Being able to talk to the public about them and share those stories is what makes our work so impactful."
Educating visitors
Siddall contends that education through inspiration is the best way to impart knowledge, and runs the aquarium on that principle:
"Here in Western New York, we're hundreds of miles away from the ocean. So, a lot of the school children in the Buffalo City school district and the Niagara Falls school district may not have the opportunity to connect with wildlife if it wasn't for zoos and aquariums."
The Aquarium turns 55 today & our seals are celebrating with this awesome ice toy! It's made out of ice, jello, & fire hose and is enrichment for our seals. Make sure to check back throughout the day — we have some more surprises for you! #closedbutstillcaring #imissmyaquarium pic.twitter.com/smlZOOnzpA

— Aquarium of Niagara (@AqNiagara) June 12, 2020

"We're particularly fortunate that here in Western New York we are so close to Niagara Falls. There seems to be a beautiful symmetry between the natural wonder of the water there, and the perspective on aquatic life that we offer here."
Gary Siddall on conservation
Siddall is optimistic in the face of the challenges facing aquatic life:
"It can be easy to have a dim outlook when you hear about the damage that has been done to the environment. Especially when you consider the decades – sometimes hundreds of years- that it takes for recovery to take place."
"But I think we are seeing a change in attitude from the community. We're starting to see people take a particular interest in the aquatic world, and we see it as our role to make a difference for aquatic life.
"We have just gone through a revision of our mission statement, and 'making a difference for aquatic life' has been dropped in there because we believe it can be done. Furthermore, it is something that aquariums naturally have the duty and responsibility to do.
"We take that pretty seriously. And by providing those inspiring moments, there is a really strong promise of effecting positive change."
Improving the Aquarium of Niagara
Over the past three years, the aquarium has made around $10 million worth of improvements. Penguin Coast, a $3.5m Humboldt penguin exhibit, is the zoo's largest expansion to date.
"The penguins got an upgrade," says Siddall. "We also brought in Aliens of the Sea, featuring jellyfish, and we're currently constructing a shark and stingray exhibit. Our seals and sea lions are next on the list."
"For the last 10 years, there has been a focus on those animals. We are constantly trying to take on best practices. We want to do what is best and to tell the stories in the most compelling way. The way to do that is through their surroundings.
"We will, therefore, be creating a brand-new habitat. This will increase the square footage of our existing building. It will provide an ample amount of housing, giving us opportunities to continue telling that story for many years."
Shark and Ray Bay expansion
The $1.85m M&T Bank Shark & Ray Bay expansion, which will offer interactive experiences, was announced by the Aquarium of Niagara in October 2019. The project is nearing completion. Siddall says:
"When you look at animals across the world that are facing conservation threats, sharks and rays are very high on that list. In terms of the messaging here, what we would like to do is use this exhibit as a way to take away some of the myths associated with sharks."
"They're not as evil as they appear to be in movies like Jaws and Open Water. We want to work on those myths. We can help people to make an emotional connection, so they will want to make a difference.
"These animals are in a critical condition out in the oceans across the world. And when you can bring that story and that message here to Niagara Falls, where millions of people visit the waterfalls every year, it seems poetic, in a way, to be able to tell that story."
The Aquarium of Niagara and COVID-19
"COVID-19 has slowed the progress on that particular project," says Siddall, talking about the Shark and Ray Bay expansion. "I don't think anyone will ever be able to talk about the year 2020 without mentioning COVID-19.
"Its impact has been substantial. We rely on visitors coming through our doors in order to sustain our operations; about 80% of our operating budget comes from those dollars. When you turn that off for as long as we have – we were shut down from 16 March – that is three months of revenue that is not coming in."
Cuteness alert! Our vet gave our chunky chicks a checkup and gave them a clean bill of health! #closedbutstillcaring pic.twitter.com/KpwJfIRuEv

— Aquarium of Niagara (@AqNiagara) May 26, 2020
"The cost of running an aquarium doesn't change much based on how many people we have in the building. The animals still need to eat. Their environment still needs to be conditioned.
"We cannot easily replace our fantastic staff. They're a very talented group who are phenomenal at what they do. They have been here every day providing care to the animals. The budget impacts of COVID-19 have been substantial."
Nevertheless, he adds:
"Fortunately, we were able to continue construction on the new exhibit, because we had animals here that are waiting on that new home to be complete. But I think that we are going to be seeing the effects of COVID-19 on our organization for a long time to come."
The effects of a changing world
Commenting on the conditions in which the coronavirus pandemic emerged, he says:
"One thing that I think all people in the field of conservation and environmental awareness agree on is that the world is changing. We see the effects of our changing climate. We see the effects of crowding and population changes.
"When you see those variables moving, there are impacts all over the world. It's this idea that one continent sneezes and another catches a cold. That's a reality that I think we're all going to be confronted with as we move forward in a pandemic and post-pandemic world."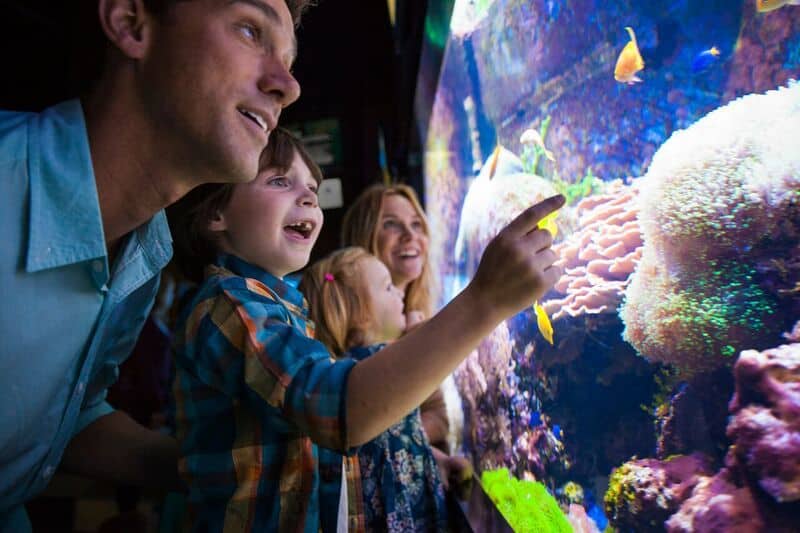 In conclusion, he says:
"We've been around for 55 years. It took a while to build momentum and to really get the aquarium going. But we've been fortunate that over the last three to five years things have taken off.
"Our attendance has jumped to over 305,000 people per year, which is a jump of over 30,000. Our operating budget has increased several times over in the last few years. As an organisation, we are growing.
"We are excited to be telling the story of aquatic conservation. I certainly see us doing that, at the very least for the next 55 years, but I anticipate that it will be much longer."