The new Oman Aquarium is a key highlight of the ambitious new 'Palm Mall Muscat' project and is due to open in Spring 2018.
This exciting new visitor attraction will be the largest aquarium in the Middle East, covering over 8,000sqm of the Mall. It will span three floors and feature a demi-tunnel running through part of the main tank. It will showcase over 30,000 marine animals.
Tolliday Group International Ltd
(TGI) has been appointed to provide consultancy, supervision and specialised management and operational services by the mall's developers Al Jarwani Group, via its leisure division, Al Tamani Entertainment.
Blooloop spoke with Aquatic biologist, Adrian Tolliday, CEO of TGI, about his company and why his background makes him the ideal person to lead the creation of this innovative new aquarium. Tolliday has a unique insight into the sector, having been involved in Aquaria since he was fifteen, starting with early work experience at London Zoo Aquarium.
Aquaria around the world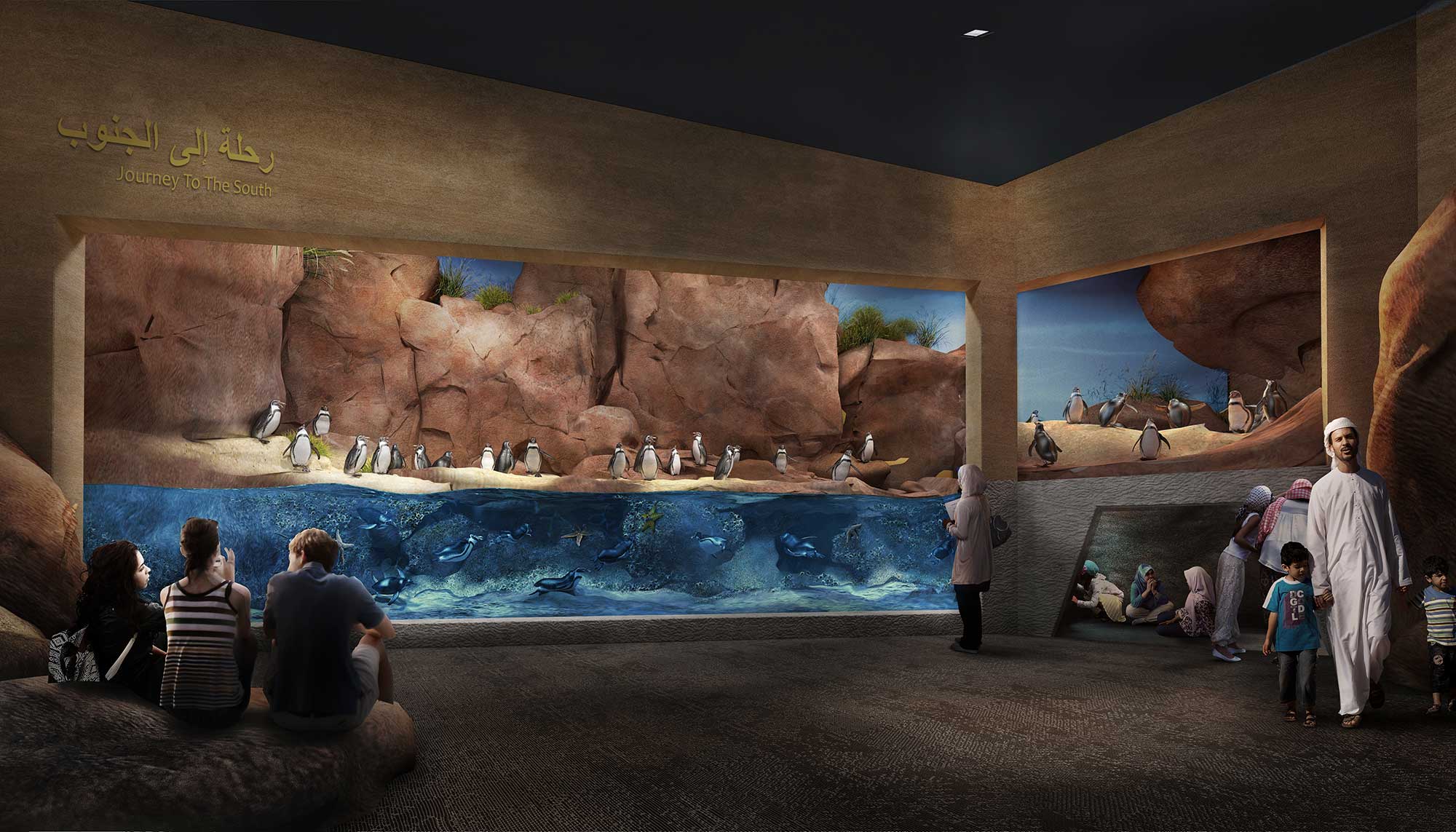 "I started by working at London Zoo, during the summer, whilst studying for my A levels," Tolliday recalls. "My mentor was Dr. Chris Andrews, who was the Curator at that time of the Aquarium, Reptile House and Insect House at London Zoo, who advised me to "Study hard, do lots of diving and get lots of work experience."
After following this advice, Tolliday obtained his degree and moved to Australia for more work experience. He returned to the UK and initially worked at the newly opened London Aquarium in 1997, closely followed by the National Marine Aquarium (NMA), which opened a year later in 1998. When NMA won the contract to run the Burj Al Arab aquaria in Dubai, Tolliday was asked to manage the prestigious project.
"At the age of 25 I was thrown into a senior management role with huge responsibility. It was a fantastic boost to my career and we did some wonderful things; collecting animals, looking at feeding regimes, and so on. I was also deeply involved in the procedural side of things as well, which has helped me enormously in the development of TGI's recent projects in the region."
Consultancy a natural progression
From there he went to Northern Ireland as curator of Exploris, Northern Ireland's aquarium and seal sanctuary. His own consultancy business was an obvious next step and natural progression in his career. The Middle East once again called when he was offered the role of Vice President at a new aquarium being developed at Atlantis on The Palm Jumeirah, Dubai.
Tolliday was later recruited by the Oceanis Group in October 2011 as Senior Ops/Head Curator of Dubai Aquarium and Underwater Zoo. When Merlin Entertainments acquired Oceanis in 2013, Tolliday represented the company in Dubai.
Family considerations then took Tolliday back to the UK where he set up TGI UK. He brought on board Lee Jennings as Chief Development Officer and Paul Slevin as Chief Operating Officer, both of whom have extensive experience of developing businesses and have spent many years in the Middle East region. This new structure and knowledge that both Jennings and Slevin bring to the table has given real strength, diversity and depth to the company.
"The experiences in Dubai enabled me to create my own concept of the 'ultimate' visitor attraction: BioQuariumTM. A conservation project at its heart, we have also incorporated entertainment, education and local culture into the concept. Based on three major zones – rainforests, tropical seas and polar – each exhibit is customised to reflect the local environment of where it is located. We want to create bespoke storylines for each region where a BioQuarium™ is located."
TGI is now looking at taking the concept to more countries in the Middle East and regions within Asia, as well as key areas of the UK.
The Palm Mall Aquarium and Omani heritage 
Tolliday's relationship with Oman and the Al Jarwani Group dates back to 2012. He was the first consultant to be brought on board to develop the initial concept design, storyline development and feasibility.
"Back then we put together this unique design for the three-storey Oman aquarium in the shopping mall and we now have an entire storyline based around Ahmed Ibn Majid, the most illustrious of Omani seafarers. This pulls together all the exhibits in a new and different way, as we have consciously avoided the conventional 'raindrop from a rainforest to the estuaries and the sea' storyline, and created something new and exciting."
This really is 'Something different' and has, according to Tolliday, "turned out rather nicely. It incorporates Omani heritage and culture and makes it a lot more relevant for educational purposes. It also gives us scope to include new and interesting themes within the educational programmes, whilst promoting conservation in a fun and fascinating way for all those visiting, whatever their age."
The responsibilities of Tolliday's team on any project includes bringing in architects to facilitate detailed design and construction drawings. In Oman the team are setting up the operations and overseeing all the specialist works. They represent the client in relation to all aquarium-related matters. That includes marketing, the launch, and the long-term management of the enterprise.
Conservation, research and education
As previously mentioned, Tolliday is also in charge of what he considers the three most important aspects of the project: Conservation, Research and Education. "I wear many hats as CEO," he says. "The first is a commercial one, as we need to make the project profitable in order to make it work, maintain standards and introduce new concepts and ideas. Visitor numbers are key to this. However, equally important is the focus on conservation, research and education."
TGI has the full backing of the Al Jarwani Group Chairman, Mahmoud Al Jarwani, who, Tolliday says, is passionate about achieving education, research and conservation goals. "He has given me free rein to ensure that we are meeting high standards and challenging goals. We are not an organisation that just likes to 'tick boxes'. We want to deliver an ethical program in each location where we open a facility.
"As a partner, we couldn't ask for more from the Chairman. Mr Al Jarwani is a true visionary
with great ethics; the project is not predominantly about money for him. It's about the creation of something that represents Oman and its rich culture."
Showcasing Omani biodiversity
The Oman aquarium will showcase predominantly local sea life. "Omani diversity and biodiversity is insanely good," says Tolliday. "There are over 150 different coral species. The Ministry of Agriculture and Fisheries have documented 1,200 fish species in their Atlas. This means that a lot of exhibits can be based around Oman. Our fresh water exhibits have been sourced from Asia, although there are a few freshwater exhibits here in Oman too."
"In addition, we are also including three African exhibits featuring Malawi cichlids, southern penguins and crocodiles, amongst other species. These are all linked to Ahmed Ibn Majid's travels as he journeyed and traded through Africa and Asia.
The Oman aquarium has 55 tanks in total; the main ocean tank has a capacity of 1.8 million litres, and due to its 5,600 sqm of visitor space and 3,000sqm of plant room, the Oman Aquarium in Palm Mall, will be the largest in the Middle East.
Virtual and augmented reality 
Tolliday points out that it is not desirable, from a welfare perspective, to keep larger species, such as Belugas and whale sharks in captivity. "Of course, I'd love for our guests to see a Beluga up close, but it really isn't practical or ethical. As someone whose career is built on the principles of conservation, by keeping animals in captivity, my team and I constantly debate the parameters and issues of ethics."
Instead, he says, we want to incorporate virtual and augmented reality. "We can create these animals in a virtual world and let people experience them via technology. Our guests can now experience Humpback whales and other large species and we can also raise awareness for conservation programs. Whilst you can never quite get the same feeling as looking at a real one, we'll do our best to get very close."
Education is a key priority
Education is a key priority. Tolliday plans to set up a forum with local teachers in the six-month period prior to opening. "We want the schools to be involved, feel that they also have some ownership of what we consider to be is a great national resource," he says.
"TGI has a high ethical standpoint. For us it is critical that we maintain standards that are expected from any governing body. By involving teachers we can create really substantial curriculum based programs. Schools can start working at the beginning of the semester/term on preparation work, and then visit the aquarium, perhaps even working towards a qualification in the sciences – it's really exciting for the kids and reinforces what they've learned in the classroom. Our philosophy is that if you don't have fun, you don't learn. I've got three kids myself, and when they're excited and blown away by what they're looking at, it's so much easier to educate them. The same applies here."
Tolliday hopes that the TGI & Al Jarwani education program will provide a full term of activities and curriculum-based learning, rather than just a half-day visit. There will be elements of art and music as well as biology. "We want it to be a limitless resource."
Collaborating with universities for conservation 
Several tanks will be devoted to coral, facilitating education around coral bleaching and the crisis facing the oceans. The Oman aquarium will be supported in this by local Universities.
"We aim to install some temporary quarantine systems in conjunction with a local university," says Tolliday. "We are also keen to do some work with coral fragmentation to add to our conservation offering."
The collaboration with the universities will include various academic studies. "We have high ambitions for conservation education and research. We're talking with the Environment Society of Oman about possible joint initiatives, from simple beach clean ups to a number of outreach programs.
Cultural and environmental challenges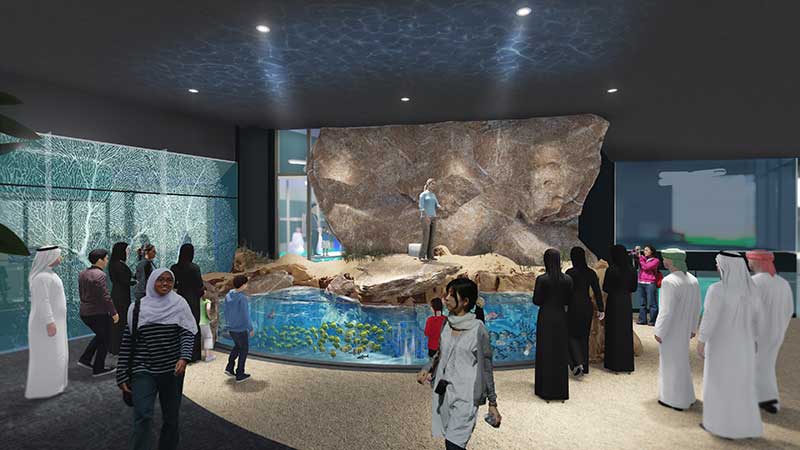 There are cultural factors which need to be taken into consideration. Tolliday points out that one of the most interesting is people's habits and movements around time. "In the UK, an aquarium opens 10am – 6pm but in the Middle East, it's completely different. We will be running school programmes from 8am, then taking our last guest at 10pm. During religious festivals, especially Ramadan, when people are fasting during the day, it's very much a night time culture. We will therefore open later to accommodate our guests. During Eid, for example, we may even open 24 hours a day.
Omanisation – employing a local work force
Oman's national program to create more jobs for local people is very important to TGI and Tolliday. The team are keen to embrace the "program of Omanisation", especially on the husbandry side. "There are very few Omani Aquarists because, up until now, there hasn't been any aquariums here," says Tolliday. "We plan to implement a programme in which we will develop graduates from the Universities in Oman.
"We will put them onto a program where they can learn how to dive. They can learn about fish pathology, husbandry, and biodiversity. They will learn how to manage tanks and fish and gain a greater appreciation of ecological needs and considerations. Any outstanding candidates, or 'shining stars' will go into our management program. There will be no limit to what they can achieve."
Target demographic – locals and tourists
Oman has been investing heavily in infrastructure in a drive to increase tourism and to improve its GDP. "There are road systems, 5 star hotels, shopping malls and attractions. They are all ready to receive and to increase the opportunity of tourism," says Tolliday. "Many cruise liners visit Oman as well, so our demographic target is divided between locals and tourists. We will be reliant on both aspects and we will work with the Ministry of Tourism, cruise liners and tour operators to bring visitors in."
The Oman Aquarium will be one of Palm Mall's key attractions. "Based on our research, we anticipate the aquarium alone will attract between 300-400 thousand visitors a year, at a conservative estimate," says Tolliday. "Many more people will certainly come to Palm Mall for various reasons, including the international and local brands in the shops themselves, a wonderful Snow Village, 12 Screen VOX Cinema Complex with 4D, Play Zones, Multi-Cuisine Dining and, of course, the Aquarium.
Watch out for the big names
"Palm Mall will also comprise a 4 Star Business Hotel along with Branded residences. The 230 room Hotel with BUA of approx.35,000 sqm will be operated by a prominent international hotel operator. This is a fantastic mall with lots of exciting attractions, so look out for many big names coming in."
As far as competition is concerned, Tolliday believes that Palm Mall and the Oman Aquarium will have a strong draw. "There is a very clear synergy between leisure, entertainment and retail" he says. "More aquariums are being built in Shopping Malls now more than ever before, so there is a guaranteed footfall."
He and the team are hugely excited about the aquarium's opening in 2018. "We're just super proud to be on this project," he says. "It's a fantastic product and a wonderful story. It is helping to facilitate our core values of conservation. it is also supporting our dream of being a truly major player in the industry."
The Oman Aquarium, a must-see destination
Keith Thomas is Chief Executive of International Leisure Business Consultancy, Petersham Group. He has worked with Adrian and TGI previously. He says,  "In many ways, the aquarium sector has not moved forward significantly in over 20 years in terms of design and innovation. It has been content to focus on size, complexity and architectural extravagance. This is at a time when other parts of the leisure and entertainment industry are focusing on storytelling and creating memorable experiences for their guests.
"Adrian and his team at TGI understand the importance of these aspects and of relating them in particular to the requirements and culture of the local market. TGI are planning projects that take a holistic approach to creating an aquarium attraction. They draw on the best techniques from across the whole spectrum, whether it be the interactivity found in cutting edge museums and science centres or out and out entertainment from theme parks and creating new ways of giving visitors an insight into the natural world.
"Taking this approach will widen the appeal of the Oman Aquarium, particularly to a local and regional audience. It will also ensure that it offers those unique aspects that will make the Oman aquarium a must-see destination for international tourists."    
Renderings courtesy of Crossley Architects.