With a focus on the ocean environment and the challenges it faces, the development includes a cutting-edge immersive theatre and compelling multimedia displays.
Dr Jerry Schubel has served as president and CEO of the Aquarium of the Pacific since 2002. He spoke with Blooloop about his background, the aquarium and the challenges facing the ocean. He also talks about the ways in which the new Pacific Visions wing is helping to engage the public.
Schubel is the creator of the Aquatic Forum. This brings scientists, stakeholders and policymakers together to explore the environmental issues facing California. He also directs the Aquarium's Marine Conservation Research Institute.
A fascination with conservation
Schubel grew up in a small town in Michigan on lake Cora.
"It was a long way from the ocean," he says. "I became very interested in and concerned about conserving the great lakes. It was when I went off to the East coast to go to graduate school that I really got involved with the ocean. Particularly the coastal ocean.
I studied Chesapeake Bay for many years. I got my PhD at John Hopkins, did a thesis on Chesapeake Bay, and it's grown from there."
He left John Hopkins and went on to become the Dean of Marine Sciences at Stony Brook University on Long Island.
"It is an amazing diversity of coastal environment; Long Island Sound, New York Harbor, Fire Island. I was there for 20 years, always concerned with the relationship between the ocean and humans. Always trying to figure out ways to relate more directly to the public.
Then I was recruited to become the president of the mainland aquarium."
Aquariums – bringing science to the public
Aquariums, he says, operate at the interface of science and the public.
"I was recruited to come here to Long Beach in 2002. This was the perfect place to create a different kind of aquarium. It's a coastal urban environment, and one of the two largest ports in the United States. It all grew from there."
Of the role of the Aquarium of the Pacific and the new Pacific Visions wing, he says:
"I think we're leading the way. All aquariums do some work in conservation. But we're the only one that has built a new wing with 29000 square feet devoted entirely to this."
The public regards aquariums as highly credible and trustworthy sources of information on the ocean and marine life. This is demonstrated consistently by many surveys, conducted by a range of companies and institutions.
"When the public is given the options: academic scientist, government scientist, elected and appointed officials, and aquariums, aquariums always come out at the top in terms of being the most trusted.  That gives us both an opportunity and a responsibility to be active in conservation. So we've tried to build off that."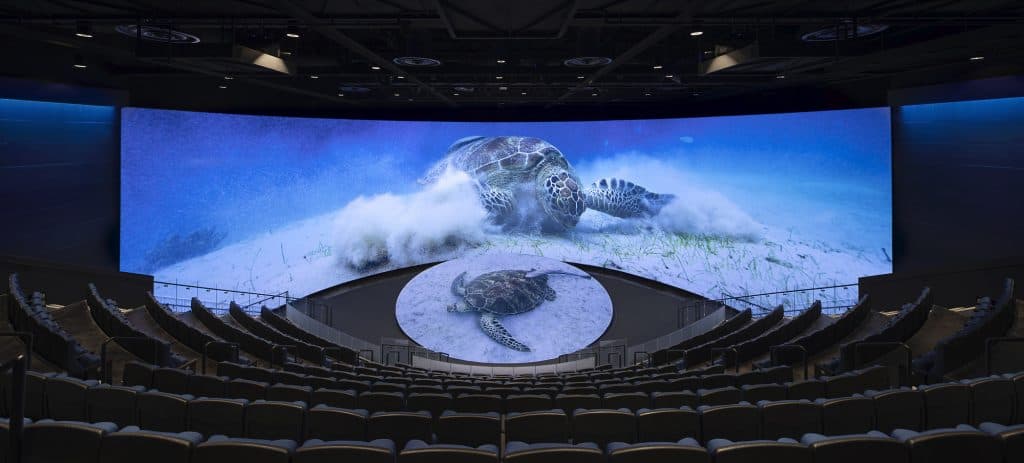 Rising to the challenge
In the face of the challenges facing the oceans, Schubel says we have the capacity to turn it all around. These challenges include rising temperatures through pollution, microplastics, acidification and over-fishing.
"We have much of the knowledge and technology. I think the question is, will we? These are really difficult problems, and we're not very good at dealing with long term problems. We're good at dealing with crises. But this crisis is different from any other we have been confronted with because it has so much inertia. You can't turn climate change around quickly; there's no silver bullet, and that's what makes it so challenging.
"I'm cautiously optimistic because we have the knowledge and technology. But we're going to have to make a move fairly soon because there's a lot of urgency with climate change and the ocean."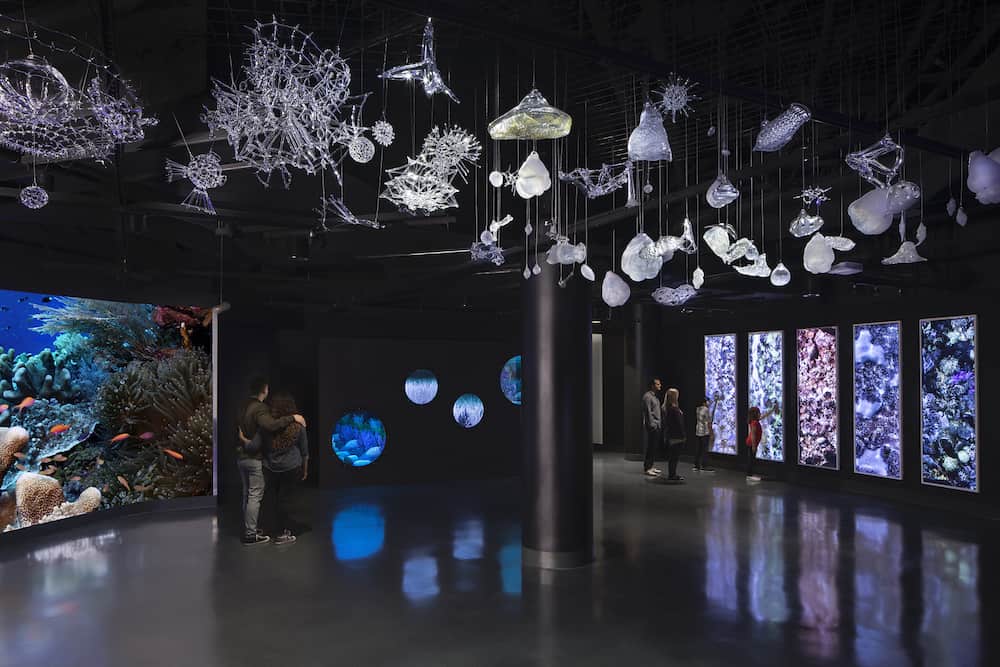 Pacific Visions
The new Pacific Visions wing came about to accommodate a growing attendance, and to counteract overcrowding.
"The board and the staff got together to decide what a new expansion should look like," says Schubel."Traditionally, it would have been along the lines of more tanks, and larger tanks for bigger marine animals.
"We decided, collectively, to focus on the one animal that's putting all the other animals on the planet at risk: man. This was not done without a fair amount of debate because it's very non-traditional. Fortunately, the board was willing to take a chance."
Working with scientific experts from around the world, it took more than a decade to develop the story.
"You've got to have stories that will engage the public, entertain them and empower them. We don't pull any punches. We talk about the severity of the challenge, but we also give some hope.
"It's like Joseph Lawrence and the Power of Myth, where the story arc is that there is nothing wrong with dragging people down to the depths of despair. As long as then the hero comes along and shows them the way out.
"In this case, it's all of us who are the people that dragged us into the pit of despair. The only way to get us out is if we all work together, collaborate and cooperate. We're the heroes who can change this."
Taking responsibility
Schubel is impatient with the tendency of most people to need an enemy to blame.
"We like to blame big oil. Well, it's true that burning fossil fuels has made this a big issue. However, fossil fuels have also contributed to the quality of life that we all enjoy.
"Nobody forced me to live in an apartment that's cool in the summer and warm in the winter. Nobody forced me to drive an automobile powered by gasoline.
"As human beings, we have to take some responsibility collectively for where we are now and get on with it. All our conservation in this new wing says you, as an individual, have a responsibility. And we, collectively, as a society do too.
"The three big areas that we have to focus on are; the kinds and amounts of energy we use, the ways we grow and harvest our food both on land and in the ocean, and how we deal with our precious and limited fresh water."
Using technology
In the Pacific Visions wing, each of the three big challenges facing society is dealt with. Both on an individual and the collective level.
Visitors experience an 8 and a half minute signature film. This plays on the 130 ft screen in the new state-of-the-art immersive theatre. "First of all it scares you, but then it shows you a way out," says Schubel. "We can simulate sights, sounds, and smells of the ocean or land. It is a very immersive experience."
Listing the technologies used, he says: "Media technology: high definition and the latest in sound equipment. We've focused a lot on interactives;  we have an interactive table for energy, one for food, one for water.
"People gather around these and answer a series of questions. A sustainability meter for each individual shows how his or her decisions rate on a sustainable basis. Then we have a mechanical interactive where you lift certain weights. They're a function of how much CO2 your car emits if you have a traditional car with gasoline, if you have a hybrid or an all-electric car.
"And then we have a 50-foot long wall where there are bubbles projected onto it floating along the wall. You're invited to come and reach up towards them. They will pop, and there will be a question, a fact or a picture of the ocean."
Live animal exhibits in the Pacific Visions wing
"We have three live animal exhibits in the final gallery," says Schubel. "Two of them relate to aquaculture. Agriculture takes a huge toll on land and on the ocean. A partial shift from land to ocean production would, if done properly, have a positive environmental impact. It would also offer a healthier source of animal protein."
"The United States has been very much a lagger in aquaculture. So, we're hoping to involve them in this so-called blue revolution."
The third live exhibit in this gallery focuses on a small fish called the delta smelt (Hypomesus transpacificus).
"In California, there's an inland delta in the San Francisco Bay. It is the switching point for most of California's freshwater. People always portray the issue here as a battle for water between this very small fish, which is two or three inches long, and the farmers.
"We've tried to re-frame this not as a fight between the farmers and the fish, but a question. Can humans learn to share water with nature? We think we can."

Energy and food
A further two short films draw together a number of threads concerning energy and food. These engage all audiences and levels of knowledge.
"Of all the aquariums in the United States, we have the most ethnically diverse audience," says Schubel. "This reflects southern California's diversity."
"We do exit surveys, and almost everyone says: I had no idea either that the problems were so severe, or that we could do something about it; I'm hopeful."
The Aquarium of the Pacific, and the new Pacific Visions wing, he says, really is unique.
"It's a very different type of aquarium. Even before the expansion, we were the fourth most visited aquarium in the United States. We have 1.7 million visitors annually.
"Adding this non-traditional expansion has added so much value. We have only been open now for a couple of months, but so far it's going well."