Longwood Gardens in Kennett Square, Pennsylvania will add new plantings and buildings across 17 acres, also expanding and connecting the public spaces of the central grounds.
The master plan for the project, Longwood Reimagined: A New Garden Experience, was created in 2010 by West 8 Urban Design & Landscape Architecture with Weiss/Manfredi.
Weiss/Manfredi is the lead designer, in partnership with Reed Hilderbrand. The project will be managed by Bancroft Construction Company.
Longwood Reimagined's centrepiece is a new 32,000-square-foot glasshouse called West Conservatory, designed by Weiss/Manfredi. Gardens and pools within the glasshouse are designed by Reed Hilderbrand.
New plantings and buildings at Longwood Gardens
The Cascade Garden by architect Roberto Burle Marx is being moved to a new 3,800-square-foot glasshouse, while a new outdoor Bonsai Courtyard is being constructed alongside the West Conservatory.
Additionally, the project includes a new restaurant and private event space. Above, there will be a new South Terrace and South Walk, which extend to the new West Terrace.
The project also includes a new education and administration building, the renovated Waterlily Court, and the refurbished Lord & Burnham glasshouses. The Orchid and Banana Houses will close on March 1 for refurbishment.
Paul B Redman, president and CEO of Longwood Gardens, said the attraction "has been growing and evolving for more than half a century".
"Over time, Longwood has assembled one of the world's most important collections of garden designs and glasshouses," said Redman.
Longwood Reimagined: A New Garden Experience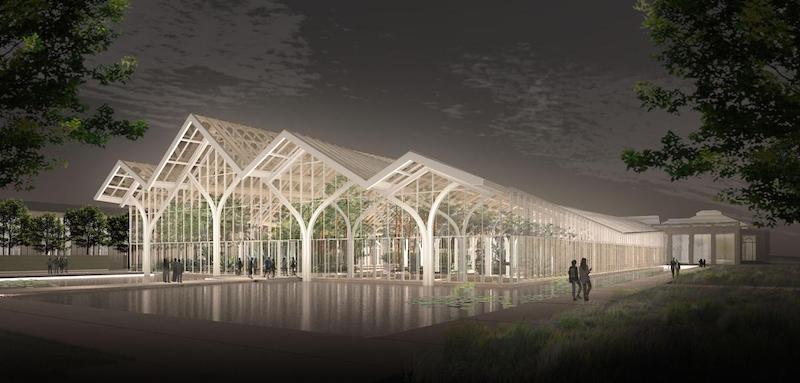 "Longwood Reimagined will be the largest undertaking in our history, enhancing the dazzling and deeply satisfying Longwood Gardens that will continue to enthral our public for decades to come."
Marion Weiss and Michael Manfredi, founders and principals of Weiss/Manfredi, said: "We're inspired by the sense of discovery and invention that are signatures of Longwood Gardens.
"These transformations extend the DNA of Longwood Gardens through the creation of new settings for public enjoyment and delight."
Longwood Gardens hopes to break ground on the project in spring 2021. The Main and East Conservatories will remain open.
The Natural History Museum (NHM) previously received planning permission to transform its five acres of gardens as part of the Urban Nature Project.
Images: Longwood Gardens