Merlin Entertainments has partnered with Silvergate Media to launch a brand-new Octonauts attraction at Changfeng Ocean World in Shanghai, which is part of the SEA LIFE global aquarium chain.
The interactive attraction is themed around the popular Octonauts IP and it opened to visitors on 28 December 2020. The world's largest Octonauts experience invites guests to embark on a real-life adventure with the much-loved characters, aboard a fully submerged Octopod capsule. Here, they are surrounded by cownose rays, spotted eagle rays, and tropical fish.
Characters such as Captain Barnacles, Kwazii and Peso help families to learn about the ocean and to help save baby rays. Afterwards, visitors can also browse a range of  Octonauts merchandise within the dedicated SEA LIFE gift shop.
Exploring the ocean with Octonauts
More than 500,000 guests visit Merlin Entertainments' Changfeng Ocean World (SEA LIFE Shanghai) each year. This unique Octonauts attraction has opened in advance of the major content launch for a new spin-off series Octonauts: Above & Beyond, coming to worldwide audiences in Autumn 2021.
The new attraction in Shanghai follows the success of previous multi-territory partnerships between Silvergate and SEA LIFE Aquariums in the UK, Europe, Australia and the US. Other new activations will be announced later this year.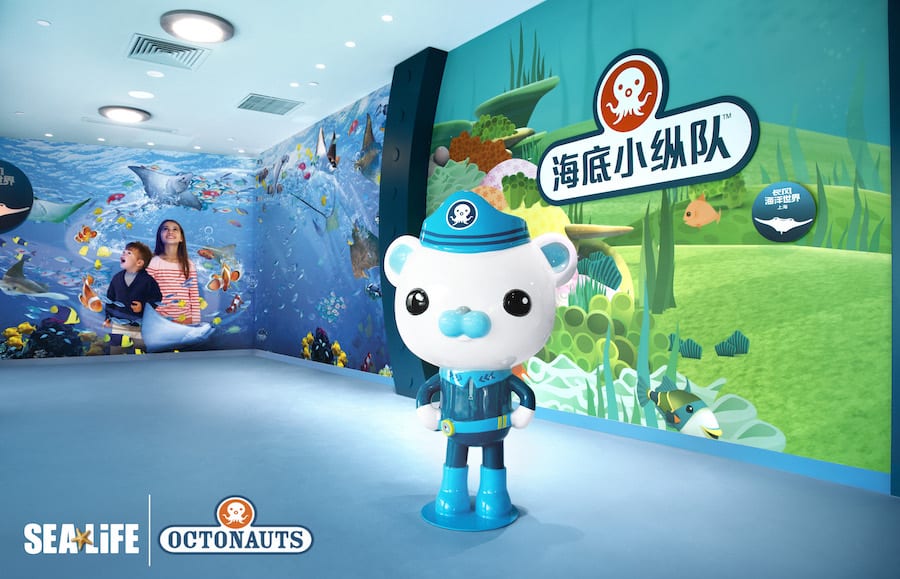 "We are delighted to have opened the world's biggest Octonauts experience at Changfeng Ocean World in the fantastic new Ray Bay area, immersing families in a heroic underwater adventure with their favourite characters from the series," says Matthew Williams, Senior Brand Director Midway, Merlin Entertainments.
"Octonauts is an ideal IP for SEA LIFE with fun and discovery at its core, and we look forward to working with Silvergate to share more exciting and innovative themed Octonauts experiences with families at our aquariums around the globe".
"What better way to bring the brand to life than a fully immersive attraction at a world-class SEA LIFE centre," adds Ron Allen, EVP Commercial Silvergate Media. "This promises to be an exciting year for the brand as we build up to the launch of Octonauts: Above and Beyond and we're excited that families in China now have the opportunity to step into the world of Octonauts in this unique underwater adventure."
Blooloop recently spoke to Merlin Entertainments' Regional GM for Midway China, Qi Zhang, about how the company is staying ahead of the trends in the region.