Roto, a leading planning & design-build firm, and tvsdesign have announced major milestones in the planning of the new Mote Science Education Aquarium at Nathan Benderson Park in Sarasota, Florida.
Roto is proud to be working alongside architects tvsdesign on the creation of the new Mote Science Education Aquarium (Mote SEA). Remastered renderings of the attraction have now been released and the expected date for the official groundbreaking in September 2020 will be announced later this year.
In a press conference, Mote's President & CEO, Dr Michael P. Crosby, shared some exciting project updates with trustees, donors, supporters and community leaders.
Project milestones
Supporters of the new facility have already provided or pledged around $75 million of the total project goal of the Oceans for All capital campaign in support of Mote SEA. The Aquarium will be set over four storeys on a 12-acre site with 1 million gallons of animal habitats.
"Mote SEA will generate significant boost for our regional economy and further support innovative research for the sustainable use and conservation of our oceans," says Crosby.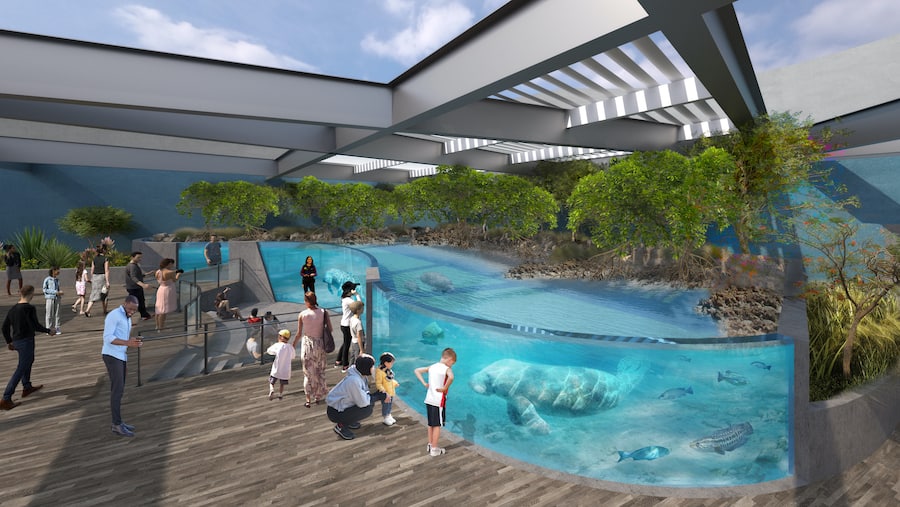 "But, equally as important, Mote SEA will expand formal STEM education to each and every K-12 student in Sarasota and Manatee County Public Schools, and transform our ability or provide informal science education and enhanced levels of ocean literacy to much larger and more diverse populations in our community."
"The Gulf Coast Builders Exchange is committed to serving the needs of our community, and the construction of Mote SEA presents an opportunity to support the foundational mission of our organization," says Michael Bennett, Chair of the Gulf Coast Builders Exchange.
"Mote's commitment to reinvesting in our community with significant utilization of local businesses with undoubtedly create not only financial benefits for our community but an immense sense of pride in the project for all involved."
Financial support
"Manatee County has proudly committed $5 million of financial support for Mote SEA, and it's because we believe in the vision of a regional project that betters both Manatee and Sarasota counties," says Misty Servia, Manatee Board of County Commissioners and Chair of the Manatee County Tourist Development Council.
"By doubling their attendance projections and greatly expanding free access to marine science educational programming, Mote's new aquarium will improve the lives of all of us that call this region home."
Mike Moran, Chair of the Sarasota Board of County Commissioners says: "One of my top priorities as a Sarasota County Commissioner has been to strengthen and diversify our economy and the jobs being created here, and all told, Mote SEA will provide an annual economic impact of nearly $28 million to the State of Florida.
"Mote SEA is a legacy project, not only for Mote but for this region as well. It will undoubtedly be a defining part of our community now and into the future."
Exhibit design
Roto is the selected exhibit designer partner on the winning tvsdesign team. The company will be designing tanks and habitats to showcase the research by Mote Scientists. Besides aquatic species like manatees, sand tiger sharks, octopus, reef fish and jellyfish, Mote SEA will exhibit Humboldt Penguins, North American River Otters, Shorebirds, Gopher Tortoises, and Indigo snakes within naturalistic enclosures, all designed by Roto.
The company is working on fitting over 60 different exhibits, tanks and habitats into the facility, including a 300,000 gallon Gulf of Mexico tank with several large viewing opportunities for an immersive experience.
Mote SEA aims to make science and research the focus of the aquarium. This means that the design team must think differently about traditional aquarium exhibit design to ensure that science is at the forefront of the visitor experience. Unlike traditional aquariums, Life Support Systems will not always be hidden from view and Back of House areas will be open for visitors to view the work of the husbandry teams.
Roto also recently announced that it has been chosen by the American Home Furnishings Hall of Fame to create exhibits for its new permanent home.