Sea World Cruises is debuting the Gold Coast's newest and most advanced whale watching vessel for the upcoming humpback whale migration.
The AU$4 million, state-of-the-art vessel, named the Spirit of Migaloo II, has six external viewing platforms and tiered stadium seating from sea level to the sun deck.
The Spirit of Migaloo II also features a VIP Captain's Lounge, underwater video viewing for close encounters, informative movies and the opportunity to listen to whale songs live via an underwater hydrophone.
Sea World Cruises General Manager, Anthony Ardern, said the team worked closely with local builders Aluminium Marine to make the most advanced whale watching vessel in the country.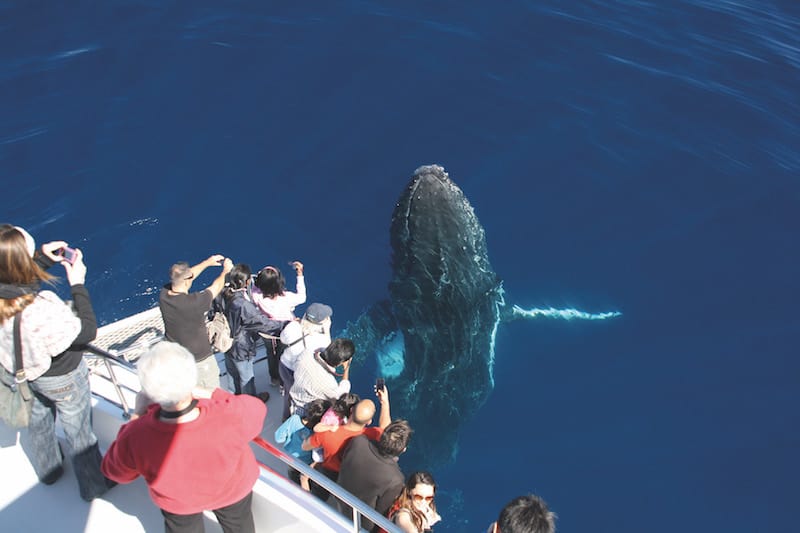 "We can't wait for guests to experience the Spirit of Migaloo II vessel as we embark on one of the best whale watching season's ever with up to 30,000 whales expected to travel past the Gold Coast," he said.
"The Gold Coast is as good a destination as any in the world for whale watching and our crew are enthusiastic to get out on the water in the new vessel.
"A memorable encounter with these majestic mammals is backed by our guarantee for every tour – see a whale or cruise again for free."
Whale watching special offers
"To celebrate the arrival of our new vessel and the start of the season, we are doing a pre-season special offer with adults at kid's prices of $59 to be used at any time during the whale season."
The Gold Coast whale watching season runs from June to November. The whales migrate along the east coast of Australia on their annual journey to the tropical waters of the Great Barrier Reef to calve and mate before returning to Antarctic waters.
Acting Mayor Donna Gates said: "The Gold Coast boasts the longest whale watching season on the east coast of Australia and many locals and tourists will, once again, get up close and personal with the largest living mammals on Earth during whale watching season."
Gold Coast whale watching season
Bob East, Tourism Australia Chair, said the new vessel "will create amazing experiences and memories for visitors to the Gold Coast".
"Whale watching showcases Australia's natural beauty and demonstrates the tourism sectors' commitment to the environment and our marine life," he added.
In similar news, breaking new ground – or water – in marine animal welfare, the Sea Life Trust is creating the world's first open water sanctuary for beluga whales.
Images: Sea World