ZSL London Zoo gets wild and inventive with its marketing.  A pop-up 'time travel' agency was used to advertise safaris to the zoo's pop-up dinosaur exhibition, Zoorassic Park, while staff bared to promote the Streak for Tigers campaign!
ZSL London Zoo launches flights to its Zoorassic Park on Saturday July 22nd. The pop-up dinosaur exhibit, promising a prehistoric paradise, runs from tomorrow until September 3rd.
On Monday, the zoo opened a pop-up 'time travel' agency. Visitors to the agency met, not only the Zoorassic Park tour guides, but also two baby dinosaurs.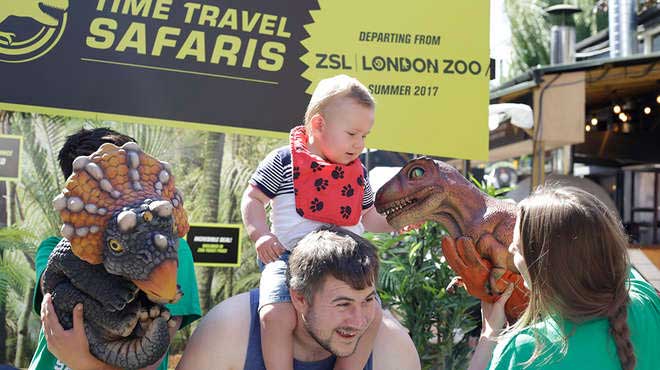 Tyrone, the baby tyrannosaurus rex and Tricky, the baby triceratops, both enjoyed posing for selfies with visitors. Tyrone even tolerated a tickle under the chin.
Flights to Zoorassic Park from ZSL London Zoo will depart daily, landing at terminal three of the Mesozoic era (about 65 million years ago). The agency promised that passengers will travel in ultimate luxury via the Zoorassic Airways time-travel machine. The trip will
undoubtedly rack up huge amounts of "time miles", so fortunately the return journey is included in the standard Zoo-entry cost.
Popular children's TV presenter Andy Day is set to launch the Zoorassic Park experience with a weekend of free live shows. Dinosaurs LIVE! will run on July 22nd and 23rd only, with shows at 11am, 1pm, 3pm, 4.30pm and 5.30pm. Families will receive a passport for their time-travel safari, promising a journey of dinosaur discovery.
Zoo guests will learn about the vital work ZSL's conservationists are doing to help prevent today's animals from extinction. Of particular concern is the plight of Sumatran tigers.
Last week staff from ZSL London Zoo stripped off to encourage people to sign up for their Streak for Tigers fundraising event (to be held on 10th August). A 'streak' is the collective noun for a group of Sumatran tigers, and the event raised a smile as the group posed bare (with the help of a few props) at the zoo's Tiger Territory and Penguin Beach. However the campaign is deadly serious. The big cats are in need of help as they are continuously threatened by poaching and illegal trading.
Images: ZSL (Zoological Society of London)